Third of a five-part series.
On the night Kira Ward and her husband welcomed a guest into their home, they fastened alarms to every door.
Their guest was a 9-year-old girl named Emily who had wandered out of her grandmother's downtown apartment in the middle of the night. Her nighttime journey ended at a party down the street, where police found her and contacted Child Protective Services. Child-welfare workers determined Emily's elderly grandmother, who was frail and battling cancer, couldn't properly care for the young girl.
This is how Emily, a fourth-grader at Sunrise Acres Elementary School, wound up living with the school's social worker. Ward and her husband, who had been considering becoming foster parents, offered to temporarily care for Emily.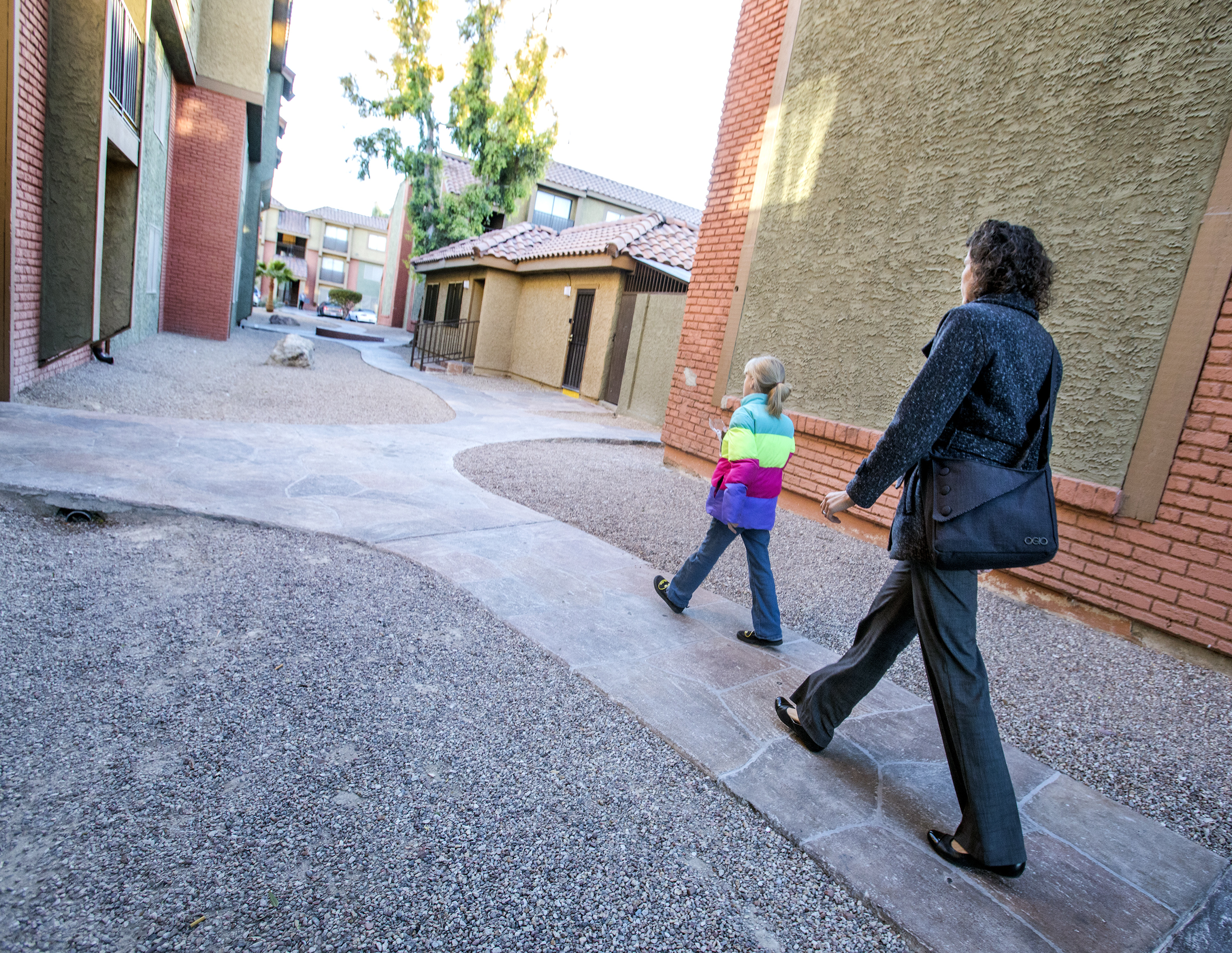 They weren't new to parenting. The couple has a 2-year-old son. But caring for a child with learning disabilities brought a new set of challenges and concerns.
"That was my biggest fear: How am I going to keep her in?" Ward says nearly four months later as Emily and her son play in their Henderson backyard.
She's riding a scooter; he's pushing a toy dump truck. Their months living under the same roof have bonded them like brother and sister. There are the tender moments — like when her son discovered they have matching birthmarks on their right arms — and the tough ones when they're squabbling over toys or personal space.
Ward doesn't gloss over the new family dynamics. They mailed their loved ones Christmas cards featuring photos of them posing as a family of four.
"There are many challenges, but we are learning and growing daily," the Wards wrote in a message on the card. "(Emily's) future is unknown, but we pray for the best for her."
Ultimately, Emily stayed with the family for six months. They played games together, ate dinner together, celebrated holidays together and even traveled together. She spent Thanksgiving with them in New Mexico visiting their relatives. Emily moved to a new foster home in February, shortly after Ward discovered she was pregnant, and it became clear balancing the needs of Emily, a toddler and a new baby would be too much.
They still keep in touch, and Emily continues to refer to Ward's son as her brother.
Early on into Emily's stay with the Wards, a question surfaced: What should Emily tell other students who wondered why she frequently gave Ward hugs or left with her after school each day?
A fellow staff member gave Ward and Emily this advice: "Tell them that sometimes we have to take care of each other."
It's a sentiment that rings especially true in schools, where several dozen adults assume responsibility for hundreds, sometimes thousands, of students on a campus. At Sunrise Acres, 93 staff members serve as a critical part of the education ecosystem — teaching, mentoring, counseling or otherwise caring for the fluctuating cast of children attending the school each day.
And, for many, it's not just a seven-hour-a-day gig that ends in a paycheck. They've made conscious decisions to forgo other career prospects or precious time with loved ones to be a steady presence in these children's lives.
But they're human, too, bound by the same worries cast upon society.
---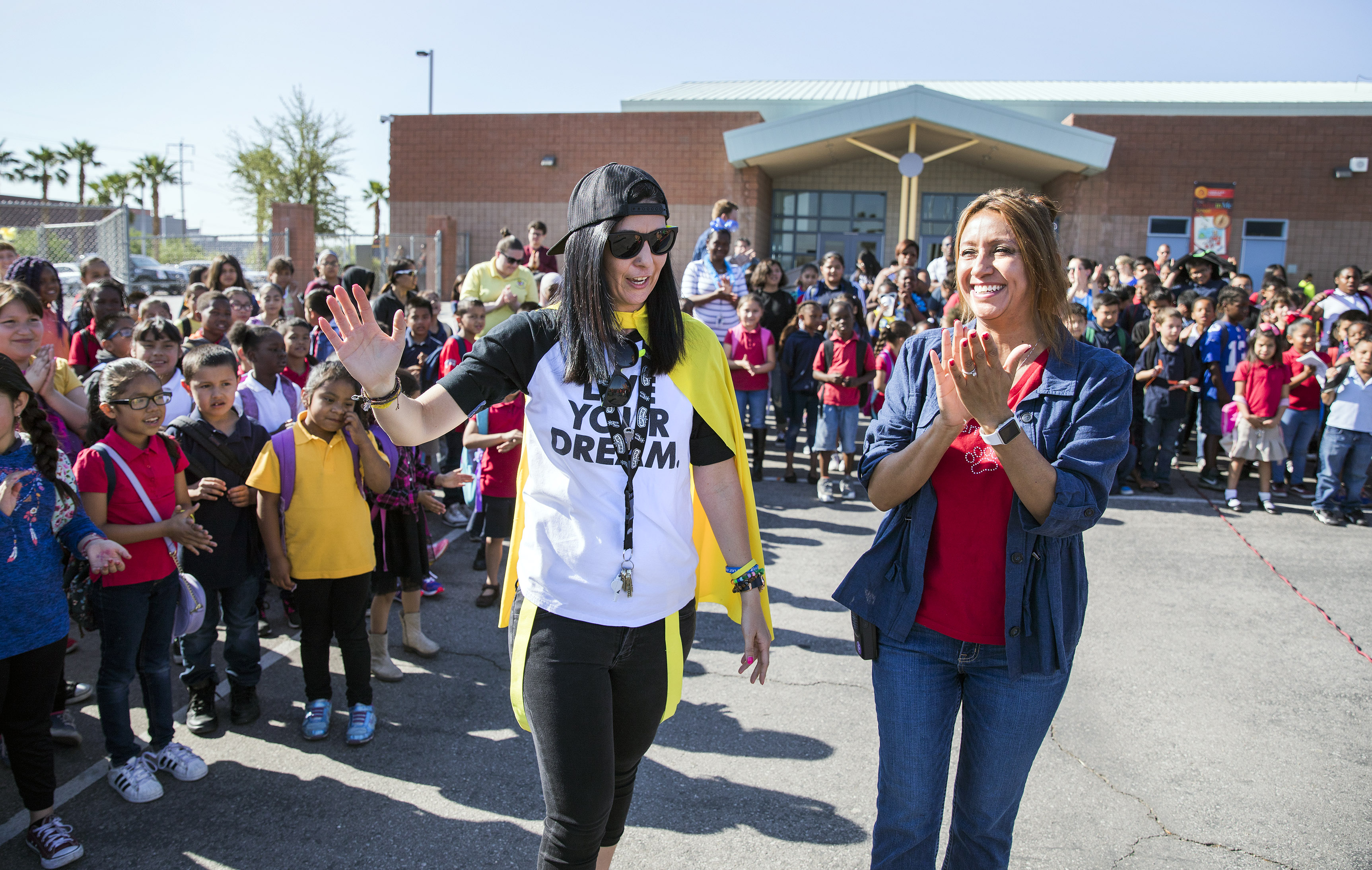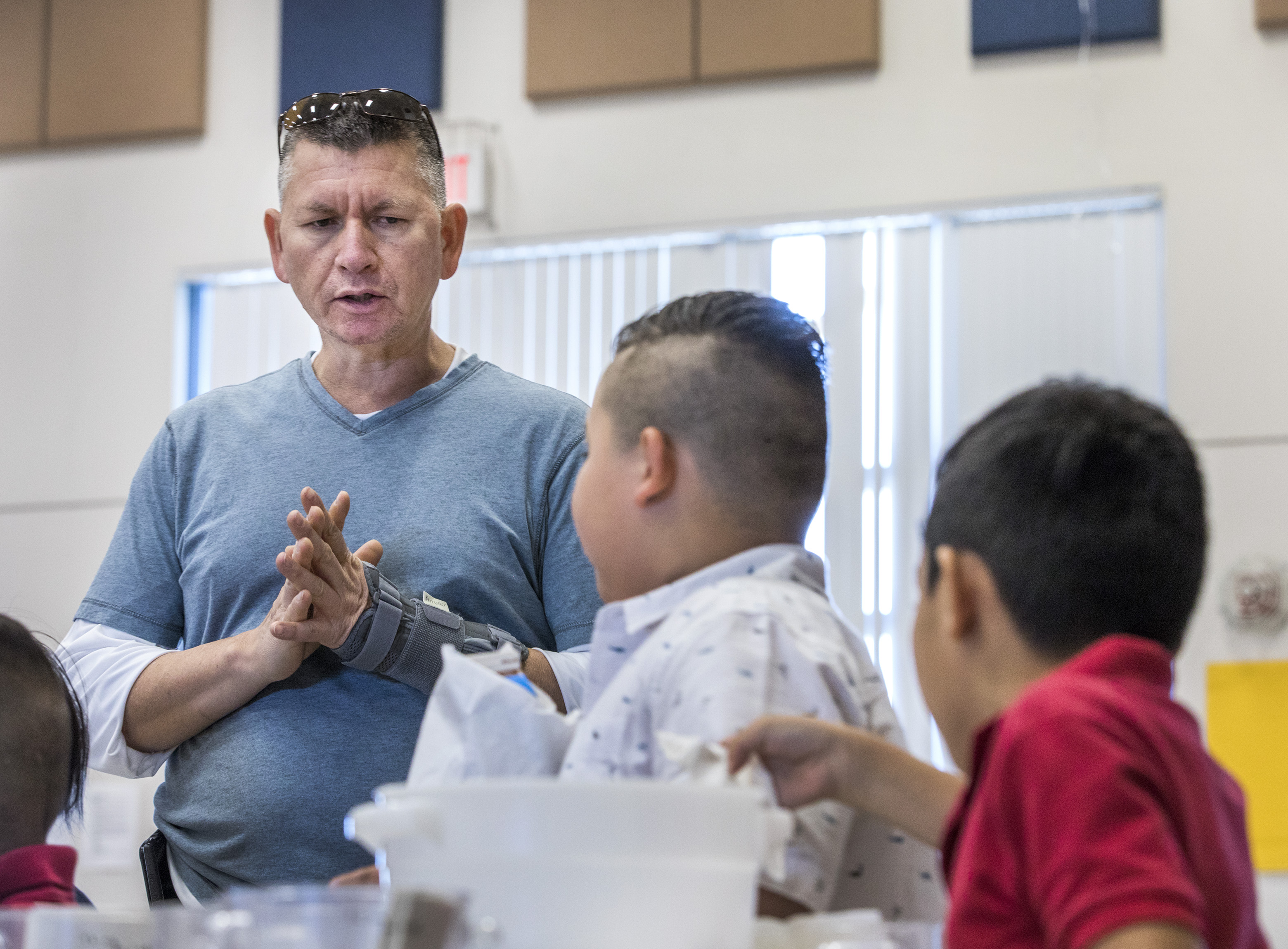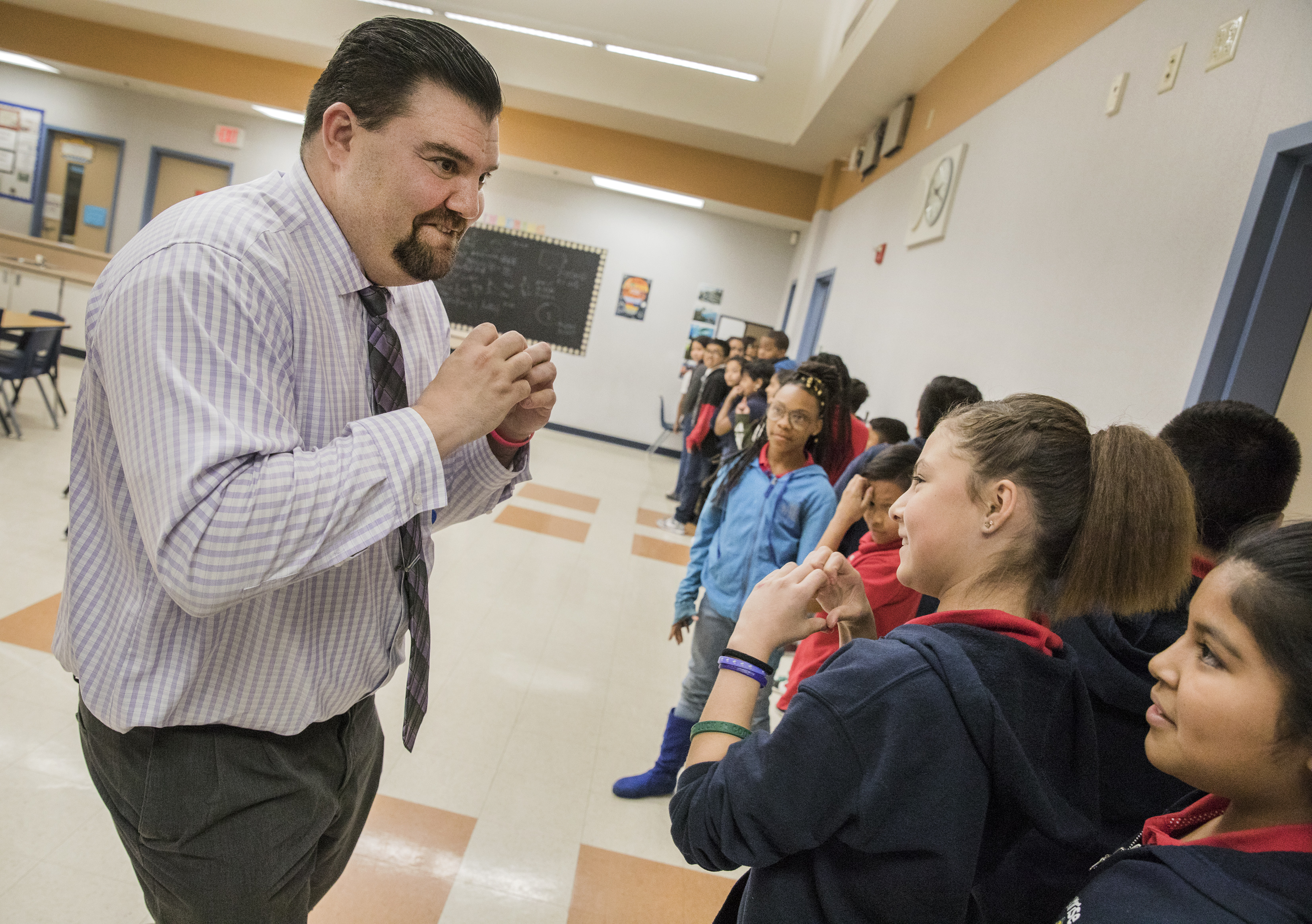 ---
Filling the voids
Rebekah Subingsubing shivers in her pink- and purple-colored winter coat as she passes her apartment leasing office. It's just past 7:20 a.m. on an overcast February day.
She turns right, beginning her eight-minute walk to Sunrise Acres. She passes one-story, attached homes, another apartment complex and a middle school before crossing North 28th Street. Vehicles are streaming into the elementary school parking lot, carrying staff members who live all over the Las Vegas Valley but make the daily trek to this Title I school.
There's the custodian who arrives first most days and greets children with a shy smile.
There's the cape-wearing counselor who promotes leadership, tolerance and self-esteem among students.
There's the learning strategist who moonlights as deejay for the Valentine's Day dance.
There's the first-grade teacher who spearheads an after-school event celebrating Black History Month.
There are the four women who run the front office and serve as the school's gatekeepers, registering new students and keeping the building's operations afloat.
The list could go on, filled with people who bring the ability to connect with or inspire the children who attend Sunrise Acres. They're the human capital that make learning possible.
"We tended to love school," Principal Margarita Gamboa says. "That's why we're teachers. That's why we're educators. We still want to be in a school."
But staffing poses a perennial problem for the Clark County School District. The nation's fifth-largest district generally has hundreds of vacant positions at any given time. In February, for instance, that number stood at 561. The situation has prompted school officials to declare critical labor shortages for bus drivers, substitutes, elementary teachers, special-education teachers and middle and high school teachers who specialize in math, science and English.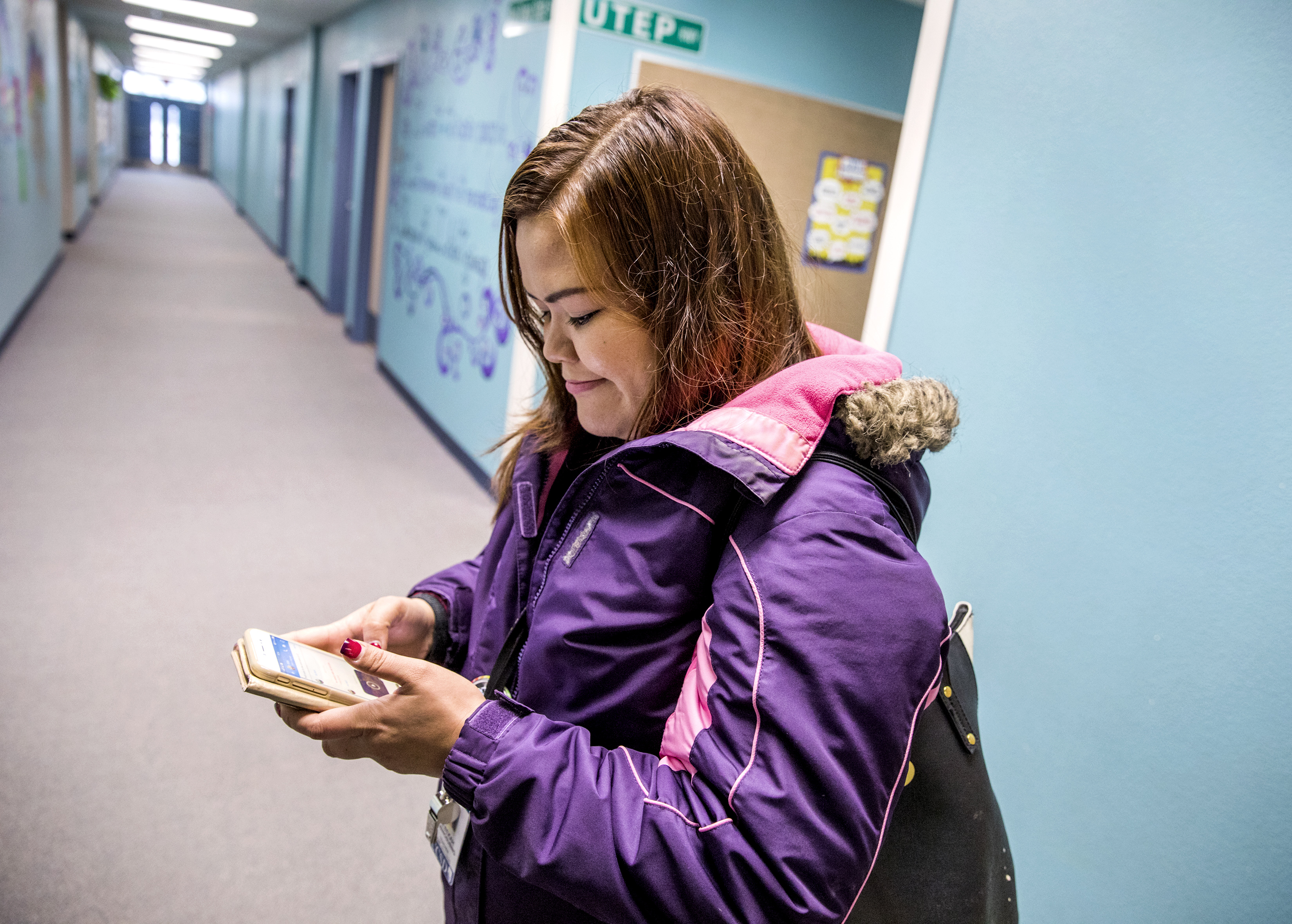 "They just need care."
That's how Subingsubing arrived in Las Vegas last summer. The 30-year-old traded the tropical environment of her native Cebu — an island province in the Philippines — for the desert, where a teaching job awaited. She didn't own any cold-weather gear.
"They say, 'Oh, Las Vegas, it's hot,'" Subingsubing says, describing others' reactions to her trans-Pacific move. "I didn't bring any cold clothes."
Her story isn't necessarily unique, aside from the distance she traveled to teach here. Staff members at Sunrise Acres hail from locales scattered around the globe: Germany, Michigan, Maine, New York, Ohio, California, Arizona, Colorado, New Mexico, Mexico and more. For many, the teaching job brought them to Las Vegas, where they adjusted to a growing city in the desert with hot, dry summers and moderate winters.
Subingsubing owns knee-high boots and a fluffy jacket now. They keep her warm as she walks to Sunrise Acres, the place she calls her "destiny." A chance interview with recruiters led to a job offer and then a big decision. Accepting would mean temporarily saying goodbye to her husband and two young sons.
The 30-year-old says she and her husband wrestled with the value of time and money. The financial incentive was too good to pass up: Her American salary would be triple what she made as a kindergarten teacher in a public Filipino school. She accepted, becoming one of 81 Filipino teachers recruited for special-education jobs in Clark County this school year.
"The risk, yes, leaving my family," Subingsubing says, describing her decision. "But I'm helping them."
She regularly sends money back to family, including her cancer-stricken father. Her family navigates the 15-hour time difference with Facebook video chat and photos. Her boys, ages 6 and 8, marveled at photos of their mother frolicking in snow on Mount Charleston.
Subingsubing hopes they can visit this summer and maybe, one day, move here. For now, she's plugging a staffing hole at Sunrise Acres, where she teaches some of the school's most vulnerable children. Her students have severe learning disabilities. Some are barely verbal. Others haven't mastered basics like the alphabet or numbers. They all require special attention.
Or as Subingsubing puts it: "They just need care."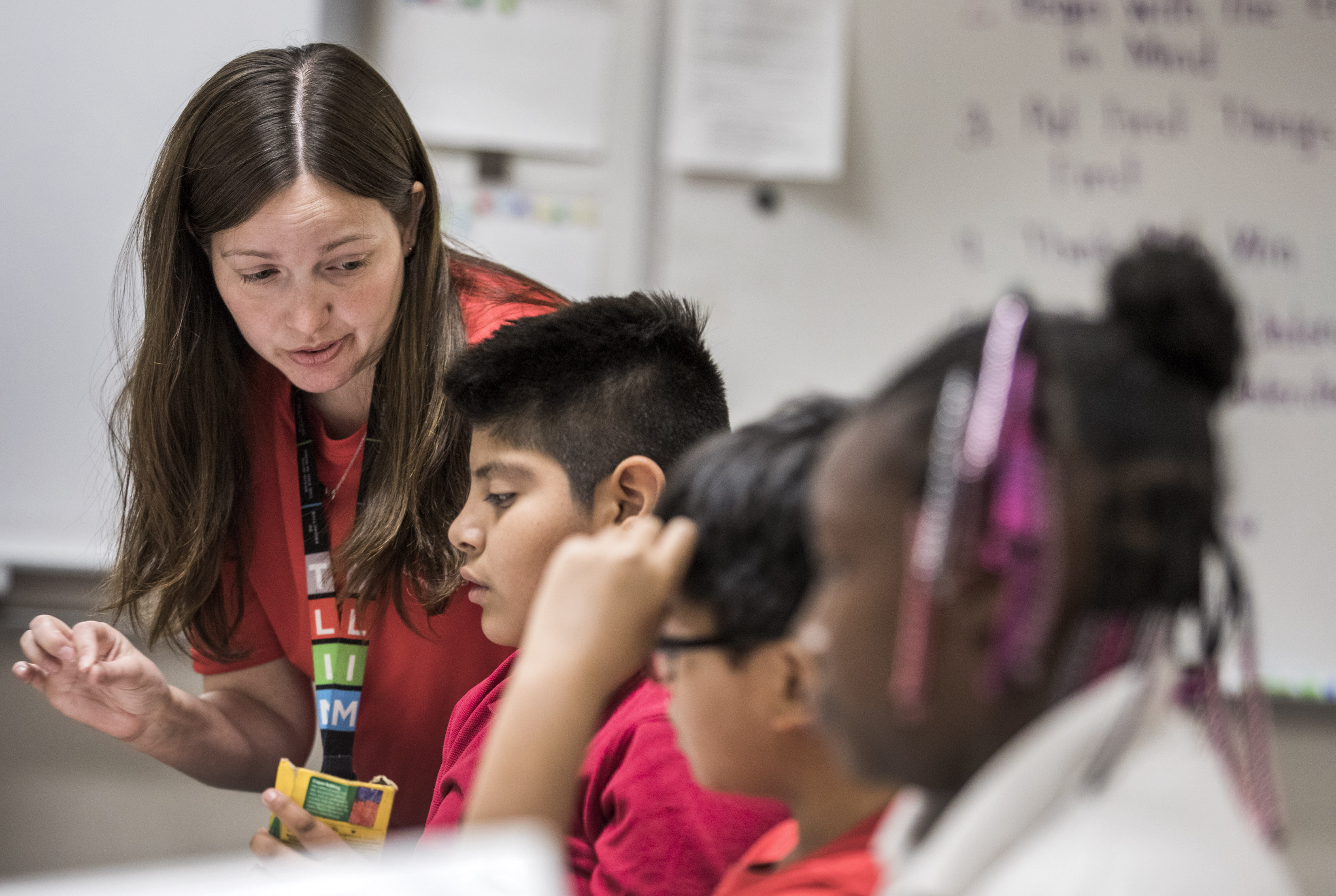 A decision to stay
The care teachers provide at Sunrise Acres, however, is a relative bargain compared to other Clark County schools. The school's highest-paid teacher, who has 23 years of experience, takes home $71,967 each year.
The average salary for classroom teachers at Sunrise Acres this past year was $50,502, while the district-wide average was $54,754. Teachers just starting out make $40,900.
The pay discrepancy isn't unusual for Title I schools, which tend to have younger, more inexperienced teachers. The average Clark County teacher has logged 10 years with the district, but the average among Sunrise Acres teachers is half that amount.
Clark County education officials acknowledge it can be a tough sell attracting and then keeping teachers at Title I schools, where the needs are often far greater and the expectations still just as high. So it tends to result in a revolving door, with new teachers coming in, gaining a few years of experience and fleeing for jobs closer to where they live.
But there are also teachers, such as Melissa Tanner, who buck the odds. This is her twelfth year teaching at Sunrise Acres.
It was never supposed to be that way.
Tanner attended the Massachusetts Institute of Technology and majored in business. Her parents urged the soon-to-be graduate to enter the corporate world or attend law school. But a Teach For America advertisement caught Tanner's eye at a career fair during her senior year.
"I remember thinking it would be a good practice interview," she says from her cozy, fourth-grade classroom. "I always wanted to be a teacher, and I didn't think it would ever really happen."
Part of Tanner's hesitation: Her mother, who's a teacher, described the profession as one that's underappreciated and underpaid.
Tanner couldn't resist her growing interest, though. She made it through the first round of interviews and then the second and then the third. When her acceptance letter finally arrived, Tanner says her excitement level made the decision easy. She'd teach for two, possibly three, years and then forge the next chapter of her career.
Teach For America — a program that places recent college graduates in at-risk schools across the country — sent Tanner to Las Vegas. She started as a first-grade teacher at Sunrise Acres and kept finding reasons to stay. First, it was so she could finish her master's degree in education. Then it was purely a gut feeling.
If it was time to go, why did she feel so sad?
Tanner deferred her acceptance to Notre Dame Law School for several years. Finally, she rescinded her spot entirely. The thrill of teaching never faded, despite knowing that her MIT friends own $500,000 homes and take exotic vacations. She doesn't envy their office lifestyle, though.
"Every day I feel like, because of me, a kid knows something they didn't know before," she says.
But Tanner doesn't offer illusions of it being a perfect world. She has roughly 50 students in her homeroom, meaning she's responsible for teaching them reading and math as well as completing their report cards and conducting conferences with their parents.
Many of her students are two or three years behind academically.
And three of her students had a parent die this year.
That's why Tanner is still shaking her head, weeks later, as she recounts a coffee-shop conversation. The barista insinuated that teachers have easy jobs and many days off.
"I think people don't understand how much goes into it — how much lesson-planning, how much just work we have to do and how many hours of work it is outside of the school day," she said.
In her case, it's at least three hours of extra work each night.
The morale factor
The extra work teachers put in is for their students. Sunrise Acres teachers who responded to a survey by The Nevada Independent made that clear.
They simply love watching their students learn, whether that means seeing measurable growth over time or the "lightbulb" moment when a concept finally clicks for a student.
But Sunrise Acres — a school on an upward trajectory at least by state standards — isn't immune to educator fatigue, dissatisfaction or discouragement. When asked to describe the worst part of their jobs, staff members didn't gloss over the more unsavory parts:
"No personal life. The hours are endless and the pay is unfortunate."
"Some things follow me home and are hard to forget."
"We are no longer allowed to just teach."
"The worst part is doing your best and then getting criticized or misunderstood."
Teachers lament the many time-consuming tasks they juggle daily — administering tests, collecting data from those assessments, implementing new programs, attending meetings and creating detailed lesson plans that chart content standards — that chew into the minutes and hours they say could be better spent instructing.
Another challenge: securing time for lessons that fall outside the scope of standardized tests.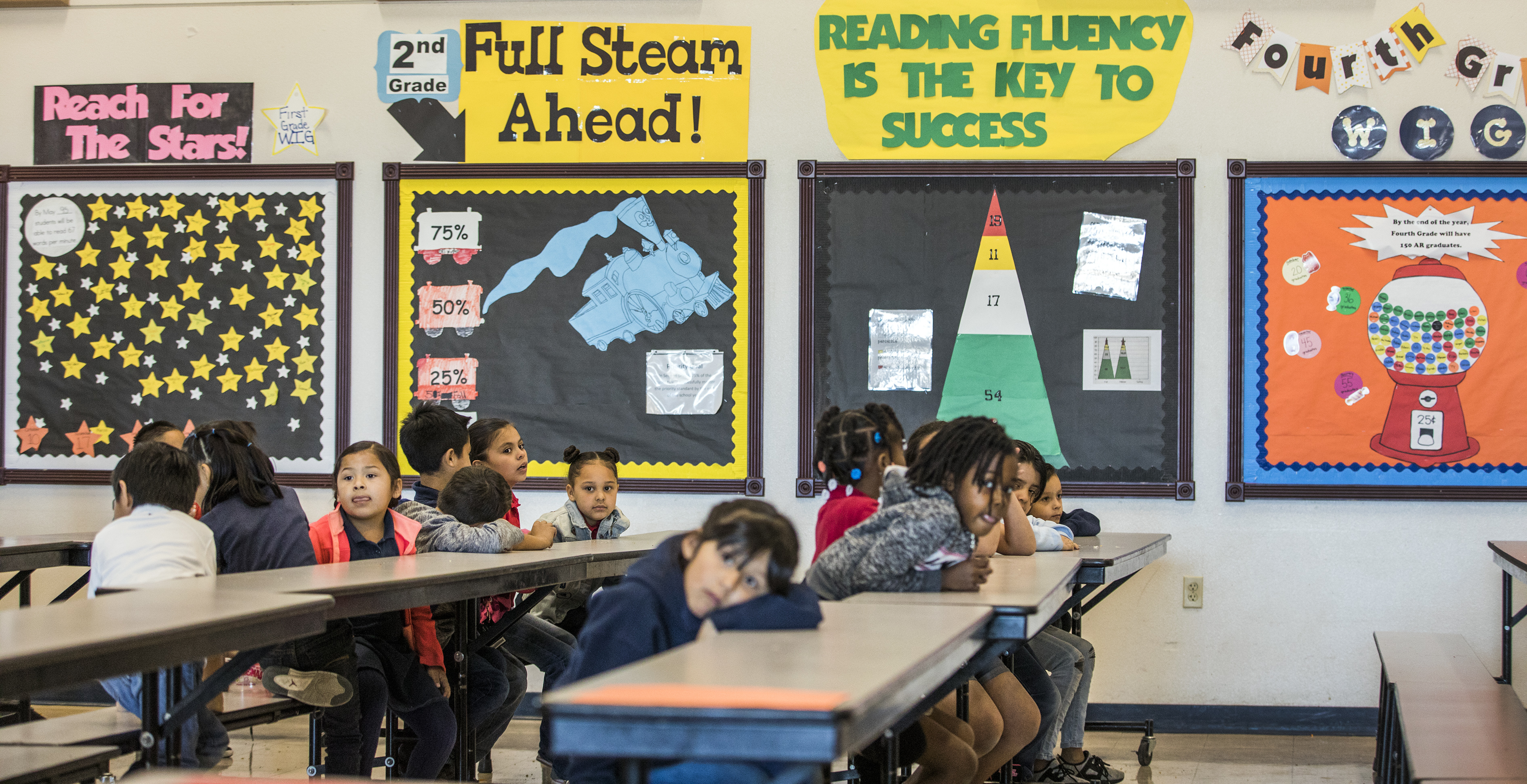 In February, Carmen Foster-Patillo asks her first-grade students to raise their hands if they understand what it means to be a slave. A few hands go up.
"A slave is like who is, who is …" one student starts before trailing off.
A peer finishes the thought: "People were told what to do."
Foster-Patillo applauds the answers and elaborates, giving students a more robust description of slavery as a prelude to a miniature lesson about Harriet Tubman, a former slave who helped others escape through the Underground Railroad.
The lesson comes at the very end of the school day. It's after a reading lesson tied to finding the main idea of a story and after a math lesson on double facts. (To first-graders, the latter means memorizing the sums of "1 +1," "2 + 2" and so on to help solve more complicated additions.)
Foster-Patillo refuses to let Black History Month lessons get swept to the side, trumped by material that could translate to a data point about students' math or reading skills. So she carves out some minutes at the end of each day.
But the situation irks her. The race to build better readers and math problem-solvers — traits that undoubtedly serve students well in the future but also play into the measure of a school's performance — leaves little time for cultural lessons or creativity.
The pressures, she says, can dampen teachers' enthusiasm.
"It's too many meetings; it's too many expectations," she says, before adding: "It's coming from a good place."
The rollercoaster that is staff morale — sometimes directed at school leadership — isn't lost on administrators. As in any organization, frustration often bubbles from the ground up. Gamboa, the school's principal, says she notices burnout in early December, for instance, when the upcoming holidays add stress on top of finishing report cards and managing students' many needs.
"It's draining," she says.
Small gestures help. Bagels in the breakroom. A helping hand in the classroom. A public thank you.
Still, there's another kind of school stress that even the best administrators are powerless to solve. It's rooted in this question: How do we keep students safe if and when a person bent on committing a senseless, evil act comes through the front doors?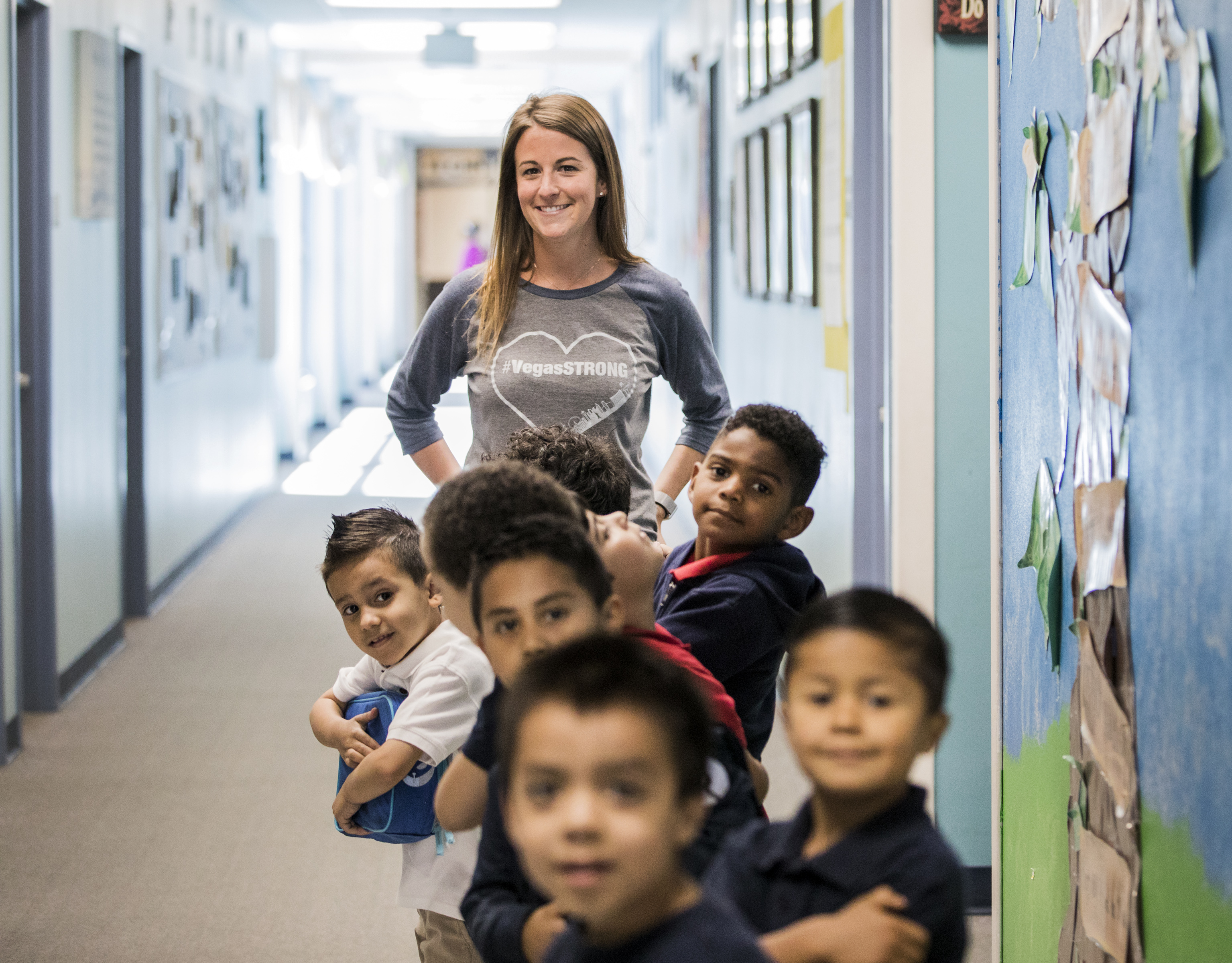 Protecting the innocent
The school's youngest members reside in Rooms No. 1 and No. 2, which share a connecting door and a fenced-in playground with a jungle gym, a fleet of tricycles and miniature picnic tables. This is the pre-kindergarten headquarters.
Children ages 3 to 5, including some with learning disabilities, spend half-days here Monday through Thursday. It's a place where play is purposeful: A kitchenette area provides social and emotional learning. Colored, magnetic blocks build motor skills. And a reading nook promotes alphabet comprehension.
On this January day, it starts out like most others. Teacher Amanda O'Grady shows photos of a library, Walmart and McDonald's to the 20 pre-kindergarten students — some wiggling more than others — seated on a carpet in front of her. She asks what you might find at each location.
"Do you go buy bicycles at a McDonald's or do you buy food?"
"Food," the youngsters shout in unison.
It's a brain exercise designed to help children understand vocabulary words and draw connections between places and their purposes. Today, they'll also be learning a new term — hard lockdown.
The safety drill has become ubiquitous across the United States as school staff navigate a society plagued by random acts of violence. The bloodshed at Columbine High School, Virginia Tech and Sandy Hook Elementary School thrust those names into the American vernacular, making them synonymous with a new-age horror: innocent students and educators killed by gun-toting assailants who entered their classrooms.
The morbid reality is that it could happen anywhere, and it does. Even local school police officers have indicated that it's more a matter of when, not if. After all, the frequency of school shootings has relegated some to nothing more than a blip in the news cycle.
And so now teachers and students practice what to do if an intruder — a term slightly less fear-inducing than "active shooter" — disrupts places once considered safe havens.
"Do you remember what we do if we have a hard lockdown?" O'Grady asks her students.
They stare blankly back at her, so she jogs their memories in the simplest of terms — where to go and what to do. She leaves out the why, careful not to frighten her students who can barely spell their names.
"So today if we happen to hear someone say 'hard lockdown,' we are going to go super quietly and sit in the math area," she says.
O'Grady understands, in excruciating detail, what her students might not fathom. Three months earlier, she was standing on a concrete festival ground across from the Mandalay Bay Resort and Casino, listening to country tunes when the shots rang out. A man near her toppled to the ground, a gunshot wound piercing his shoulder. That was her only clue the bam-bam-bam wasn't a spontaneous fireworks display.
"I turned to my friends and said, 'We gotta go. We gotta go,'" she says.
They ran, diving for cover each time more bullets fell from the sky. Their jagged path led them out of the concert venue-turned-war zone and into the Tropicana, where they huddled in the casino basement behind old slot machines. They didn't move until her friend's husband — a Metro Police sergeant — led them to safety hours later.
O'Grady, 31, would learn later that three other friends, who were standing elsewhere in the venue, had been shot. They all survived.
She didn't leave her house until four days after the shooting. On the fifth day, she returned to Sunrise Acres, where she forced herself to smile amid sadness. The Las Vegas shooting only heightened O'Grady's awareness that evil can strike anywhere, forever altering lives. O'Grady, who grew up in Long Island, New York, lost a family friend in the World Trade Center attack on Sept. 11.
Now, what-if scenarios clog her mind each time she takes her students outside for recess. Her thoughts always drift to one question: How would she protect them?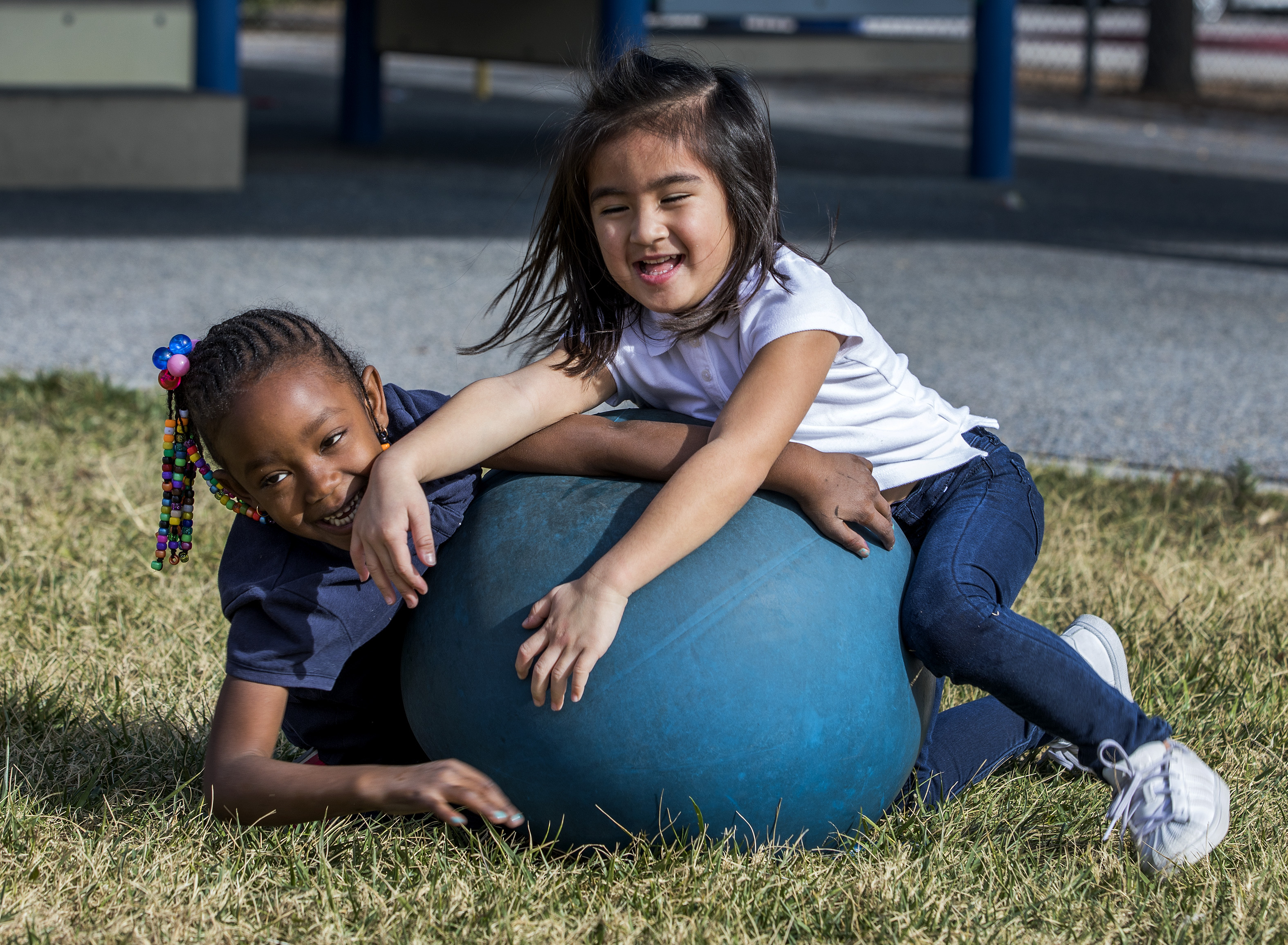 It's a question no one hopes to actually answer but one they practice. After all, violence already creeps uncomfortably close to the school.
In May, a shooting occurs just down the street. It happens shortly after 1 p.m., the same time kindergarteners are playing outside for recess, but no one notifies the school. Staff members only find out when they notice the heavy police presence and wander over for information.
Had the school been alerted, staff would have been ready to mobilize a hard lockdown if necessary. They know the drill.
In January, it went like this: The signal comes mid-morning, over the loudspeaker, from the assistant principal.
"Attention students and staff, this is a hard lockdown."
O'Grady and her co-teacher, Angelica Chandler, guide the little ones to a cove surrounded by bookcases. They squish together in silence, which is a rarity in the pre-kindergarten classroom. A few children yawn. Some hold their index finger to their lips, the universal sign of quiet. One boy, wearing a crown for his birthday, giggles softly.
"Twenty students, correct?" O'Grady says as she counts heads.
Chandler nods. O'Grady logs the information — number of students and adults in the room — in the computer system and returns to the chosen safe spot.
"Remember, this is just practice because we want to stay safe," she whispers.
Soon, the all-clear comes over the loudspeaker.
"You were just quiet for a full three minutes!" O'Grady says, smiling broadly. "That was really good. Go ahead and kiss your brains."
As the students make their way back to the learning carpet, Chandler hands out gummy worms. It's their treat for a job well done.
Five days after the Sunrise Acres drill, a 15-year-old shooter kills two students in a western Kentucky high school.
The next month a gunman unleashes bullets in a Parkland, Florida, high school, killing 17 people.
And, in May, another school shooting— this time in Santa Fe, Texas — claims 10 more lives.