When Anthony Marnell III initially sought to be majority owner of a Nevada medical marijuana company in 2014, he came with an impressive résumé — he was the CEO of the billion-dollar M Resort, his family had built and run the Rio for its illustrious first decade and his father's construction company had a hand in some of the most iconic casinos on the Strip, including the Wynn, Bellagio and Mirage.
But the Nevada Gaming Control Board put the kibosh on his plan on May 6, 2014, issuing an edict that gaming licensees must have no investment or involvement in the nascent cannabis industry. It was somewhat puzzling for executives in Nevada's largest industry, who argued that they live and breathe compliance measures to retain the privilege of working in gaming — an industry that has overcome its unsavory past and moved to the respected mainstream in large part because of the rigor of state regulation.
Casinos must ensure minors and card cheats stay out and report any suspected money laundering to the federal government. Prospective licensees go through a vetting process that might best be described as invasive — it includes online and in-person background checks, meetings with gaming regulators in other jurisdictions and a review of all investments, bankruptcies, real estate and even flight logs.
"There is nobody that I can think of that is more qualified to operate what I see as a very highly regulated industry other than a gaming licensee," Marnell told the Nevada Gaming Commission in 2014. "We are the most investigated, vetted people in the state of Nevada. I have held several security clearances at the federal level … and none of them were as strenuous or as difficult or as thorough as the Nevada Gaming Control Board's process."
In the end, Marnell withdrew his marijuana plans to stay in gaming, and regulators have not budged on their bright line. But the casino sector has still left its mark on the cannabis industry — its veterans are filling out the leadership teams of marijuana companies, and its regulatory regime is the model that the state hopes to emulate for cannabis.
State records released this spring through SB32 show several former casino executives, casino developers and restaurateurs with a presence inside of casinos as marijuana company owners and board members, along with some who appear to be currently employed by gaming companies. It speaks to the cash and business acumen required to succeed in the marijuana world, where the lack of traditional banking infrastructure has limited access into the industry, and the appeal of a new industry to entrepreneurs and risk-takers who want to get in on the ground floor.
"It has all kinds of upward possibilities. Gaming has become very white shoe," said Tisha Black, an attorney and president of the Nevada Dispensary Association whose father, developer and former casino executive Randy Black, took over at the Clear River marijuana company when Marnell stepped back.
But the presence of gaming-affiliated players is also indicative of their success in staying on the good side of a strict regulatory structure.
In 2014, when Gov. Steve Sisolak was making zoning and licensing decisions as then-chair of the Clark County Commission, he said he "put a silver star on every one of the people applying for medical marijuana license who have a Nevada gaming license because they have been vetted."
Relative to out-of-state applicants, he said, those in the Nevada gaming business are less likely to be fly-by-night characters or flight risks should trouble arise. Black agrees.
"Where you see those guys that were pillars of the community — in my mind it makes sense that they were some of the original licenses, because they're a known commodity, they have roots here," she said.
Veterans of gaming are also attractive additions to ownership teams because of their experience in a more mature industry.
"You see the people who used to be in gaming bring their influence, and pretty much when they say this is how you do it in gaming, everyone listens," said Riana Durrett, executive director of the Nevada Dispensary Association. "If they were previously in gaming or they had gaming clients, that's very influential."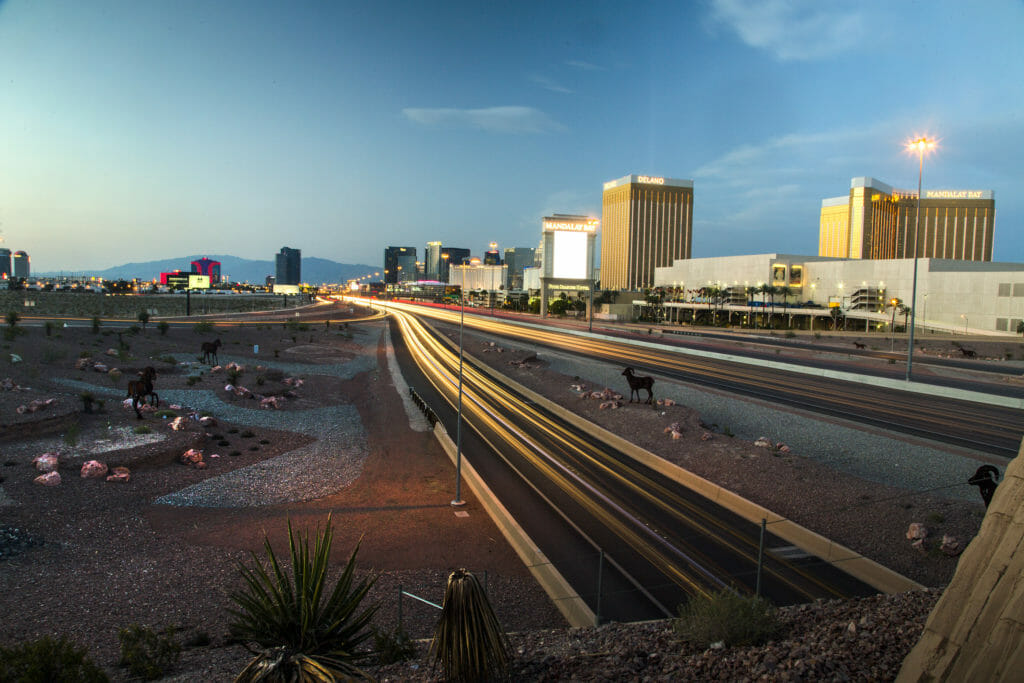 The great divide

Since the 2014 edict, there have been little more than baby steps in allowing overlap between gaming interests and pot.
Early on, regulators cracked down on people who straddle both industries, blocking slot route operator Nevada Gaming Partners from serving a restaurant in 2014 because the wife of the owner had a minority stake in a medical marijuana company GB Sciences. Regulators said that even if the couple's businesses were separate enough to satisfy legal requirements, it wasn't enough to satisfy "the spirit of the notice."
"When the notice was sent out to the industry in 2014 that said you can't play in both sandboxes, most everyone took that to heart," said Jennifer Roberts, former associate director of UNLV's International Center for Gaming Regulation and a lawyer for Nevada Gaming Partners at the time.

Other gaming licensees acknowledged that they needed to choose between one industry or the other.
Troy Herbst had a 10 percent stake in The Clinic, a marijuana company, and was also a partner in slot route operator JETT gaming. The slot route was a gaming venture for Jerry Herbst, who had already grown the gas station empire Terrible Herbst. Troy's brother, Tim Herbst, told gaming regulators in 2014 that he would divest from gaming if he won a license, according to the Las Vegas Review-Journal. "We're not going to do anything to disappoint this commission," Tim Herbst said. Troy Herbst does not have a stake in the industry as of August 2019.
Brian Greenspun, publisher of the Las Vegas Sun, gave up his interests in Greenspun Gaming LLC and G.C. Investments — which are partial owners of casinos — to family members as he took an ownership role in Integral Associates, the parent company of Essence dispensaries. He has also recently withdrawn from the marijuana industry and is no longer listed as an owner.
The bright line between the two industries was reinforced through the work of the Nevada Gaming Policy Committee, a group that included then-Gov. Brian Sandoval. The panel's 2017 workshop on the topic outlined myriad reasons why casinos can't be landlords for cannabis businesses, accept marijuana money, or in any way be affiliated with the substance.
Because marijuana is still considered a Schedule I controlled substance by the federal government, even basic actions by a financial institution — a category that includes casinos — can run afoul of federal law. Potential crimes include possessing any kind of equipment needed to produce or sell marijuana, using a phone or email to facilitate any operation of a marijuana business, leasing or otherwise controlling the property where marijuana is cultivated or sold; reinvesting the proceeds of a marijuana business into any other business, and any financial transaction at all that involves more than $10,000 in proceeds from a marijuana business.
Interacting with an illegal industry could mean steep fines, asset forfeiture and prison sentences. Those risks have kept casinos out of cannabis, and regulators holding a line.

"I think that gaming, because they're now big corporate companies — they can't. It's brackish water for them," Black said. "I understand the state's concerns and its desires to protect gaming because that's billions of dollars for the state, not only in jobs but in taxes."

Gaming provides about three quarters of a billion dollars in tax revenue to Nevada's general fund each year, about ten times the amount that cannabis does. The tourism industry overall — including direct, indirect and induced jobs — is responsible for about 450,000 jobs in the state.

Multinational casinos must get national and international funding that runs through the federal Securities and Exchange Commission, Black said, so dabbling in the marijuana world "could put me in direct opposition with the regulators who regulate me and the institutions that capitalize me."

Regulators have made some efforts to clear up ambiguities. In 2018, they moved to allow the development of a tavern on property owned by a landlord who also had contracts with players in the marijuana industry. In 2017, they approved plans for an applicant who is a card-carrying medical marijuana user to expand a gaming business, and members have called for a "balanced approach" as new areas of conflict emerge.

"A regulatory framework that balances the myriad interests by carefully examining whether and to what degree gaming regulatory policy objectives are actually implicated would inure to the benefit of all involved," Gaming Control Board member Terry Johnson wrote last fall in Nevada Gaming Lawyer magazine. "And protecting the crucial role of gaming to the Nevada economy while respecting the expressed will of Nevada voters need not be mutually exclusive."

But gray areas persist. A review of state records by The Nevada Independent shows at least four people newly listed as owners and board members of marijuana companies as of August who appear to be current employees of gaming companies or married to licensees, but the Gaming Control Board declined to comment on whether those people are running afoul of the bright line.

"As Nevada statutes and circumstances regarding marijuana change and evolve, the Board often engages in discussions with licensees to identify solutions that will ensure they are in compliance with our gaming laws and regulations and those would be confidential under NRS 463.120," the board said in a statement.

Another argument regulators made against mixing gaming and cannabis is that it would reflect discredit on the industry. But even five years ago, lawyers were calling that idea outdated, pointing to polls that showed a vast swath of the public in favor of at least medical marijuana if not recreational (that number is now 91 percent, according to the Pew Research Center).

"All of what we are seeing now is the public opinion is pretty clearly in favor of medical marijuana," Reno attorney Matthew Woodhead, who was listed as a minority owner on Clear River's original medical marijuana application, told regulators in 2014. "So the concept of reflecting discredit, to the extent it does involve public opinion, seems public opinion is on our side."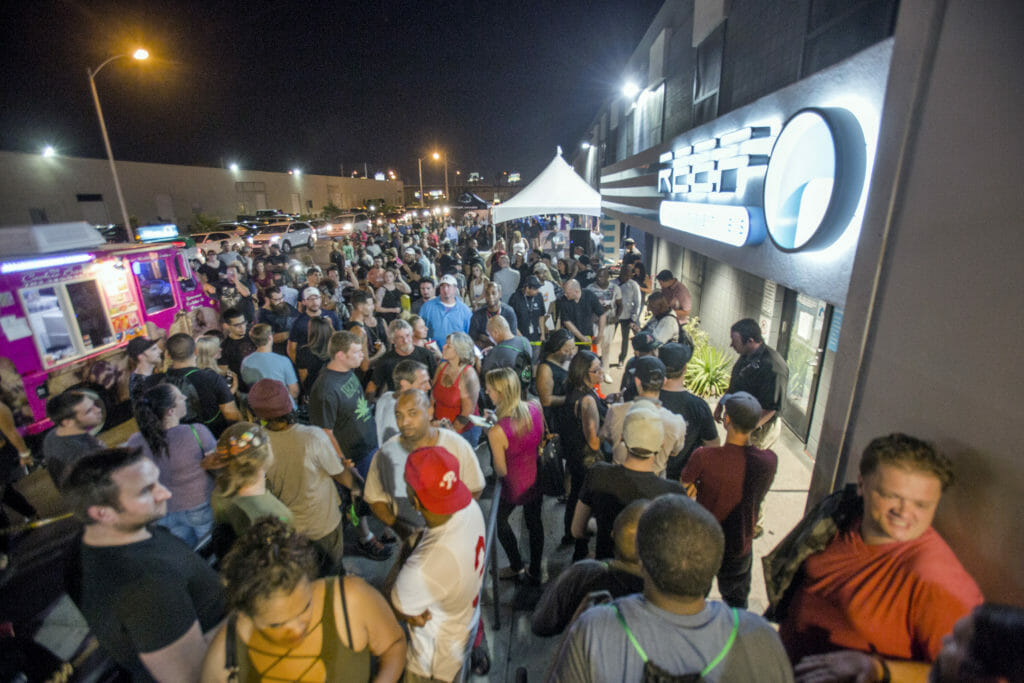 Physical divide

In spite of growing public support for marijuana, Nevada is arguably becoming even more conservative in separating marijuana and gaming. This legislative session, lawmakers passed a law banning marijuana dispensaries within 1,500 feet of a gaming establishment — a buffer larger than the one voters approved between schools and dispensaries.
It was an outgrowth of a dispensary ban the Las Vegas Strip resort corridor already had, and the number mirrors the distance that Clark County escort and outcall entertainment services must be from homes, schools and places of worship. The distance also reflects the separation that pawn shops must have from the resort corridor.
In testimony to lawmakers this May, casino companies with locations in outlying areas separate from the Las Vegas Strip argued for the same buffer on the basis that it "would level the playing field, and would protect Nevada's largest industry."
"It exacerbates guest and employee issues that we have," Erin McMullen, a lobbyist for Boyd Gaming, said about dispensaries and casinos being in close proximity. "We have children at a number of our properties. A lot of our properties have movie theaters, bowling alleys, and we host many student sporting events."
It had the support of the Nevada Resort Association, the influential lobbying group representing many of the largest casinos.
"We supported the 1,500 foot buffer because it separates an incompatible land use to nonrestricted [gaming licensees]," said Virginia Valentine, head of the association. "It gives us the protection we need to comply with the federal law."
The advent of the policy has forced at least one marijuana company — Essence, coincidentally owned by former casino executives — to stand down, scrap plans to build on a lot they had already purchased across from the Peppermill casino in Reno and look for property elsewhere.
Although the approval of the buffer seemed to suggest that the marijuana industry got pushed around by its older brother gaming, Durrett notes that her association wasn't fighting the measure, and nor were schools or other classes of buildings fighting for a larger buffer than they already had.
"We had no position on it because it impacted members differently," she said.

The measure potentially foiled the plans of those who wanted to move closer to casinos or sell their license to a company that did, but those who were grandfathered into the zone or would be unable to move may have been happy to keep the competition out of that zone.
"I don't think there should be a mass migration anywhere, whether it's the gaming corridor or not," Durrett said.

But questions remain about the rationale for the buffer. Longtime Clark County Commissioner Chris Giunchigliani , who served on Sisolak's advisory panel for the future Cannabis Compliance Board, contended there hasn't been enough explanation for it.

"There may be some very legitimate reasons," she said. "Let's have that discussion out in the open. What was it tied to?"
She suspects that future business considerations are at play. If federal prohibitions on marijuana go away, casinos could eventually house dispensaries, and it would be problematic to have competition too close.
"In politics, for people that say they're free enterprise individual, it's always about how to stop your competition," she said. "I've never found an ordinance or regulation or state law that hasn't been advanced in order to accomplish that."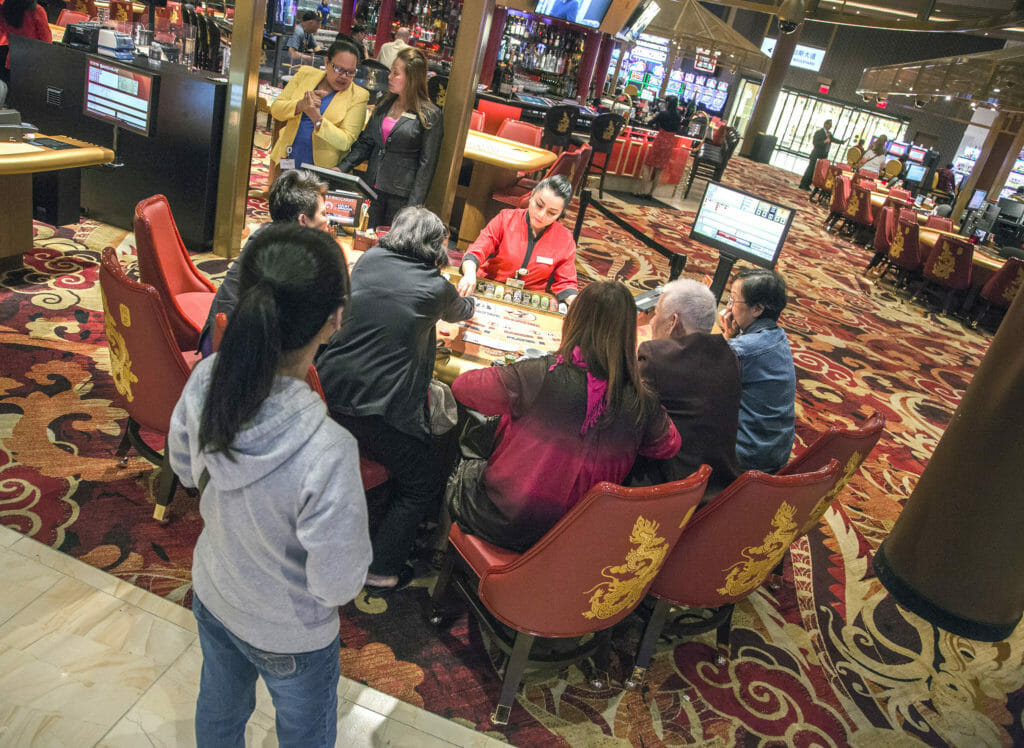 The future

The marijuana industry is continuing to take cues from the gaming industry, which faced the same specter of a federal crackdown decades ago before building what it calls the "gold standard" of gaming regulation.

"We were under threat of federal government basically raiding our casinos and shutting them down because of organized crimes. We had to take regulation to prevent that," Roberts said.

The state is specifically modeling its forthcoming Cannabis Compliance Board off the Gaming Control Board. Dispensaries also hope to implement some of gaming's best practices.

One of the things cannabis companies want to emulate is a policy called "minimum internal control standards." That's an effort to standardize certain staffing levels for accountants, recordkeeping software and other procedures to make it easier for auditors and inspectors to spot deficiencies.

"I think from the beginning it was always viewed as an aspirational goal," Durrett said. "Not everything is analogous and comparable between the industry so some things you can't follow the gaming model, but anywhere you can … It's the best way to avoid federal interference."

In spite of the divides on the books, observers say it's also time to be honest about the fact that with marijuana use legal in Nevada, there's undoubtedly overlap such as tourists partaking in casinos. Giunchigliani said that for the safety of consumers, and to prepare for the future, there should be open conversation about how the two industries should coexist.
"I think everybody is playing a big game if they think that people are not smoking in their hotel rooms," she said. "It's legal, it's not going away, they're not going away, so how do you make it work for the customer as well as for their concerns in regard to the feds."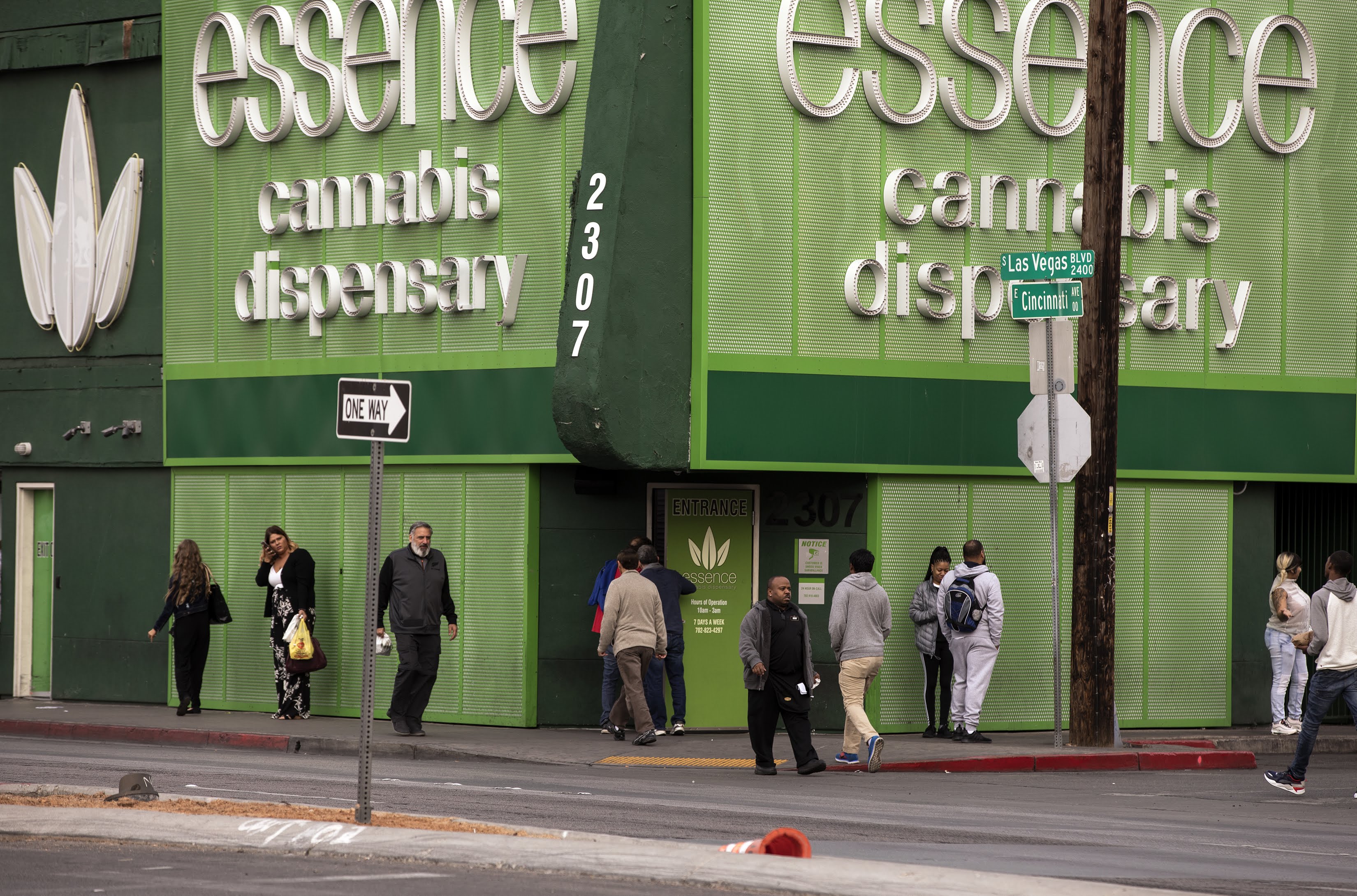 The players
The list of owners and board members in Nevada's marijuana industry is checkered with the names of former casino executives and others in the hospitality and entertainment sector, including strip club owners and restaurateurs. Below are some of the most notable.
Armen Yemenidjian is the co-owner of Integral Associates, widely known as Essence Cannabis Dispensary. He gave up his gaming license and roles as a former executive at the Tropicana casino in Las Vegas when he decided to transition into the cannabis market.

Beyond the three open dispensaries it has in Nevada, Essence had the highest-scoring application in all eight of the competitive jurisdictions to which it applied in 2018, winning eight additional dispensary licenses. The company's sale to multistate operator Green Thumb Industries for $290 million closed this year.

Arguably one of the most successful players in the Nevada cannabis industry, Armen was joined by his father Alejandro "Alex" Yemenidjian, who served as president of MGM Resorts from 1995 to 1999, CEO of the company from 1999 to 2005, and CEO of the Tropicana from 2009 to 2015. He joined the Green Thumb Industries board this summer.

Tony Marnell II owns the Marnell Companies that did construction on some of the biggest resort properties in Las Vegas, and he also served as CEO of the Rio casino for its first few years. He and his son, Tony Marnell III, initially appeared on medical marijuana license applications in 2014 as owners but then dropped off.

Strip club owners have a presence in the form of Jamal Keshmiri, whose Reno-area strip club empire included the flagship Wild Orchid Gentleman's Club that's been a target for the city. Keshmiri also owns Ben's Fine Wine and Spirits, which has six liquor store locations in Reno and Carson City, and is an owner with HSH Lyon LLC and High Sierra Holistics LLC. He has coached track at Reno High School and was a former track star himself.

In Southern Nevada, Peter Feinstein, a partner at Sapphire Las Vegas strip club, was a board member at Nevada Group Wellness for purposes of an unsuccessful license application. Feinstein said he thinks he was sought out to be on the board because, as holder of a privileged license for the strip club and alcohol permits, "I have a long history of being in a regulated industry."

Several members of the bar and culinary industry are marijuana company owners. Howard Starr, an owner at Las Vegas Natural Caregivers LLC, is has been a co-owner of the Numb bar and frozen cocktail lounges at Caesars Palace and Harrah's casino, as well as Chil'm at the Tropicana casino. He said he has since left the industry.

Michael Frey is an owner with BBMC LLC and Naturex LLC, but has owned cigar venues including Casa Fuente at The Forum Shops of Caesars Palace, the Montecristo Cigar Bar and a kiosk store at New York New York casino. He is the stepson of Las Vegas developer Irwin Molasky.

His brother, Robert Frey, is an owner at Caliente Development Company, BBMC LLC, and Naturex. He was CEO and co-founder or Pure Management Group, which at one time owned a large portfolio of nightclubs including the famous but since-closed Pure and the Pussycat Dolls Lounge at Caesars Palace, as well as Coyote Ugly in New York-New York. Earlier this year, the Frey brothers sued their partners in the marijuana business for $125 million, alleging they filed applications for dispensary licenses without them and ended up winning 11 licenses — more than any other applicant.
Restaurateurs Michael Morton and Jenna Morton is an owner with Acres cannabis, but is also the co-founder of Morton Group, which operates La Cave Wine & Food Hideaway inside Wynn Las Vegas, CRUSH inside MGM Grand and La Comida in Downtown Las Vegas.

Robert "Randy" Black, the real estate developer and owner of Black Gaming, is an owner with Clear River LLC. He divested his gaming interests, which included three resorts in Mesquite, after they were hard-hit by the recession. His daughter, Tisha Black, is the president of the Nevada Dispensary Association.

Steven Nightingale, an owner at WSCC Inc., is a former operator of the Cal-Nevada Club in Reno and also an author and philanthropist. He told the Reno Gazette-Journal he went into the marijuana business because his late friend Joe Crowley, former president of UNR, was so persuasive.

Gary Primm is an owner at Deep Roots Medical but made his fortune from the Prima Donna Resorts, which was sold to MGM Grand Inc. in 1998 for $612 million. His stepbrother Roger Primm is also involved in the same marijuana company, which has at least one dispensary open in Nevada already and won five additional licenses in 2018.

Former president of Grand Sierra Resort Steven Rosen is an owner at THC Nevada LLC and THC Productions LLC.
"I was a casino executive for over thirty-five years, which is a highly regulated industry," he told members of the Nevada Tax Commission in January 2018. "I appreciate regulations and I understand they are there to protect the industry."