In just two years, the narrative surrounding Nevada's legal marijuana industry has shifted from praise for the improbably smooth and lucrative launch of recreational cannabis sales to an industry divided by legal wrangling and clouded by questions about the adequacy of state regulation.

Many questions remain unanswered: Who's on a secretive new governor-convened task force focused on "rooting out potential corruption" in the marijuana realm? Was there corruption to begin with, either by the state or by businesses? Will anyone lose a license?

Thanks to a bill signed into law this spring, there's a bit more sunlight on a process that was once completely shrouded in secrecy because of taxpayer confidentiality laws.

Over the next few weeks, a series of stories called "The Cannabis Files" will explore the trends laid out in the data released from SB32 and analyzed by The Nevada Independent. The records not only reveal who has a stake in the business, but paint a picture of a rapidly changing industry that is becoming increasingly corporate, with ownership transfers so frequent that elected officials find it hard to keep up.

Opening up the information "ushers in a new era of transparency that will benefit the industry and the public," Gov. Steve Sisolak said when he signed the bill in May, and it offers a glimpse of the challenges that will lie ahead as Nevada once again overhauls its marijuana regulation next year and adopts a Cannabis Control Board oversight regime not unlike the one that reined casinos into a respected mainstream.

"I will say, overall, I think our industry is at a point that is not terribly different than gaming was," said John Ritter, a board member with The Grove and the Nevada Dispensary Association. "I welcome the fact that the industry is treated seriously and being treated like gaming."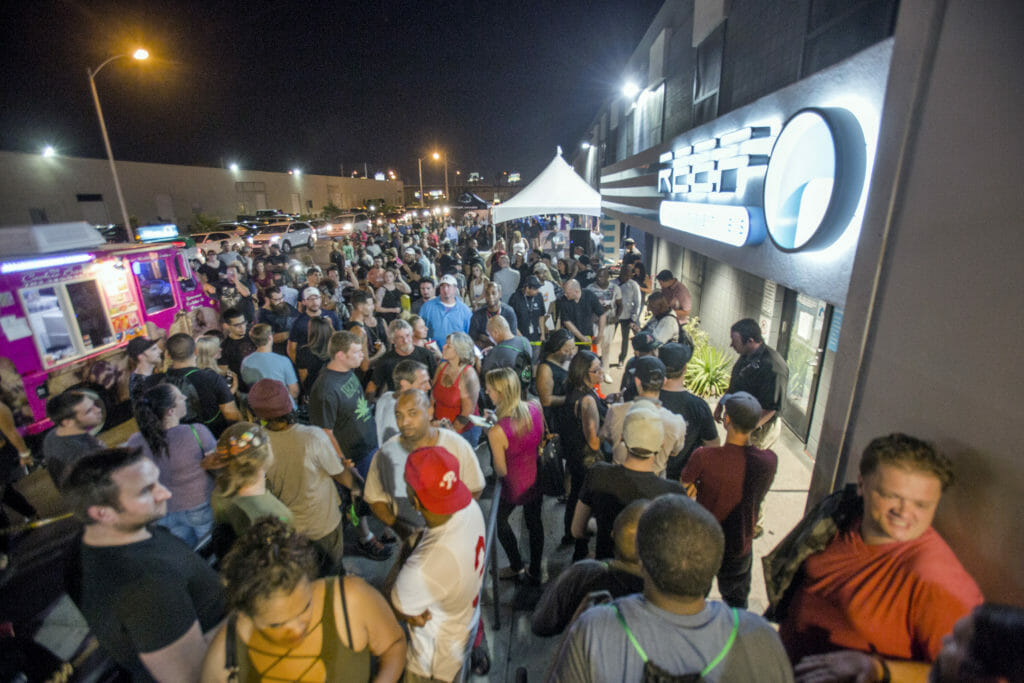 A house divided

Nevada's launch of recreational marijuana sales in July 2017, six months ahead of schedule, was met with great fanfare, especially in light of troubles neighboring states encountered with their rollouts.

But in spite of the high-flying revenue numbers — the state brought in $70 million in its first year, or 140 percent of what it had projected — critics now wonder whether corners were cut in the rush to unlock the recreational marijuana market, which dwarfs the size of the medical marijuana market. And they wonder whether the Department of Taxation that assumed responsibility of marijuana regulation in 2017 was prepared for a task that has since dominated its workload and that in the future will be assigned to a marijuana-specific board with more enforcement teeth.

"This is another area where I think there was a rush to get revenue into state coffers," Sisolak said on Thursday at the release of an audit of the state's Marijuana Enforcement Division. "We're doing everything we can to clean up those issues."

Chief among those issues are questions about whether the state was unfair when it awarded 61 conditional dispensary licenses in late 2018, in response to more than 460 applications. While many dispensary owners agree the initial voter-approved dispensary cap is prudent to keep the quality of the stores high and avoid having one on every street corner, the concentration of those new licenses among just 17 businesses — including one business that captured a full 11 licenses — surprised and angered those who did not win. The state is involved in about a dozen lawsuits over the situation.

An audit launched in March and released last week concluded that the state's licensing process was adequate, if not perfect. Auditors said more transparency about the scoring criteria and automation to reduce human errors while reviewing business applications would help, as well as redistributing licenses that can't be used because they're for jurisdictions that have a marijuana moratorium.

The audit revealed no bombshells or conclusive evidence that the process was rigged. But the questions will be further litigated in court at trial, scheduled to begin this spring.
Court proceedings stemming from a lawsuit filed by dispensary owners who did not win additional licenses lasted for months this summer and led to a partial preliminary injunction in August that barred the state from granting some dispensaries final approval to open. Clark County District Court Judge Elizabeth Gonzalez agreed that there were flaws with the process, saying it "was impacted by personal relationships" and that a diversity category was "subject to manipulation by applicants," but did not toss the entire licensing round out of hand.

Marijuana enforcement agency leader Jorge Pupo, whose dinners with certain applicants and apparent selective sharing of information about applications was a focal point of the court proceedings, left the post under circumstances that have not been fully explained. But one of the biggest consequences of the lawsuit and subsequent moratorium has been a split between the haves and have nots, with dispensary license winners blaming the losers for lawsuits that have jammed up their efforts to open the new stores.

"It's created a giant schism with the industry," said David Goldwater, a board member of the Nevada Dispensary Association and owner of Inyo Fine Cannabis Dispensary, which did not win additional licenses in the latest round.

Late last month, eight cases against the state were consolidated as they head for trial.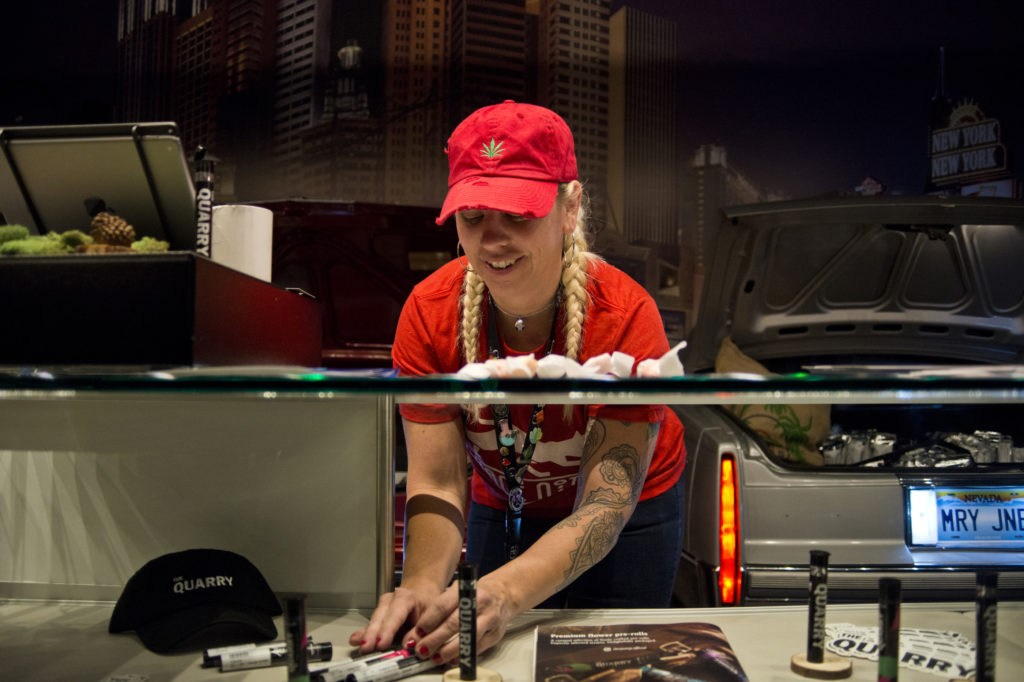 Foreign influence

On top of that dispute, a recent indictment alleges that two associates of former New York City Mayor Rudy Giuliani with ties to Eastern Europe conspired to get involved in the industry. Once they missed the deadline, they allegedly made illegal campaign donations to Republican gubernatorial hopeful Adam Laxalt and attorney general candidate Wes Duncan — financed by a foreign national — in hopes that they would sway well-positioned politicians to change the entire licensing scheme.

Though the two men were unsuccessful in obtaining a license, the revelation prompted Sisolak — a champion of the industry, if the marijuana world's more than $700,000 in campaign donations in the 2018 cycle is any indication — to proclaim his outrage and order sweeping action.

Ask industry advocates, though, and they point to the haplessness of the conspirators: They appeared to hatch their plan in early September 2018, the same time as a deadline for a complicated application that some businesses had worked on filling out for months or years. They tried to woo a gubernatorial candidate who, in 2016, campaigned against legalizing marijuana and then lost the 2018 election.

"I think what happened with the Ukrainian thing was a Three Stooges thing," said Clark County Commissioner Tick Segerblom, a champion of the industry now and in his former career as a state lawmaker.

Nevertheless, it's prompted Sisolak to convene a secretive task force aimed at "rooting out potential corruption" in the industry. Sisolak has declined to so much as name the agencies that are part of the task force, saying he doesn't want to compromise their investigations. While insiders say the force is comprised of law enforcement, Sisolak's office said Friday it still needs time to answer a records request about the membership, three weeks after The Nevada Independent first submitted the inquiry.

In neighboring California, The Sacramento Bee found loopholes in the process of changing ownership on marijuana licenses that had allowed dispensary ownership to fall to a small number of people — including a Ukrainian-born businessman indicted on campaign finance charges — in spite of anti-monopoly rules. Sacramento is now considering a moratorium of its own on license transfers, and the FBI is investigating whether bribery of city officials played a role in the licensing process.

Still, Segerblom believes Sisolak's response has cast too much suspicion on the system.

"I understood what [Sisolak] was saying but I think he tarnished the whole industry unnecessarily," Segerblom said. "Does he know something I don't know? … While there could be a few problems here and there … it's phenomenally successful."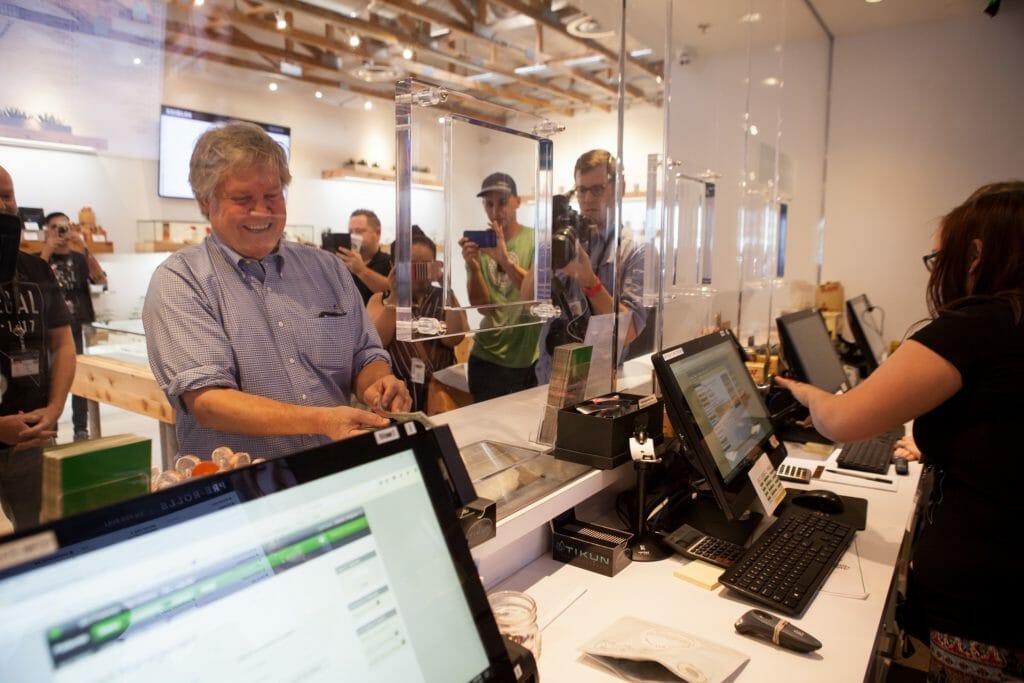 Moratorium on license transfers

Even more sweeping, state officials in mid-October called for an indefinite moratorium on transfers of licenses. Transfers are common, and can result from things like shareholders wanting to sell out or going through a divorce.

But critics say the process of transferring a license is too much easier than the initial application process, and could lead to unsavory characters getting a foothold in the industry. The Department of Taxation said it would not be processing new or existing applications as it tries to ensure "a more thorough and appropriate vetting process within the industry."

The moratorium can also stall major mergers and buyouts, though, causing businesses to miss contractual deadlines and face fines. At an Oct. 23 Reno City Council meeting, officials with Deep Roots Harvest went so far as to say the hold is likely to scuttle New York City-based Acreage Holdings' plans to acquire the company for $120 million.

"With everything that is going on at the state … there is a very low likelihood that that transaction will manifest," Keith Capurro, part-owner of Deep Roots Harvest, which won five new dispensary licenses in the latest round.

"It's definitely affecting folks," Goldwater said. "We're all trying to figure out the moratorium. It came as a surprise."

Asked for details on the timeframe of the moratorium, Sisolak deferred to the leader of the Nevada Department of Taxation and his appointee to lead the forthcoming Cannabis Control Board: Tyler Klimas, a former lobbyist serving the governor's office in Washington D.C. who was also previously a spokesperson for Gov. Brian Sandoval and the Silver State Health Insurance Exchange.

"No," Sisolak said in a brief interview Thursday when asked if he knew when the moratorium would end. "I've got total confidence in [Taxation] Director [Melanie] Young and Tyler and they're going to move forward."

Tryke Companies, which owns Reef Dispensaries and this fall announced plans to be acquired by Cresco Labs, is urging quick action. Late last month, the company completed a Hart-Scott-Rodino Act review, a detailed antitrust probe involving the U.S. Federal Trade Commission and Department of Justice.

"While we fully support the Governor's efforts to ensure a strong and empowered regulatory framework for Nevada cannabis, we strongly urge a swift resolution to the moratorium," said Brett Scolari, Tryke's general counsel. "We look forward to working with state officials on a quick resolution of the approval process in the coming months as we take the final step in this highly regulated public transaction."

Some in the industry say they support the moratorium, although they sympathize with companies hampered by it. It's a step toward bolstering public confidence in the business of marijuana, they say.

"Look at how the public perceived gaming 50 years ago — that was a huge sin and it was looked down upon," Ritter said. "Because of what Nevada did to clean up the industry, get the mob out, we proved that can be done and now gaming has proliferated across the world. That's why I think that in the long term, making sure that this industry is properly regulated, that the owners and managers are properly vetted — in the long term [that's] good for our industry."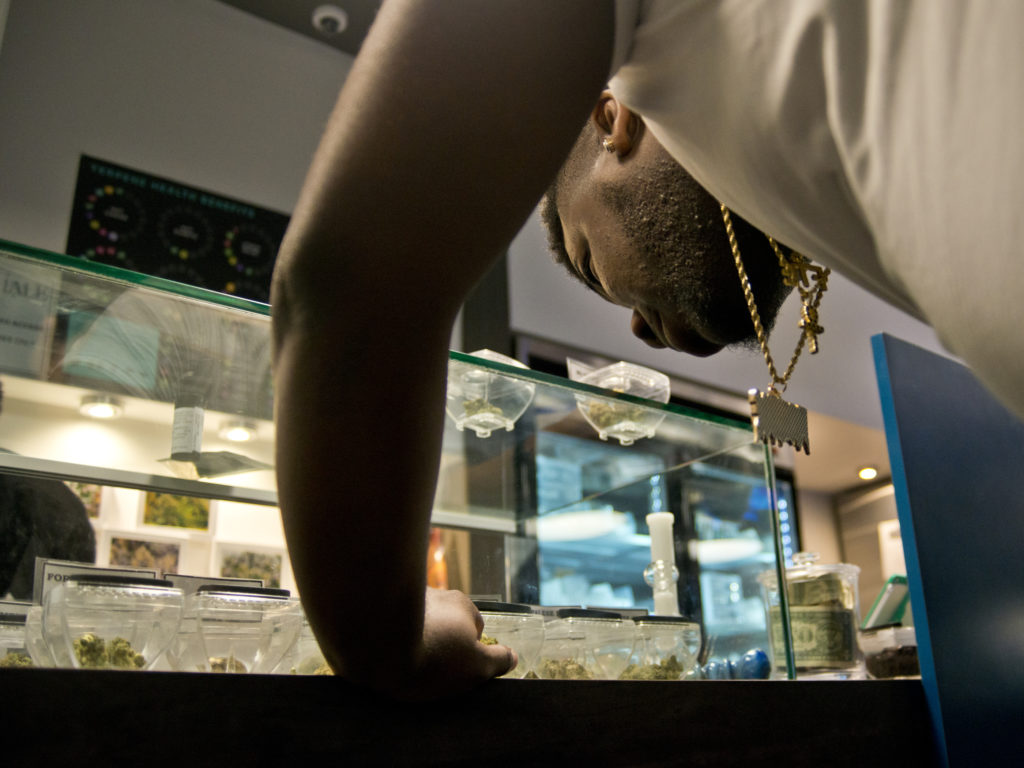 Consolidation

Data released by the state through SB32 illustrate the trend of businesses once led by prominent local names selling for sometimes hundreds of millions of dollars to major, multinational companies that seek to launch powerful chains. It has troubled some local government officials who envisioned a more home-grown, local industry and not a Wal-Mart for pot.

"I think the idea was to keep it local and home-grown and sadly I think it's been lost," Reno Mayor Hillary Schieve said in an interview. "How is someone from Canada going to care about the local environment? … Are they watching out for the community?"

Some companies have gone public on the Canadian Stock Exchange — a move that critics say is making it harder to tell who is in control, but that industry advocates say is a fact of life because marijuana remains illegal on the federal level and traditional banking and access to capital is out of reach in the U.S.

"You can't go to a bank and borrow money to expand," said Segerblom, who was previously on the board of a publicly traded Canadian marijuana company that purchased Greenmart of Nevada. "You have to get to a stock exchange somewhere."

The data also show an industry where female owners are firmly in the minority, in spite of efforts to promote diversity. High barriers for entry, which included $250,000 in liquid capital, appear to be getting higher as the industry grows in sophistication.

The professionalization also shows in the Nevada Dispensary Association's recent decision to create a PAC aimed at shaping more unified state marijuana policy going forward. The PAC, called the Nevada Can Committee, aims "to assist Nevada's legal cannabis industry in coalescing its political efforts and engagement, including providing education and support for candidates for elected office," said NDA Executive Director Riana Durrett, and "will support candidates from all parties and a variety of backgrounds."

While some lament that a substance that landed low-level dealers in jail even a few years ago has evolved into a multibillion-dollar industry that is the purview of the wealthy and sophisticated, others say the industry's evolution into an increasingly corporate political and legal powerhouse is a sign of a healthy and maturing industry, and is ultimately a good thing for the state.
"Nevada marijuana excise taxes fund our states education program … Growth in the cannabis industry is not just good for jobs and redevelopment, it is good for education," said Bob Groesbeck, an owner with Planet 13. "We cannot speak specifically to all mergers and acquisitions taking place in Nevada – but generally we view this as a positive sign of a healthy industry."
Check back with The Nevada Independent in the coming days and weeks for more stories in the "Cannabis Files" series on the most notable names in the industry, diversity in the business, and the consolidations and transfers that are changing the face of the nascent marijuana business in Nevada.