COYOTE SPRING VALLEY, NEV. — Five wells punch the scorching Nevada desert.
Water in this area is locked underneath the ground. It flows silently and invisibly as part of an aquifer stretching roughly 50,000 square-miles. Much of this water collected here thousands of years ago when lakes covered most of Nevada. Now wells are summoning it for human use. The problem is there's not enough to go around.
At the center of this tension are the five wells.
A housing developer, Coyote Springs Investment, owns four wells, planted to one day pump water for a sprawling new community in the desert, filling the highway stretch about 50 miles northeast of Las Vegas. The remaining well belongs to the Southern Nevada Water Authority.
Coyote Springs wants to pump its wells. The water authority wants to keep most of it in the ground.
The five wells mark divergent interests with a history intertwined by a similar goal: development and the need to secure the water to make it happen. But today the housing developer and the powerful water utility, locked into past contracts, are caught in a fight, playing out in hydrologic reports and hearing rooms, over what might seem a simple question: How much water is there?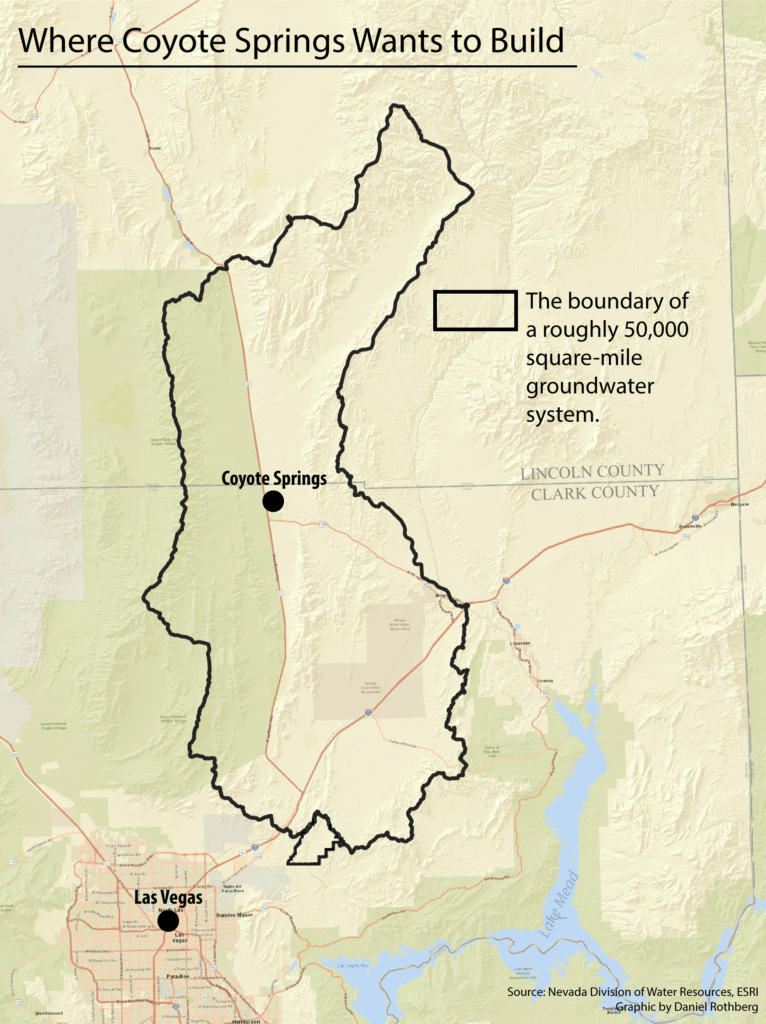 That answer is complicated by how much is at stake — a Colorado River tributary, the survival of an endangered Nevada fish and the future of development in a sweeping area outside Las Vegas.
In the early 2000s, during a period of rapid growth, Southern Nevada politicians gave Coyote Springs their blessing to develop a new community, spanning two counties (Clark and Lincoln) on empty land about 50 miles outside of Las Vegas. Thousands of homes. Golfing. Shopping. Gambling. They would call the community Coyote Springs, named for the valley it occupied.
On a recent hot August morning, what was once planned as a Palm Springs in Nevada is still mostly empty. Two temporary street signs, for CS Parkway and F Street, mark an intersection that has yet to be paved. At least $200 million in infrastructure — flood control, fiber optics, a detention basin and wastewater treatment plants — lies around both sides of the highway. Most of it goes unused, with one exception: A well-manicured golf course meant to attract homebuyers.
But there are no homes. State officials won't allow it, and it has everything to do with the wells.
There was a time, not long ago, when all the political juice appeared to be flowing to Coyote Springs. Then it slowed to a trickle. Political momentum only gets you so far where water is scarce — and Las Vegas has its supply on the line. At least that's how Coyote Springs sees it.
"Someone doesn't want us to develop," says Emilia Cargill, chief operating officer for Coyote Springs Investment. "How do you stop someone from developing? You take their water away."
In the past two years, Coyote Springs has taken the issue to court. In 2018, it sued an arm of the water authority with claims including slander and breach of contract. It has sued the state twice. In August, Coyote Springs accused state officials of taking their property: the right to use their water.
The fight over Coyote Springs is about the collision of water, science and politics. And it reflects a broader tension facing Nevada and the modern West, a reckoning with a past in which water officials handed out legal rights to use an unsustainable amount of water: first come, first serve.
In Nevada and elsewhere, the problem is made more severe because the law developed to view rivers and groundwater as separate stores of water, despite generations of science and observations showing that the two often act as one. In places like Coyote Spring Valley, this paradigm led past officials to overestimate the amount of water rights available to hand out.
Nevada's water statutes follow a similar framework used across the West. That framework is meant to settle disputes, inevitable in a region where aridity is its defining character. Yet state regulators often face serious barriers to enforcing the rulebook in a manner that is cut-and-dry.
Today regulators recognize the issue, and they are trying to tackle the problem.
But the solutions are challenging and even collaborative deals to rein in overuse end up in court. Local judges weigh in, then many decisions are appealed to the Nevada Supreme Court, which often has the final say. Every watershed is different. Yet the future, in most cases, looks similar.
Someone is going to get less water than once promised.
---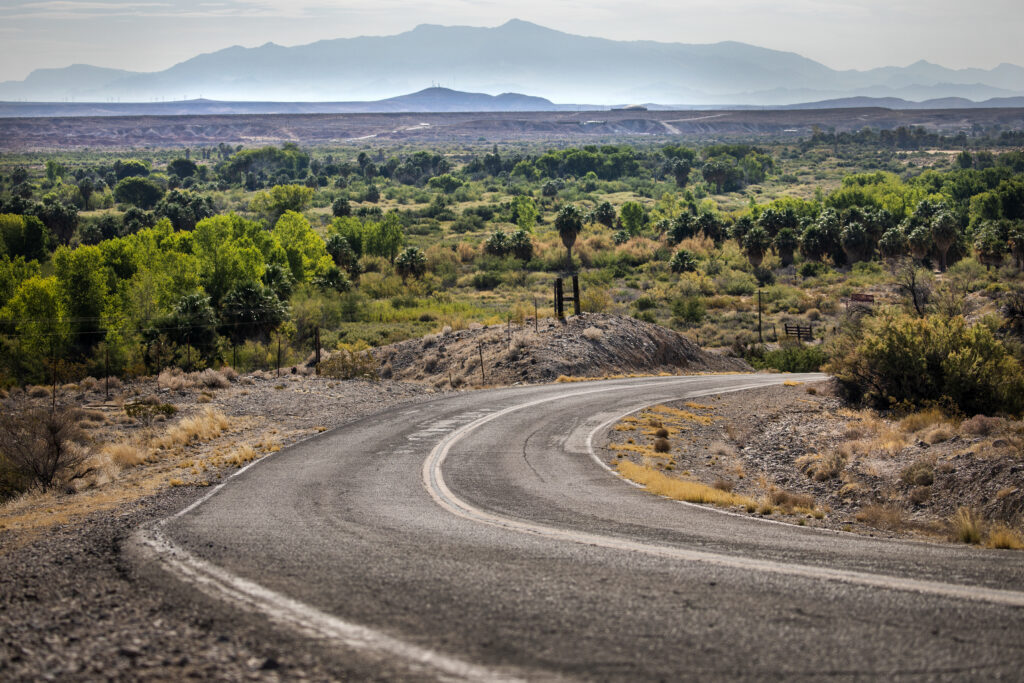 ---
Warm springs, hot drought
Drive a dozen miles away from Coyote Springs and the landscape changes dramatically. State Route 168 sits on top of the expansive aquifer. At first, this stretch of highway looks like the rest of the desert. It's hot. There's not much water. Then you arrive at the Muddy River Springs area.
The creosote bushes and prickly desert vegetation give way to palm trees and honey mesquite as groundwater discharges into a series of springs, enough to create a small river in the desert.
The narrow Muddy River flows beside rural communities, a former coal plant and agricultural operations, before joining with the Colorado River and emptying into Lake Mead, which stores water for sprawling cities, farms and businesses in Arizona, California, Nevada and Mexico.
The water authority owns or leases the rights to most of the Muddy River. Officials store that water in Lake Mead, making this humble tributary a critical part of Las Vegas' water portfolio.
"The water that we use on both the Muddy and Virgin River to [store] in Lake Mead is probably, next to our Colorado River allocation, the most important allocation of water that we have," says Colby Pellegrino, who serves as the water authority's deputy general manager for resources.
Because groundwater feeds the Muddy River, the river's flows are modeled to decrease as more wells are turned on and an increasing amount of water is pumped out of the ground.
Different hydrologists offer different models for this behavior. But enough is known about the hydrology that state officials ruled in June that there was a significant degree of connection: When too much groundwater is pumped up, less water makes it to the springs and the river.
The dispute is over how much is too much.
And the fear is once Coyote Springs and other groundwater users crank up the spigot, it could one day leave Las Vegas with less water, despite having rights that were issued prior to 1920.
Groundwater pumping at Coyote Spring Valley is not the only threat. Other interests, including the Moapa Valley Band of Paiutes, the Moapa Valley Water District, the Mormon Church, NV Energy and the Southern Nevada Water Authority itself, have rights to capture groundwater.
Last year, the water authority argued that the area could only sustain a little more than half of what is currently used, almost one-tenth of the volume that businesses have the right to use.
Their estimate comes as the West faces a drier future. Scientists say a climate change signal is already evident in decreasing the flows of the Colorado River, the primary water source for the Las Vegas Valley. With warming temperatures, water managers in the seven states that use the Colorado River are all figuring out how to firm up existing supplies while doing more with less.
Las Vegas, with the Muddy River, is no exception.
---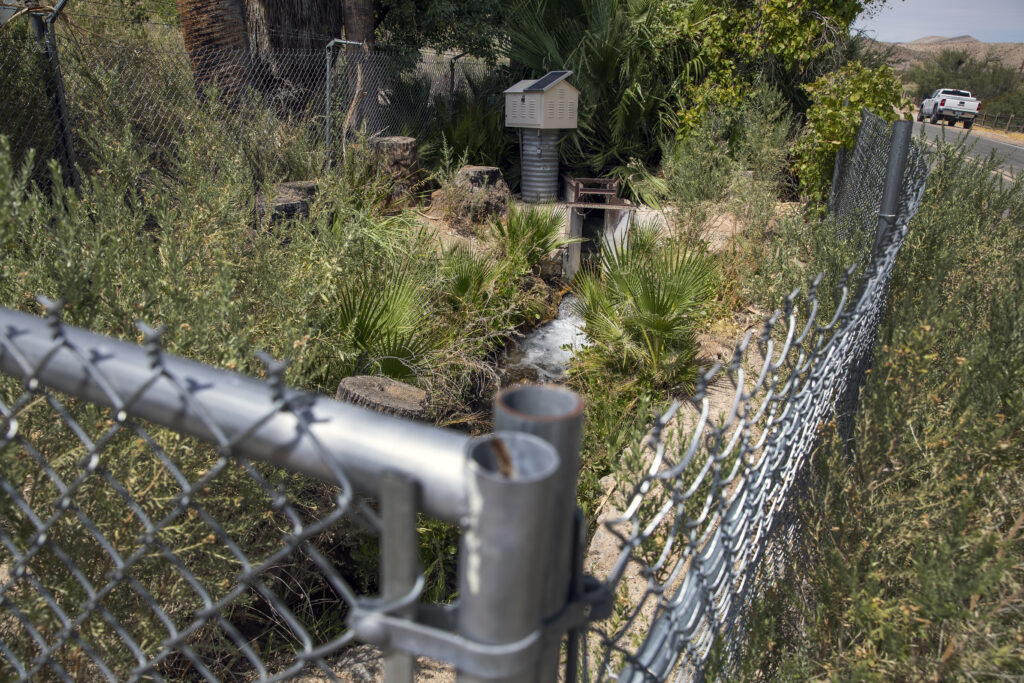 ---
In the Muddy River Springs area, palm trees provide a respite from the summer heat. As Patrick Donnelly, the state director for the Center for Biological Diversity, comments on the unique smell of a riparian area in the desert, he has his eyes on another pressing concern.
Centuries ago, a two-inch fish made its one and only home in the warm springs that form the Muddy River. By 1967, the Moapa dace was listed under the Endangered Species Act, as humans severely constrained and altered its habitat, first by the flooding of Lake Mead with the Hoover Dam, then with the introduction of non-native fish and the creation of resorts and ranches.
Groundwater pumping directly near the springs, in addition to diversions, also threatened the dace. Donnelly's group, along with the water authority and the U.S. Fish and Wildlife Service, have argued that turning on more wells would threaten a recovering dace population.
Each year, divers put on snorkels, enter the protected springs and assess the health of the dace habitat. In August, divers reported a 78 percent increase from last year, a jump to 2,342 dace.
But Donnelly, the water authority and federal wildlife managers are still worried that additional groundwater pumping would reverse gains made through habitat restoration at the springs. And there is evidence to back up their claims.
Increased groundwater pumping during a stress test in the mid-2010s led to a decline in several high elevation springs, according to streamflow and pumping data. Drawing on that data, the U.S. Department of Interior concluded in 2013 that at least two springs could dry up within three years if higher levels of pumping were to continue.
"The spring levels went down with the pumping," Donnelly said. "And they haven't recovered."
"This is your ultimate example of surface and groundwater as the same resource," he added.
Reversal of fortune
Golf carts sit in a neat row at the parking lot for Coyote Springs. Military jets from the Air Force's Nevada Test and Training Range, tucked behind the mountains, can be heard circling nearby. The $40 million golf course, a splash of green in the desert, was built to attract homebuyers.
Behind the golf carts is a pro shop, and behind the pro shop is Cargill's office. On one wall is a map of groundwater in the region (all flows point to Lake Mead). And taped to Cargill's computer is a section from a ruling issued by Nevada's top water regulator (why they can't build homes).
"It's all flowing down to Lake Mead," Cargill says, nodding to the annotated map posted to a wall. "And who benefits from water going into Lake Mead? Southern Nevada Water Authority."
Coyote Springs believes there are a few geologic caveats to that flow pattern.
In preparation for a hearing last year, Coyote Springs commissioned a geophysics consultant to study the geology within the aquifer. The analysis argues that geologic structures on the west side of the valley trap water. The finding, Coyote Springs asserts, means that they can pump groundwater without it directly affecting the springs. Simply put, there is water to build homes.
Many models show the aquifer, known as the Lower White River Flow System, behaving as a "bathtub:" If you remove one gallon of water in one area, you leave the whole aquifer with less. That is, if you pump water at Coyote Springs, you are likely to affect surface water miles away.
"Our argument is that that's not true — that there are a lot of places where there are faults or slips or strikes underground," Cargill said, noting the visible geologic formations in the valley.
---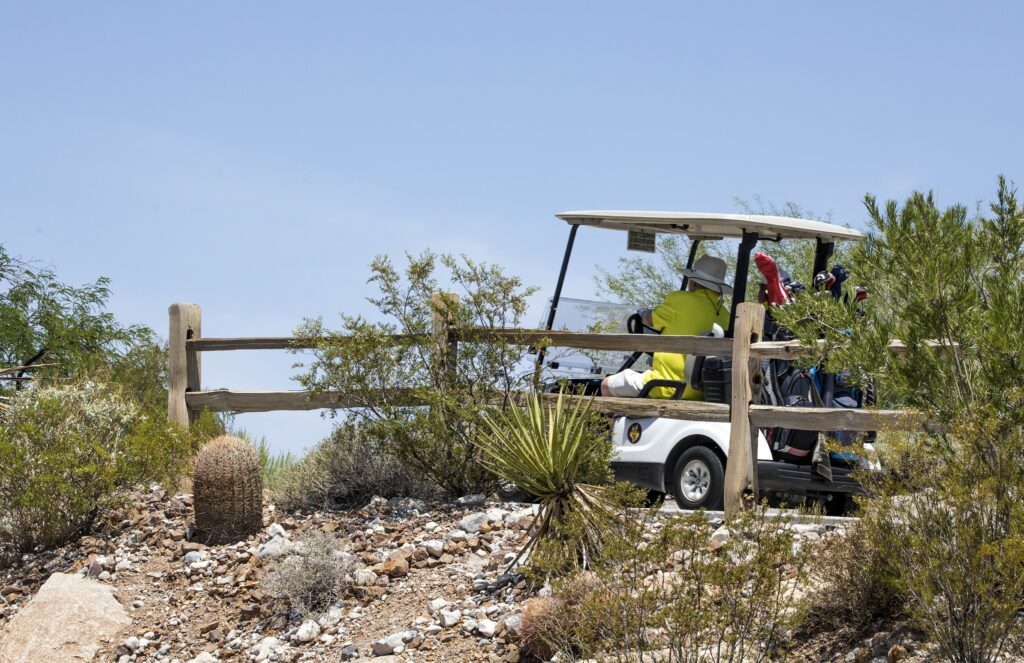 ---
Still, enough is known about the aquifer that Nevada's top water official, State Engineer Tim Wilson, ruled in June that the "best available data" did not support Coyote Springs assertion, even if geologic variations exist. Two days later, Wilson's office again denied its plans to build.
In August, Coyote Springs sued the state, alleging that the state engineer's office made a series of decisions that resulted in an "unconstitutional taking" of the water rights it needs to develop. The court filing said the state's own science supported more groundwater pumping in the area.
Over the past year, it has accused local agencies, which once helped move the project forward, of doing the same. The fight is no longer only about hydrologic modeling. It is also about politics.
As the water purveyor for Coyote Springs, top officials at the water authority, in addition to the Clark County Commission, carry legal sway over whether homebuilding can move forward.
Past Clark County Commissions supported the project, approving a development agreement and entitlements throughout the past two decades. In 2018, the County Commission, then chaired by Gov. Steve Sisolak, approved a zoning change and tentative map for 575 single family lots. Former Sen. Richard Bryan represented Coyote Springs before the commission.
At the time, county attorney Robert Warhola said the approval was "not going to go anywhere unless they resolve the water issue." State water officials would still have to sign off on the plan.
Today Clark County appears to be backing away. In January, county officials started a process to acquire Coyote Springs' land, according to records requested by The Nevada Independent.
Coyote Springs overlaps with critical habitat for the Mojave desert tortoise. Because the Mojave desert tortoise is listed as threatened under the Endangered Species Act, the county is required to offset — or conserve — a certain amount of acreage in order to permit new development. As Las Vegas looks to expand along the I-15 to California, it needs to protect more tortoise habitat. In Coyote Springs, the county believed it had a willing seller.
An acquisition of Coyote Springs would also be a win for conservationists, too. Since the project was first proposed, groups, including the Sierra Club, have raised concerns that a faraway community would affect air quality, increase vehicle emissions and encourage sprawl.
According to a draft proposal, the acquisition was part of a phased approach to buy land from Coyote Springs and move development plans away from building a sprawling town 50 miles away, one that might conflict with the Air Force's operations.
The acquisition would effectively unwind development plans that had originally been pushed by one of the state's most powerful lobbyists, Harvey Whittemore, and supported by some of the state's top politicians, including former Senate Majority Leader Harry Reid. Whittemore was imprisoned in 2014 for giving illegal campaign contributions to Reid, allegations stemming from a legal feud with his former business partners, Bay Area developers Thomas Seeno and Albert Seeno Jr.
Former Clark County Commissioner Chris Giunchigliani was the only vote against the zoning change and tentative map in 2018. Coyote Springs, she said, offers insight into how developers could push forward a project without the commission weighing the long-term impacts, especially in the boom years.
"It's a perfect example of bad public policy being advanced just because we knew someone," said Giunchigliani, who was elected to the commission in 2006 after serving in the Legislature.
In April, the proposed acquisition appeared on a draft agenda for the County Commission's approval. The item proposed acquiring roughly 6,900 acres of Coyote Springs' land, with the Air Force, for about $35 million. Then the item was abruptly taken off the agenda. Cargill sent a letter to Marci Henson, director of the Clark County Department of Environment and Sustainability denying the county's offer.
Cargill wrote that there was "significant disagreement" over the proposed acquisition, including the valuation and a disregard for development rights issued by the county.
Coyote Springs, Cargill writes in the letter, was "gravely concerned" that entities, including the state engineer, the Las Vegas Valley Water District, the Southern Nevada Water Authority and Clark County, "have, and continue to, individually and collectively, take actions in bad faith" to stop the development, drive down the market price and effectively "take" away their property.
In an emailed reply, Henson said she was "surprised by the letter," writing that the "tone and content bear no relationship to our previous discussions and communications."
As part of the email chain requested by The Nevada Independent, Henson said Coyote Springs had not been "truthful" about being a willing seller. In response, Cargill wrote that the developers "take offense with Clark County's assertion." She then said the county had not been "forthright" either.
---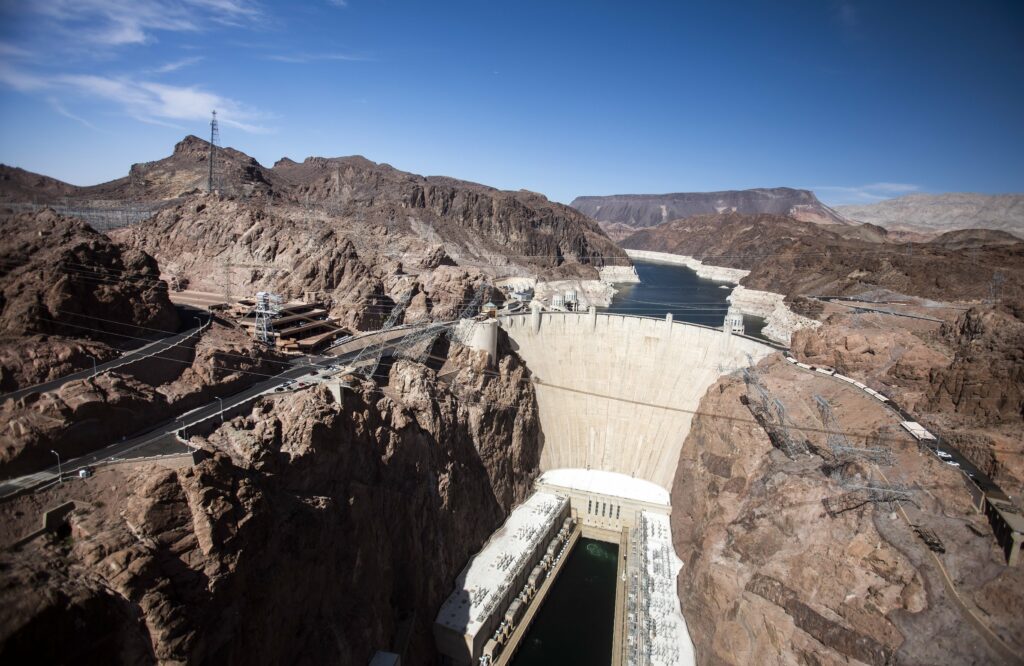 ---
Divergent interests
The proposed acquisition was not only about the land. It was also about the water.
According to a draft of the county's proposed acquisition, the water authority expressed interest in buying Coyote Springs water rights to protect the Moapa dace. Such a move would eliminate increased groundwater pumping, a threat to surface water: the springs and the river.
Where the groundwater gives way to springs, Coyote Springs and the Southern Nevada Water Authority's interests part ways. Coyote Springs is still focused on pumping more groundwater. Today the water authority is focused on maintaining the flows of the Muddy River, where it owns and leases rights to water — water that is stored in Lake Mead.
The water authority is also invested in the Moapa dace's recovery. Reliant on steady spring flow, the two-inch fish is considered an indicator species for the watershed's overall health.
"We as water managers know that if you have an endangered species issue, you have a water supply issue if that endangered species is using the same source of supply as you are," Pellegrino said.
For years, Southern Nevada politicians, the water authority and Coyote Springs appeared to be working hand-in-hand on developing Las Vegas, the water wells and securing water to construct new homes in the fast-growing region. In the 1990s, the water authority even purchased millions of gallons in water rights from Coyote Springs to augment its relatively small Colorado River allocation.
"When Coyote Springs was a big issue — or expected to set the world on its ear — two things were going on," said Michael Green, an associate history professor at UNLV who has studied the development of southern Nevada. "One was that the [housing] boom seemed constant."
The other had to do with different attitudes about the limits on water.
"We know more about the trends in water availability than we did 25 years ago," he said. "The thought that we have the water or we can get the water was in people's minds."
In the 1980s, Las Vegas officials placed their bets on groundwater in the Coyote Spring Valley. At the time, the land belonged to Aerojet, an aerospace company that wanted to test rockets.
"We were going to buy all of Aerojet," said Pat Mulroy, who played a key role in the agreements and deals involving Coyote Springs as the water authority's former general manager. "We were going to buy the whole thing, kit and caboodle."
But everyone's bets on groundwater in the valley were off; the sustainable supply was small.
As the groundwater showed its limits, the water authority turned to surface water on the Muddy River, acquiring water rights through purchases or leases.
For Coyote Springs, this created an inevitable conflict.
As their water purveyor, Las Vegas officials were charged with deciding whether Coyote Springs could pump its water. At the same time, they have a stake in seeing less pumping, not more, to protect the groundwater-fed flows of the Muddy River.
Since 2017, the water authority — along with state officials — have raised concerns about Coyote Springs' efforts to use its water rights. Las Vegas water officials contend that the responsible choice, as a water provider, was to take action before Coyote Springs built homes, given the ongoing concerns about groundwater use.
But Cargill said that the water authority is "conflicted" between its multiple roles. She added that state and local agencies should have considered the water scarcity issues before entitling the project, a process that gave the developers the belief that they were allowed to build.
"We had entitlements," Cargill said. "We had permissions to build. That's why we bought the water. That's why we bought the land. That's why we spent the money. We wouldn't have spent what we've spent and continue to spend on a daily basis if we hadn't had assurances that we were going to be able to develop."
---
TIMELINE OF RECENT ISSUES
April 2017: The Las Vegas Valley Water District expresses concern that "any substantial volume of water" running through Coyote Springs' wells could impair spring flow for the Moapa dace and Muddy River rights, most of which the water authority owns or leases. Water authority officials brought their concerns to Nevada's top water official, the state engineer.
May 2018: Albert Seeno III, a Bay Area and Reno developer behind Coyote Springs, became personally involved, talking to then-State Engineer Jason King. According to Coyote Springs lawyers, King told Seeno "not to spend one dollar more on the Coyote Springs Development Project and that processing of [its development] maps had stopped."
September 2018: Per a court settlement, King conditionally approved subdivision maps if Coyote Springs could prove that the groundwater could be pumped sustainably.
September-October 2019: The state engineer held hearings on the hydrology of the area after water users in the region submitted exhaustive hydrologic reports and modeling.
June 2020: After a new order on the issue, declaring that the region had less available groundwater than once previously thought, the state again recommended denial of development maps.
---
Records show that the limits to groundwater supply were well-established. For this reason, Wilson, the state engineer, as well as other water authority officials, have dismissed claims that Coyote Springs was short-changed or not informed of the scarcity issues in the area.
"The water issues out there had been known for a very long time," Wilson said.
Over the years, as Coyote Springs progressed through the local planning process, developers were warned repeatedly, Mulroy said. But they remained convinced the water was there. If Coyote Springs wants to develop today, "they're going to have to bring water in from somewhere," Mulroy added.
---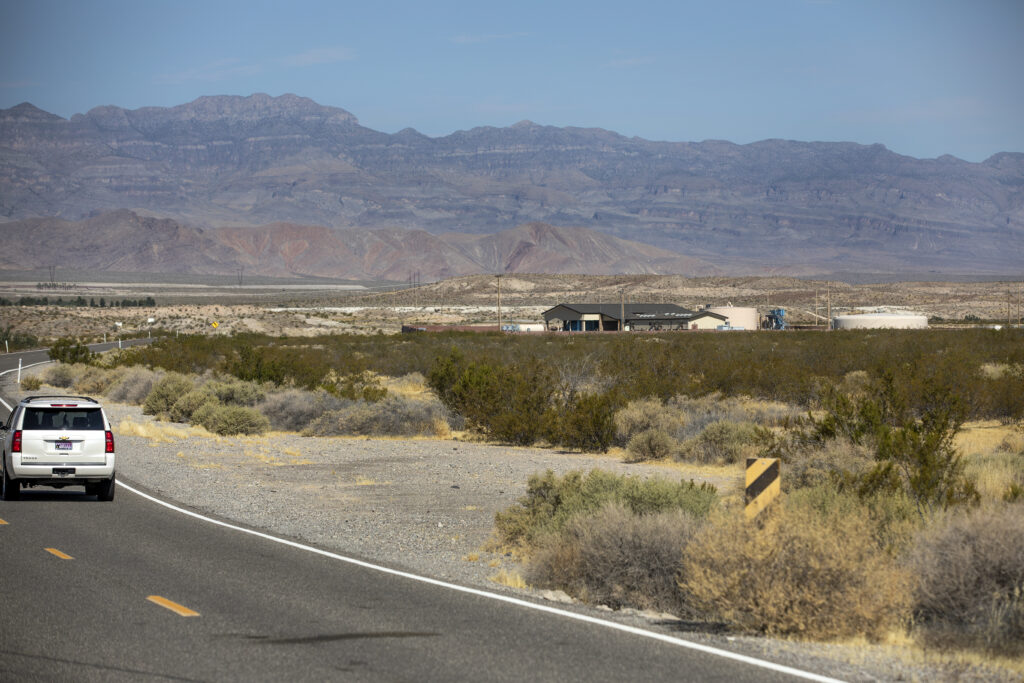 ---
A long path forward
The fight over water at Coyote Spring Valley is long from over.
In June, the state engineer's office issued an order capping regional groundwater pumping at 8,000 acre-feet (an agricultural term describing the amount of water that can fill one acre to a depth of one foot). It's twice the cap that the water authority had hoped for, but it's far less than the roughly 30,000 acre-feet that Coyote Springs had suggested was available.
The cap means that the vast majority of groundwater rights in the area — about 31,000 acre-feet — are going to have to be restrained. The question now is how to do that equitably.
A large amount of water in the Muddy River watershed is controlled by the Moapa Valley Water District, which provides service to the Moapa Valley Band of Paiutes and two rural communities.
Should water used to serve existing communities be prioritized?
The path toward a resolution to decide who can use their groundwater — when, where and how much — reflects a complicated future, not only for Coyote Springs but in areas across Nevada, where past state officials routinely issued more water on paper than there is water to go around.
Correcting this problem is challenging. Decisions to appropriate, and over-appropriate, water were made decades ago. State officials did not always incorporate the same values, especially around protecting the environment, that policymakers consider now. And to fix the issue, regulators are constrained by a system of agreements, entitlements and plans that were approved in the past.
The state engineer's order recognizes the connection between groundwater and surface water, and it proposes an approach that aims to look at the whole puzzle, not just the puzzle pieces.
But nearly everyone involved in the area found something to disagree with. At least ten water users — companies and government agencies — are participating in a judicial review in Las Vegas district court.
"I don't think the litigation's ending any time soon," Pellegrino said.
Pellegrino's hope, though, is that litigation will yield to collaboration. As an example, she cited the Colorado River, where water users with competing interests and constituencies have opted to enter into collaborative agreements rather than gamble on the results of a lengthy fight in court.
"There is a path forward for the people who are using water [and] for the people who have water to come together, kind of like we do on the Colorado River, and say 'Now that we know what the quantity of water is that we're working with, how are we going to make this work,'" she said.
---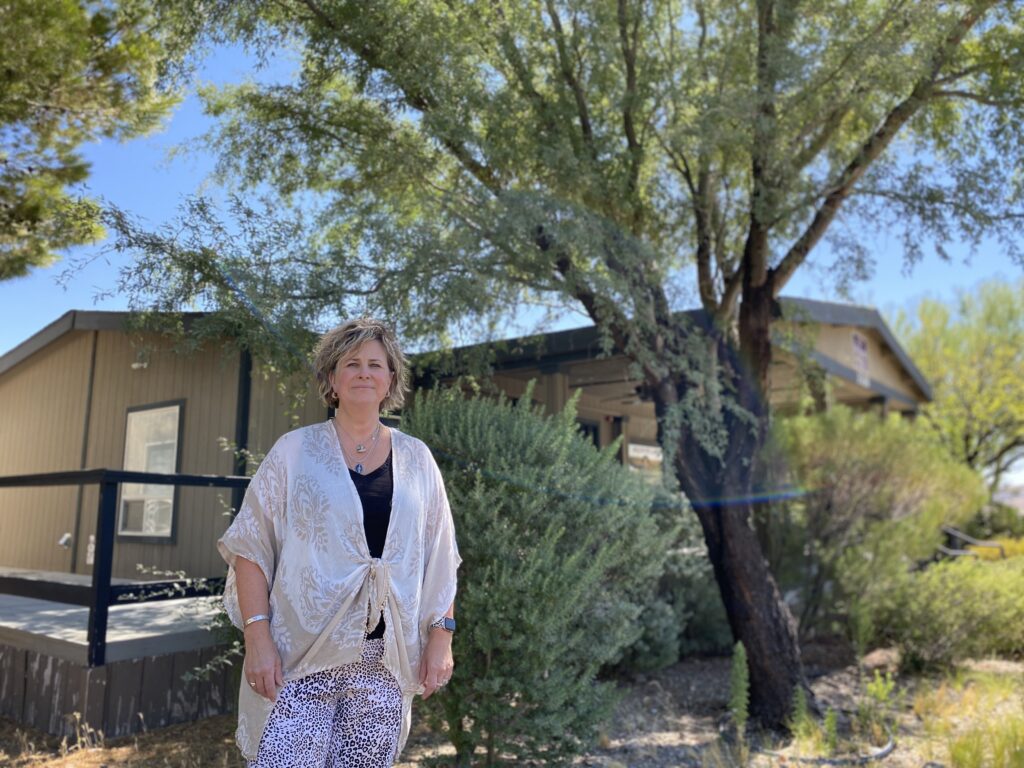 ---
As the court battles continue, Coyote Springs remains focused on building homes.
"That's what we do as a company," Cargill said. "We're not in the business of running golf courses. That's not what we do. We're not in the business of running a tortoise habitat. That's not what we do. We build homes. We build communities. We build infrastructure. We build shopping centers. That's what we do as a company. We run casinos. That's what we do."
And Coyote Springs has more rights to water. The groundwater is not its only source. About one hundred miles to the northeast, Coyote Springs owns ranches in Lake Valley near the small town of Pioche.
In December 2008, the state engineer approved a plan allowing Coyote Springs to export a portion of its ranch-water to the new desert community. Although the state's order placed limits on the exportation proposal, it allowed for piping 11,300 acre-feet of water, enough water to supply tens of thousands of new homes.
But "that water wasn't intended to be the first water used," Cargill said.
"That water was intended to be the next water used," she added.
Any such effort to import the Lake Valley water would be years away, requiring new permits and adding significant costs.
Yet even in Lake Valley, more than a hundred miles away from Las Vegas, the future is complicated by the past. The water authority has its own storied presence in this area.
Starting in 1989, Las Vegas water officials filed for groundwater rights and purchased ranches in eastern Nevada with the goal of building a roughly 250-mile pipeline that could supplement its Colorado River supply. Coyote Springs and the water authority even have overlapping grazing permits.
In 2008, Coyote Springs testified that its plan was to import its Lake Valley water through the Las Vegas pipeline. But after years of pushback from rural communities, tribes and environmentalists, the water authority shelved its plans for the pipeline this year, another setback for Coyote Springs.
Still, when asked if Coyote Springs was looking at Lake Valley, Cargill replied: "One fight at a time."
Part II of this series, "New Rules," will focus on how the problem developed and future fixes.
This story was supported by a grant from The Water Desk, an independent journalism initiative based at the University of Colorado Boulder's Center for Environmental Journalism.