The vehicles streamed into the pickup lines on a recent Monday, some with popped trunks awaiting cargo.
In a North Las Vegas parking lot, they inched toward a white tent, where workers loaded brown boxes and white plastic bags filled with food into cars, trucks and SUVs. The assembly line-like operation outside the Culinary Academy of Las Vegas popped up in the immediate aftermath of the COVID-19 shutdown to help thousands of furloughed workers put food on the table.
A year later, it hasn't stopped. Instead, the Culinary Academy expanded and began allowing all community members to access the roughly 40-pound batch of fruits, vegetables, grains and meat — complete with recipe cards — designed to feed families.
As of early March, the food assistance program had donated 11.5 million pounds of groceries, or the equivalent of about 35 million meals. On any given week about 6,000 to 8,000 vehicles roll through the drive-through-style line, and that figure doesn't include deliveries made directly to those in need who cannot leave their homes or food distributed at smaller pop-up sties.
"I can tell you that the lines aren't getting any shorter at all," said Mark Scott, chief executive officer of the Culinary Academy. "...This past year is really a hole fairly wide and fairly deep for people, and it's going to be a long time before people are able to dig out."
But across town another pickup line was seeing equal, if not greater, activity — the passenger pickup area at McCarran International Airport. Hordes of flight-weary travelers, some donning face masks, scanned the line of cars as horns honked and doors opened and shut.
A year ago, this was not the case. The normal hustle and bustle of a busy airport had been swiftly replaced by an eerie quiet.
Now, the two pickup lines — separated by miles and purpose — nod to the region's hopeful but challenged circumstances.
Nevada is, once again, healing, just as it did after the tourism industry was rocked by 9/11, the Great Recession and 1 October. Vaccination numbers are climbing, case numbers and hospitalizations remain relatively low and spring has brought forth not just tourists but an increasing sense of optimism about the future.
But the truth is Nevada's healing has only ever been surface deep, its wounds still raw beneath and ready to break open at even the slightest injury.
Amid all the talk of economic diversification over the last decade, experts say Nevada has failed to invest in the necessary level of change to build a more stable economy. The memories of past economic devastation often quickly fade as Nevada once again returns to boom times and trusts the glittering lights of the Las Vegas Strip to save it.
Some would say Nevada's close relationship with business is what gives the state an edge. When Nevada struggled to secure necessary supplies for hospitals in the early days of the pandemic, for instance, gaming and mining companies donated millions of pieces of personal protective equipment, money and other resources through the governor's private-sector COVID task force.
But Nevada's reliance on industry to save the day has also time and time again left the state dependent and vulnerable. At first it was mining, an industry so valuable, and powerful, that it was granted a special, favorable taxation structure when the state's Constitution was written in 1864.
Then it was the casinos, who have so wholeheartedly opposed industry-specific taxes that they have gone so far as to support a widespread tax increase that would equally affect all larger businesses in Nevada. There was Tesla, Faraday Future, the Raiders and, now, Blockchains, all enterprises touted as the state's next economic cure-all.
In its nearly 157-year history, Nevada has been unable to shrug off being a company town. This time, it's put the state in the impossible position of choosing between saving its residents from COVID or financial devastation.
Now, the question is whether, as the lights on the Las Vegas Strip grow brighter, Nevada will once again be drawn like a moth to flame or whether it will truly diversify its economy while fixing a long-ailing unemployment system. The question is what the future holds for Nevada's workers — many of them workers of color — who are the lifeblood of the economy and the first ones to suffer when good times turn bad.
The question is whether history will once again repeat itself.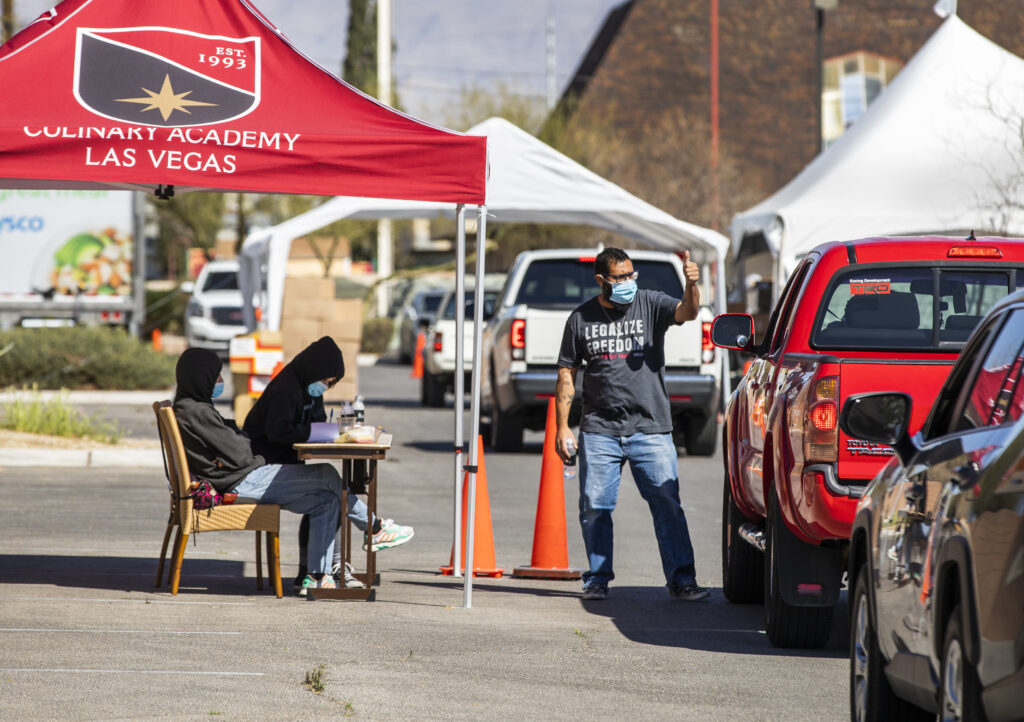 ---
The shutdown was swift.
Six hours after Gov. Steve Sisolak announced on March 17 that nonessential businesses would be required to shut their doors to halt COVID-19's advance on the state, all gambling activity statewide ceased. It was the first time Nevada's lucrative gaming industry had been prohibited from operating since gambling was legalized statewide in 1931.
Other quintessential Nevada businesses, including strip clubs and brothels, and other everyday establishments, such as salons, gyms and malls, were given an extra 12 hours to wind down their businesses.
The decision hadn't come as a shock to gaming establishments, many of which had been on multiple calls with the governor leading up to the decision and some of which had already been making plans to shutter operations in light of canceled bookings and an increasingly bleak future for the tourism industry. Billy Vassiliadis, longtime Las Vegas adman, estimated there was 80 to 90 percent agreement among the resorts by the time the governor made his decision that the shutdown had to happen.
Plus, some casino operators saw what was happening half a world away and started preparing. Casinos in Macao shut down for 15 days in February last year.
"I think we could see that it was going to be a very serious matter and definitely going to affect operations based on what we had seen happen in Macao," said Virginia Valentine, president of the Nevada Resort Association. "But I don't think anyone knew just how big an impact there was going to be or that there would be extended closures."
More than six months earlier, the Nevada Department of Employment, Training and Rehabilitation (DETR) had carried out "economic cycle planning," preparations that recognized a 10-year streak of economic growth would inevitably come to an end and unemployment would grow. But the domino of casino closure announcements was ominous for then-director Tiffany Tyler-Garner.
"Over time, there's this growing concern of 'oh my gosh, yet another employer is indicating that they're putting folks on leave' … and that all those tens or hundreds, or whatever size those businesses were, were headed our way," she said.
The prospect of shutting down the gaming industry was more complex than it perhaps appeared from the outside. For starters, some casinos scrambled to find padlocks to secure their entryways. Locks, as it turns out, were not a standard feature in the 24-hour establishments.
Casinos also had to quickly devise plans for counting and safely storing cash, either on site or transferring via armored trucks to banks. Sandra Douglass Morgan, former chair of the Gaming Control Board, said regulators were fielding call after call from casino operators who wanted to ensure they were in compliance with all the logistical and accounting matters. At the same time, gaming properties were handling people-centric problems, such as notifying and accommodating hotel guests and standing up employee assistance programs for the wave of people facing sudden furloughs.
"If we had to do it all over again, obviously we would have said, 'Okay, you have a week to close,' to make sure all that information was put into place, but we didn't at the time," Morgan said. "But everyone was very understanding."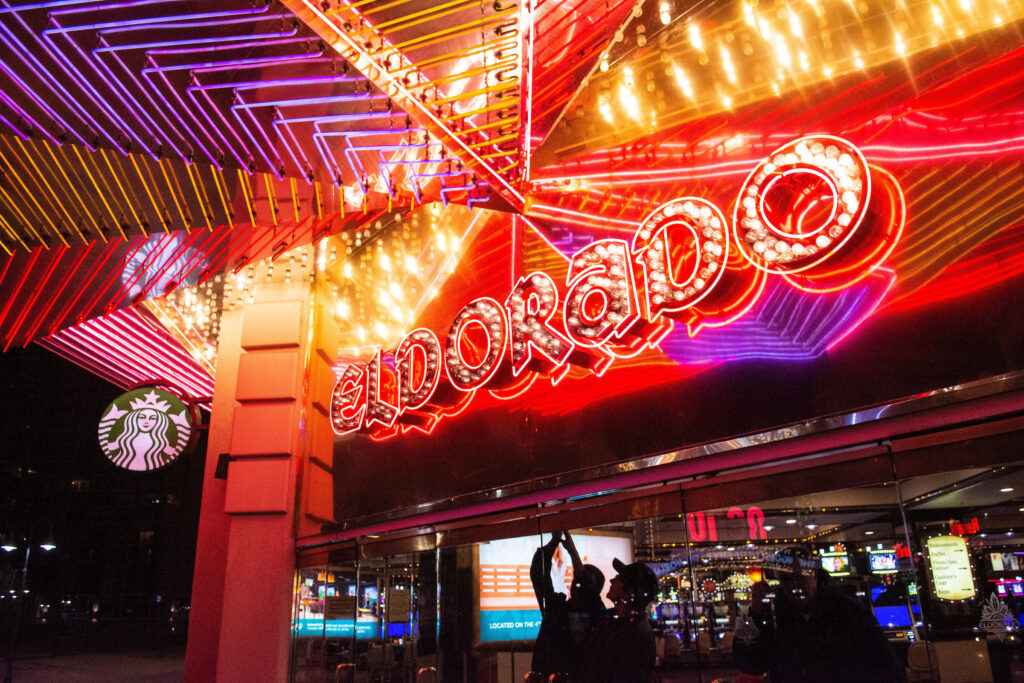 State officials within the Department of Business and Industry, meanwhile, scrambled to help other businesses figure out whether they were considered essential and, therefore, whether they were required to shut down. The initial list of essential businesses Sisolak announced could remain open was specific, if incomplete: Grocery stores, pharmacies, banks, hardware stores, truck stops, daycares, gas stations and health facilities.
That left the rest of the non-casino businesses in somewhat of a grey area. Workers at the Tesla Gigafactory, Allegiant Stadium and several marijuana dispensaries reported for work as usual on March 18, unclear whether their employers would be sending them home at noon.
Clarification came that afternoon — an hour after businesses were supposed to close — in the form of a "Risk Mitigation Initiative" document, which outlined 20 essential services and sectors. Among them were ones the governor hadn't mentioned the previous night, including veterinarian services and pet stores, laundromats and dry cleaners, and auto repair services. Construction and mining businesses were, separately, granted permission to remain open as well.
But, at the time, there was little to no federal guidance about how essential businesses ought to remain open safely to protect themselves, their workers and their customers. So, state officials hurried to come up with their own guidelines. Terry Reynolds, director of the Department of Business and Industry, said the state ended up being about two or three weeks ahead of the federal Department of Labor in the guidance it released for Nevada businesses and employees.
"Businesses can't wait three weeks," Reynolds said. "They need to know what they need to know quickly."
Some of the issues state officials grappled with included how to keep small banks, which were legally required to stay open during the shutdown, running when their employees fell ill, and how to help restaurants safely pivot to a takeout model as dine-in operations closed. Reynolds said some restaurants were able to successfully shift their operations.
"Others did not shift very well," he added. "It was very unfortunate because I think a lot of those may not come back at all."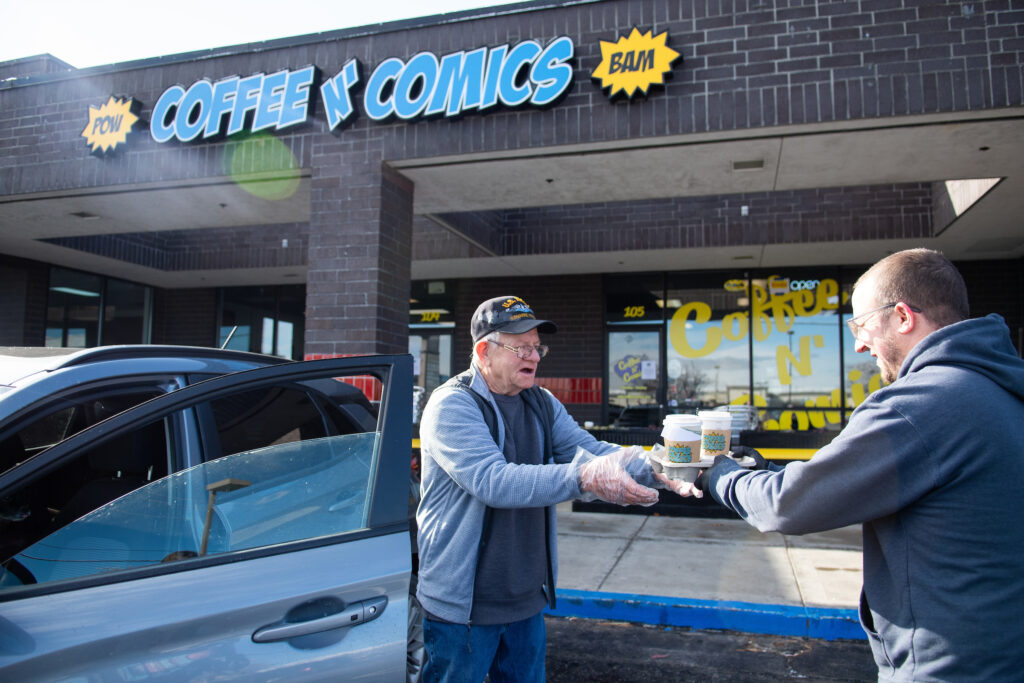 Echo & Rig, a popular steakhouse near Summerlin, saw a massive uptick in customers visiting its on-site butcher shop during the initial shutdown period when only takeout was allowed, chef and owner Sam Marvin said. But that alone didn't spare the restaurant from feeling the sting of no in-person dining.
At least half the Las Vegas restaurant's employees were furloughed, and Marvin said a loan from the Paycheck Protection Program, which was established early on in the pandemic to help small businesses make payroll, "made the difference in us surviving or not surviving."
The restaurateur doesn't hold a grudge against state officials. Compared with California, where he operates two restaurants, Nevada gave a much earlier green light to some in-person dining when the state started to reopen. Because of all the uncertainty surrounding the virus initially, Marvin said he didn't disagree with the shutdown, though he acknowledges his opinion may differ from others in the restaurant industry who couldn't hang on financially.
"How can you disagree if you don't know better?" he said. "Better safe than sorry."
---
Echo & Rig's furloughed employees were just a small slice of the hundreds of thousands of employees who lost their jobs almost overnight, pushing Nevada unemployment to levels worse than those seen during the Great Depression. In April, more than 28 percent of Nevadans were unemployed, up from 3.6 percent in February.
Those hundreds of thousands of newly jobless Nevadans quickly overwhelmed the state's unemployment system, which was accustomed to handling about 2,500 initial claims a week but received more than 92,000 as the shutdown began. In the past year, half a million Nevadans have collected at least one week of unemployment benefits out of a workforce of 1.5 million, and the agency has received nearly two million initial applications for benefits.
"We were in response mode, without knowing exactly what the floor or ceiling would be," Tyler-Garner said.
DETR's problems were numerous, including a staff that had atrophied over the past decade as the federal government drew down funding. Issues as small as a vacation payout to a claimant would trigger "adjudication," or an analytical review, but Tyler-Garner estimates only about seven people in the agency were qualified to manage that step when the crisis hit, for example.
Early on, the federal government answered pleas to support gig workers ineligible for traditional unemployment by creating the Pandemic Unemployment Assistance (PUA) program, but Nevada officials feared that adding PUA programming into the brittle system processing traditional claims would crash it and cut off claimants already receiving benefits. They bought a separate software product to administer PUA in the name of speed and IT stability, but it created a bifurcated system that bedevils claimants to this day.
Mike Powers, a guitarist who worked for a talent agency that dispatches musicians for gigs ranging from conventions to sidewalk entertainment, is one of them. From the first day he applied to PUA, the system flagged his Social Security number as tied to another existing claim, and he believes he's stuck in limbo a year later because someone in California filed a fraudulent application in his name.
Every day is a financial emergency, he says, but he holds out hope that he'll someday emerge from the Byzantine system and claim the tens of thousands of dollars he believes he's owed.
"I would hate to think that I was so close to solving the riddle and then, you know, it did not happen," he said.
Much of the messaging from Sisolak early on was about the public health crisis at hand and flattening the curve of what was at the time an unknown and deadly virus. But to the quarter of Nevadans who were unemployed and struggling to wend their way through the bureaucratic nightmare that was the state's unemployment system, it often felt like they were being left behind.
Joshua Meltzer, 29, worked as a singing gondolier at the Venetian and switched to the business side of live entertainment just before the pandemic hit. But a year later, he hasn't been paid unemployment, and after months of trying to make it with the help of friends, he left the state for Minnesota and is working a clerical job to make ends meet.
He described the last year as a financial, emotional, philosophical and spiritual crisis all rolled into one. He's always seen government as a force for great good, but its inability to help him has challenged that belief.
"I feel betrayed, in a way, by Nevada, which has been a place of … rejuvenation," he said. "If that community doesn't take care of its own in crisis, I don't know if that can be my long term home anymore."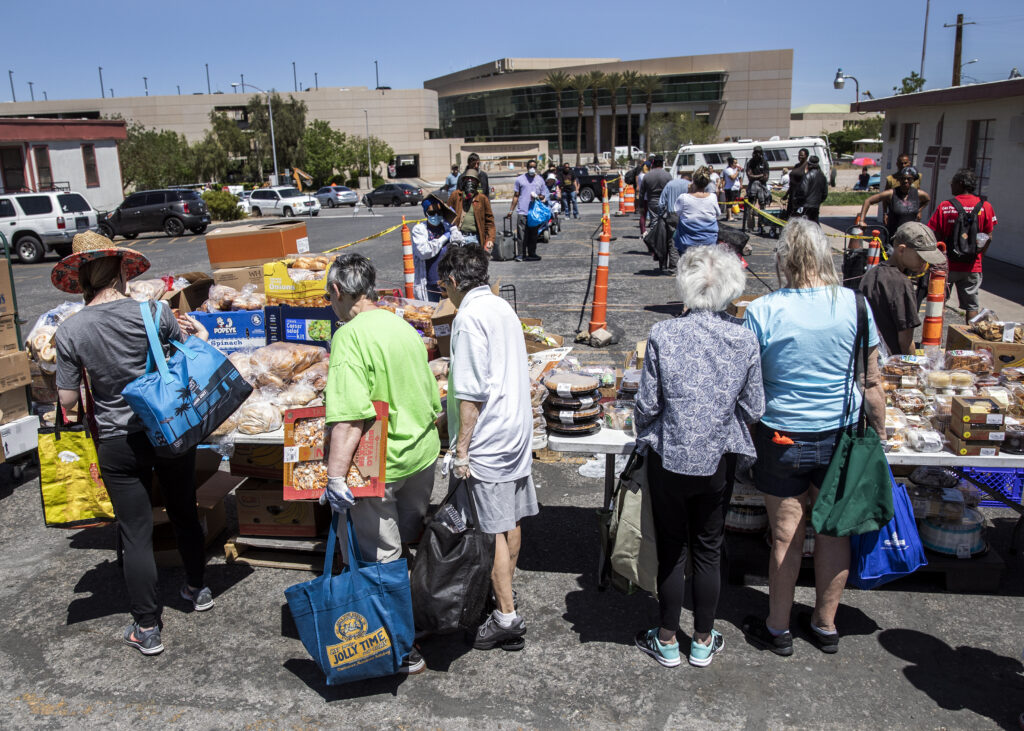 Claimants have also criticized elected officials' handling of the situation, from the governor failing to mention the unemployed in certain press conferences to formulaic responses when claimants poured out their hearts in desperate emails to their congressional representatives.
"The best thing you can do is just listen better and realize that there are people that are truly hurting," Powers said.
Reflecting back on his public communications to unemployed Nevadans, Sisolak said he "tried to speak to their plight." He also said he wishes the state had an "army of people" to quickly work through the hundreds of thousands of unemployment claims that poured in, noting it can take up to an hour for a state worker to process some of the more complex claims.
But, mostly, he blamed yearslong underfunding and neglect of the state's unemployment system. During a period of record low unemployment in 2019, DETR told lawmakers that after years of successive budget cuts, it was struggling to handle its call volume and expected to be able to handle only 2,800 phone calls a week in 2020.
During the pandemic, a single claimant from Dayton reported calling DETR 2,200 times during a two-week period in April, and many others reported placing hundreds of fruitless calls a day.
"You've got a system that was basically ignored session after session after session," Sisolak said. "Then when suddenly you're hit with a pandemic that you get claims that are 20, 25 times what you are normally getting, no system is going to work under that situation."
To make matters worse, state officials were also tasked with sifting fraudulent claims from the legitimate ones. While DETR hasn't quantified how many illegitimate claims were approved and how much the state paid out on those claims, they estimate they prevented billions of dollars of fraudulent payouts through blocking payment on hundreds of thousands of claims on which they couldn't verify identity.
As of March 4, DETR reported there were 306,632 claims with pending identity issues that are suspected to be fraudulent. At least another 437,000 PUA claims were denied over identity verification issues in two rounds of mass disqualifications last year.
"The amount of fraud that was happening was unconscionable," Sisolak said.
But a focus on fraud has had unintended consequences for claimants. Amber Hansen, an administrator of a popular Facebook group for PUA claimants, said it casts a stigma on PUA applicants "that we're fraudulent … some of us are inherently bad."
"We still do have people that have eligible claims, and that need to be helped," she said. "We have to kind of move off that issue."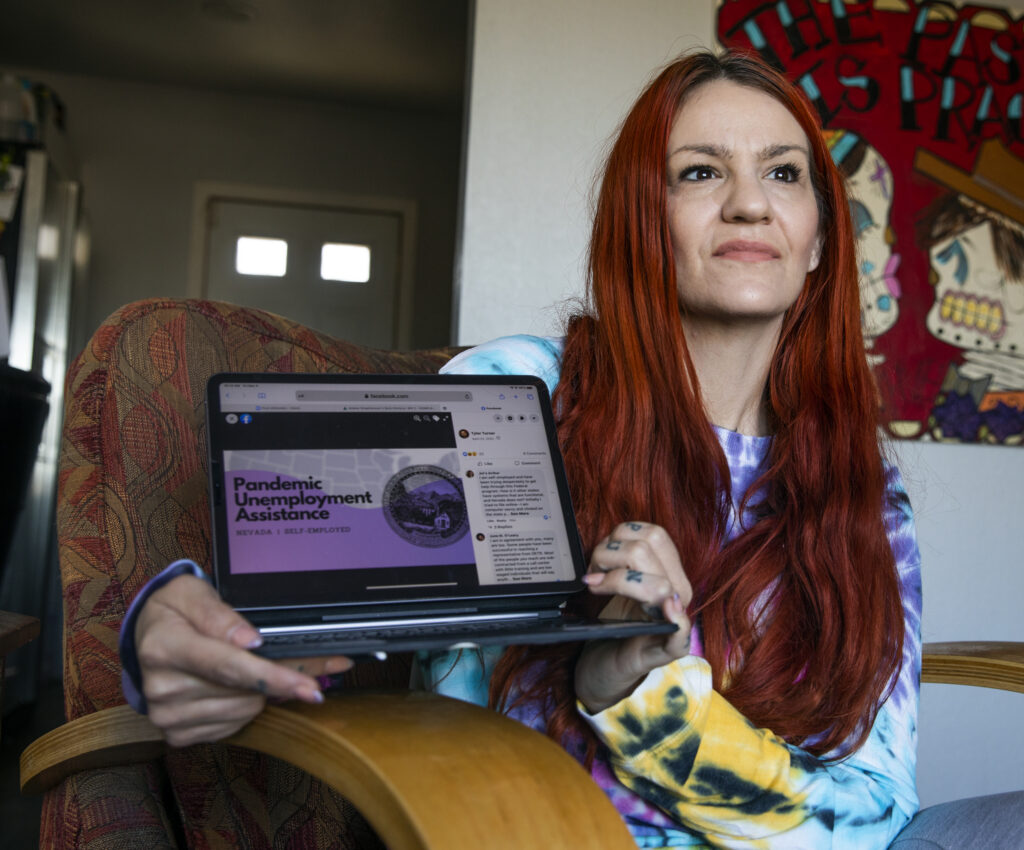 Jason Guinasso, a Reno attorney who studied DETR's backlog as a court-appointed special master last year, said the unemployment agency has erred too much on the side of trying to control fraud, and is making policy "based on the exception, not the rule." He compared it to a department store assuming all its customers showed up to steal.
"Imagine if they ran their store based on trying to stop shrinkage, and that's all they cared about," he said. "Your experience going to Macy's to buy a dress would be a lot different than it would be if they were running their store to cater to the majority of people [who] are not there to steal."
The governor praised the staff at DETR, which increased the number of people working on unemployment issues threefold by January and had many staffers working overtime to process unemployment claims under immense pressure, scrutiny and even threats, including to the director of the department. But he also acknowledged the state's shortcomings.
"Could we have done a better job? Certainly we could have done a better job," Sisolak said.
---
As spring pushed toward summer and the number of people hospitalized with COVID-19 started to decline, the number of people unemployed because of COVID-19 creeped higher. Pressure mounted on Sisolak to start reopening the state's economy. Leaders in some local jurisdictions signaled they weren't going to wait for the governor's lead, touting their own plans for reopening.
At the end of April, Sisolak announced the state would begin an "active transition" toward reopening that would start with some of the safest businesses, including indoor retail spaces, before progressing to the riskier establishments, such as casinos. At the time, he credited Nevadans' "incredible discipline" in halting the spread of the virus.
The casinos had a model for reopening: Macao. Casinos in the special administrative region in China had already opened their doors again. But when they did, it was with significant capacity limits, social distancing at table games and slot machines, temperature checks and face masks. Resorts in Las Vegas could essentially take the Macao playbook, make a few adjustments for scale, and put it into practice.
Casino floors — known for their winding paths that keep gamblers wandering and shoving money into slot machines — would have considerably more elbow room. The Gaming Control Board issued a policy document in May spelling out some of the new rules of the trade.
Table games now have player limits: six people for craps, three for blackjack, four at roulette and poker tables. Some slot machines, meanwhile, were placed in an extended hibernation to make way for social distancing. Conversations also occurred around how to disinfect gaming chips without compromising their integrity.
And then there was the human aspect.
The Culinary Union lobbied hard for the approval of SB4 during a special legislative session last summer. The bill, which passed and was signed into law by the governor, shields many Nevada businesses from frivolous lawsuits related to COVID-19 — but only if the companies adhere to the strict, government-imposed health and safety protocols that prevent spread of the virus. Union officials pushed for the measure in honor of Adolfo Fernandez, a utility porter at Caesars Palace who died in June after falling ill with COVID-19.
Despite the bill's passage, the union wants to see more done to protect hospitality workers, many of them on the front line interacting with people who have traveled to Las Vegas. D. Taylor, president of UNITE HERE, the parent organization of the Culinary Union, said he was unhappy that food service and hospitality workers weren't prioritized higher up in the state's vaccination schedule. Casino workers in Clark County did not become eligible for vaccines until Thursday.
He framed it as both a safety and equity issue.
"Who are workers on the frontlines?" he said, referring to the union's membership. "They're predominantly female and people of color."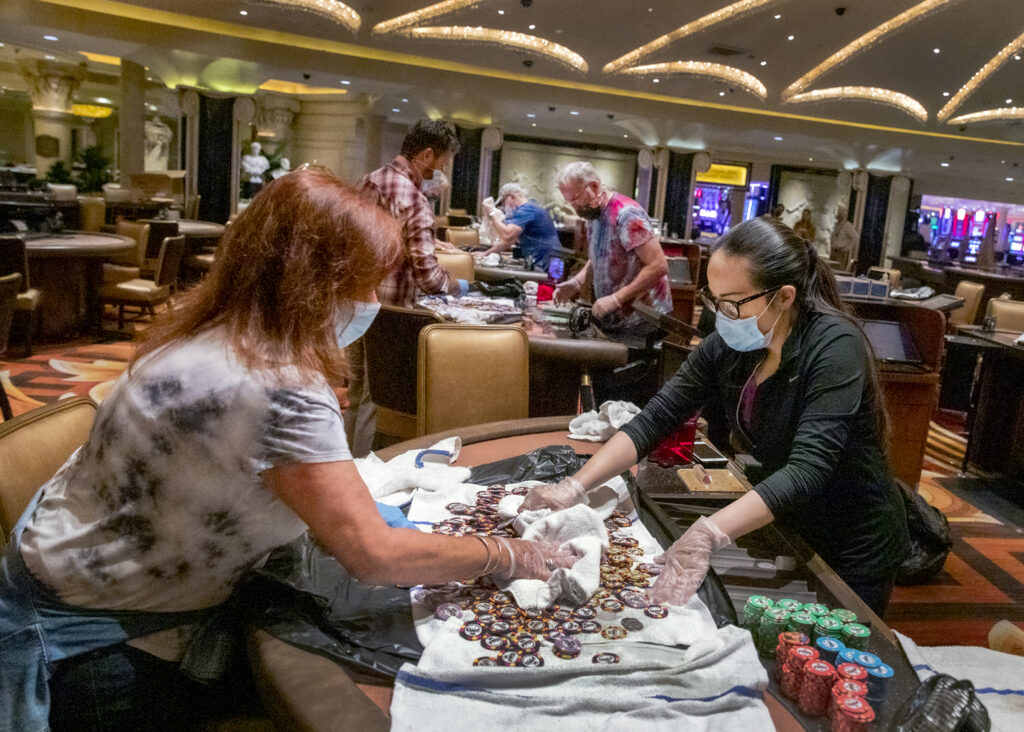 For Las Vegas, as a tourist destination, the focus was not only on safety but how to effectively communicate to tourists how seriously the industry was taking precautions. This wasn't the first time the city had to pivot its branding strategy. In the years after 9/11, the "What happens here, stays here" slogan was born. In the wake of 1 October, it was, "#VegasStrong" and a message of resilience.
But the city had never had to market itself in the middle of an ongoing public health crisis. In the weeks before casinos reopened, cases had been fluctuating. In early June, right around when casinos opened, cases started to climb.
"This one, you didn't know where we were going," said Vassiliadis, CEO of R&R Partners, the ad agency for the Las Vegas Convention and Visitors Authority. "It was like we were in this abyss, making decisions and consulting with folks with daily information that was fuzzy at best."
The message Las Vegas ended up adopting was one that balanced safety with freedom. A weekend in Las Vegas, even with masks and social distancing, was still a lot more fun than a weekend stuck at home ordering DoorDash, Grubhub and Uber Eats.
"We didn't need to have the old Las Vegas for them to feel free," Vassiliadis said. "They just needed more freedom than the restrictions they had been living under for the previous three months."
There was just one catch: Sisolak didn't announce a statewide mask mandate until 20 days after casinos reopened. While employees were wearing masks, it was up to casino patrons whether to don that extra layer of protection. In mid-June, the Gaming Control Board issued an industry notice that required patrons to wear face masks at table games if there was no barrier or shield separating the players and dealers.
Even Caesar himself — the statue version, that is — wore a giant mask in a bid to encourage others to follow suit. By the second week casinos were open, Morgan, then the state's chief gaming regulator, said it was clear many people weren't heeding that advice.
"It was harder for casino staff to tell people to wear masks if it wasn't mandated," she said.
The governor's order, issued on June 24, turned the option into a requirement. But controversy surrounding the decision spilled into gaming properties where some security officers suffered injuries after upset guests lashed out when told to wear a mask, Morgan said.
"No one should have bodily harm being threatened because you're just doing your job telling people to comply with the mask mandate," she said.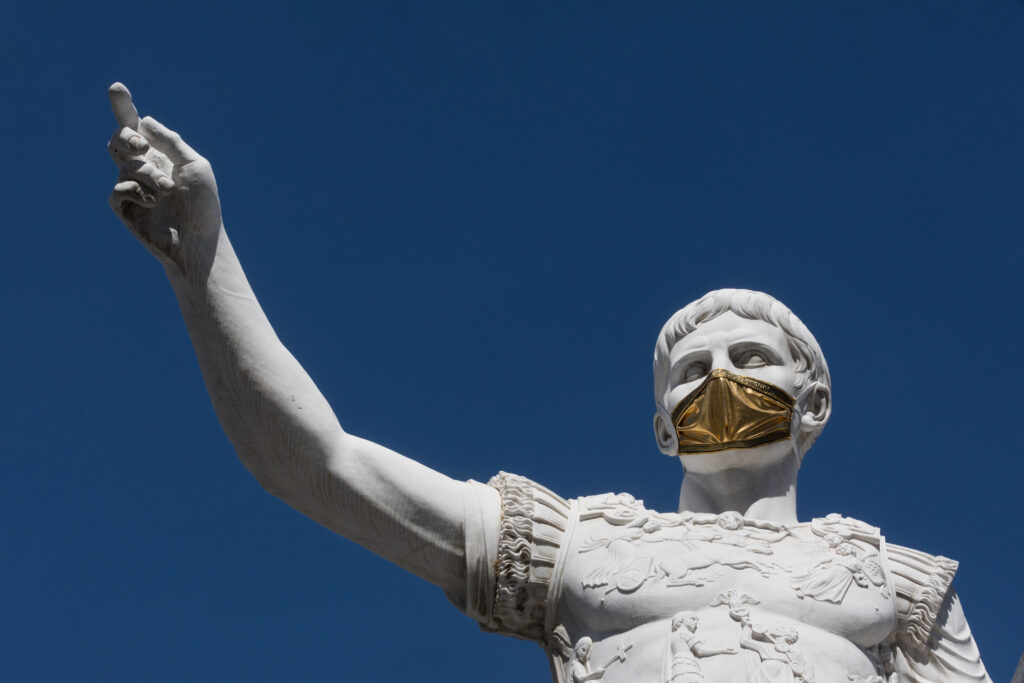 Pre-opening visitor surveys showed it was a "much younger and more rambunctious crowd" that was eager to return to Las Vegas, Vassiliadis said. And those surveys were borne out in reality: The crowd that first returned to Las Vegas was made up of younger, healthier people who were less concerned about contracting the virus and more concerned about busting loose after months of quarantine, and low room rates meant that some of Las Vegas's top properties were now affordable for younger people, particularly if they stayed two or three to a room.
In the wake of its reopening, Las Vegas saw fights, shootings and stabbings on the Las Vegas Strip. In response, resorts stepped up their security and the Las Vegas Metro Police Department increased its police patrols.
"Underscoring that's not tolerated here to a lot of those visitors, I think, changed the situation rather quickly," Vassiliadis said. "I don't think we suffered any kind of reputational long-term hit. I know we haven't."
At the state level, the governor's office sought to convey to surrounding Western states the tightrope Nevada was walking by trying to balance the state's economic and public health needs. In some ways, Nevada needed the buy-in of surrounding states so that they would keep sending their residents to Las Vegas and not blacklist the state through a travel advisory.
Michelle White, Sisolak's chief of staff, recalled having "candid, open conversations" with other members of the Western States Pact, a compact established early on in the pandemic between Nevada, California, Oregon, Washington and Colorado, about Nevada's difficult situation.
"We have states around us who I think were exceptional in understanding the situation that we were in … and genuinely were rooting for us to be OK," White said. "Being able to explain that to folks and talk through that I think was really, really helpful in our efforts."
Still, at one point in early December, California — which is home to 1 in 5 visitors to Las Vegas — issued a travel advisory encouraging residents to avoid nonessential travel to other states; it was a little less a month after Sisolak had encouraged visitors to continue traveling to the state even as cases surged in Nevada.
"If there were times where [Western states] said, 'You know, we're concerned for our residents in a surge and so we're going to require quarantine,' that's an acceptable, reasonable thing to do for other leaders who are concerned about their residents. The way it was discussed, at least, was never about in response to Nevada directly," White said. "It was more of, 'This is a step we're going to take, this is another mitigation measure we're going to take to try to slow the spread and the surge.'"
---
For other businesses, reopening would bring with it a host of questions: Would employees have to wear masks? Could they hold meetings in person? What happens if an employee tests positive for COVID-19? There were also industry-specific considerations. How should salons disinfect their equipment? Could movie theaters open their snack bars? Would vehicles need to be sanitized at car dealerships between test drives?
To answer those questions and more, the state authored a series of reopening guidelines. Reynolds, director of the Department of Business and Industry, said the state got feedback on reopening plans from a number of different industries, from the Retail Association of Nevada to the REALTORS.
"In most cases, they were extremely helpful in terms of giving us perspective on what to look at and what can be done to keep things going and what we needed to do, how we need to approach things in concert with the medical advice that we got," Reynolds said.
But businesses had to make adjustments beyond those required by the state to stay financially afloat as they reopened under strict capacity limits. Echo & Rig, for instance, added more seating in a second patio area that had previously been largely unused and trimmed its menu — from 60 to 42 items — as a cost-containment measure.
Some menu items went up in price as well to balance the ripple-effect felt throughout the supply chain. Restaurants are still dealing with changes in where they're able to source certain food items, he said. Some of their beloved vendors went out of business.
Marvin, the restaurant's owner, was pleasantly surprised by the number of people willing to venture out and dine at Echo & Rig once it opened its doors. He's hopeful that customers, at his restaurant and other eateries, will continue to offer them patience — knowing that things will still look and feel a bit different because of safety protocols and other changes designed to keep the businesses viable.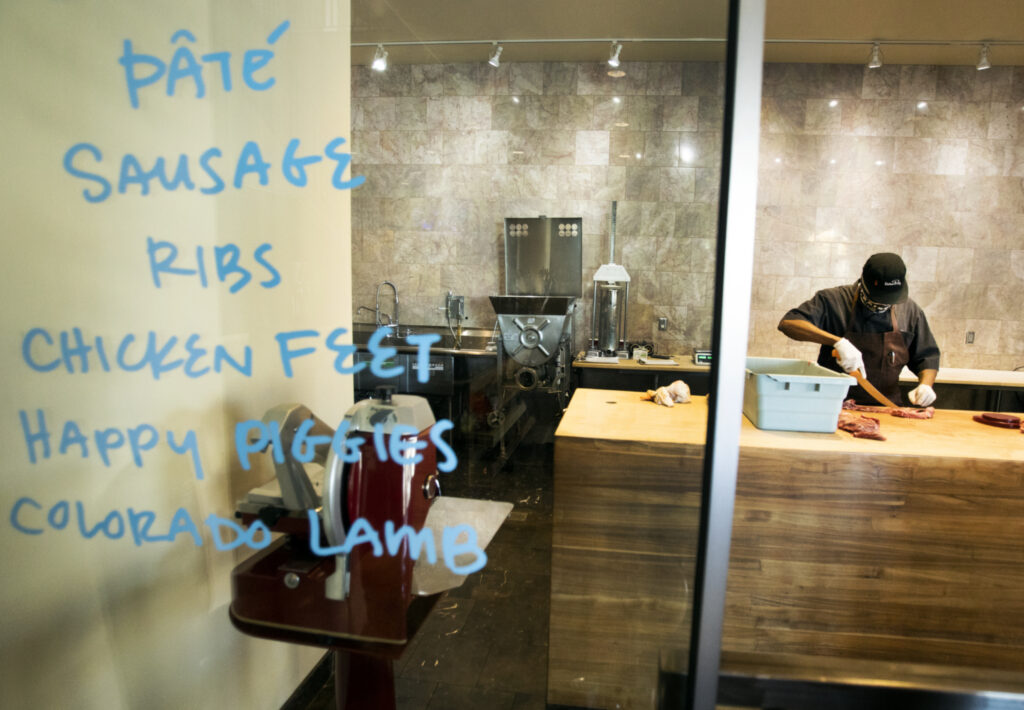 Once businesses reopened their doors, the next challenge was enforcement. Reynolds said state officials took a "one, two, three" approach, giving businesses guidance on how to come into compliance on their first two visits before issuing citations on the third visit.
"A lot of businesses basically just needed a little bit of training on how to do things," Reynolds said.
To date, the state's Occupational Safety and Health Administration has conducted about 13,000 first visits to businesses. Compliance with the state's COVID-19 health and safety protocols is about 92 percent in Northern Nevada and 90 percent in Southern Nevada, though Reynolds noted that compliance on first visits has been 100 percent most weeks since January.
Reynolds said that of the businesses found to be not in compliance with the state's rules, he estimates only less than 10 percent were truly thumbing their nose at the state's requirements.
"We were tough on the front end on a lot of these businesses, but I think now we're seeing for the last six, seven weeks good compliance overall," he said.
And some businesses that initially seemed uninterested in complying with the state's guidelines eventually came around, Reynolds said. About $60,000 in health and safety-related fines were issued to Walmart before it came into compliance.
"All of a sudden, corporate culture came in and started working on it very strongly," Reynolds said. "It just took time. Once they did, it grabbed hold and they've done well."
Even as businesses began to heal, Nevada workers continued to struggle.
When nonessential businesses started opening in May and the 78-day casino shutdown lifted on June 4, it didn't have the same lightswitch effect with unemployment. There were still 285,610 people seeking Nevada unemployment benefits the first week of March — nearly one in five people in the state's labor force.
A report by the Anderson Economic Group, which has been following the economic effects of COVID-19, described the December jobs numbers as a "continued trend of lethargic recovery." Between November and December, the leisure and hospitality industry lost 2,000 jobs in Nevada, though gains in other industries offset that.
Only about 50 percent of the members of the Culinary Union, which represents roughly 60,000 resort employees across the state, including guest room attendants, cooks and porters, have returned to work since last year, though their work hours may not be the same. At the height of the shutdown, 98 percent of the union's members were furloughed.
"Our industry — the hospitality industry overall — has been the hardest hit," said Taylor, UNITE HERE's president, said. "Now, we always see signs of life coming back in certain areas, which is great, but until people feel very safe travelling, until they feel safe with indoor dining and staying indoors, it will be challenging."
Mary Ann Bautista is among those who haven't been called back to their union jobs. Before the pandemic, she spent 14 years as a buffet food server at The Strat.
As a single mother with several teenagers still living in the house, she said it has been difficult to make ends meet on unemployment benefits alone. Bautista has leaned on the Culinary Academy's food assistance program for help over the past year. She longs for the day when she can resume her job.
"This is not our fault. We didn't do this," she said. "This is a pandemic. We didn't ask for this. We work hard."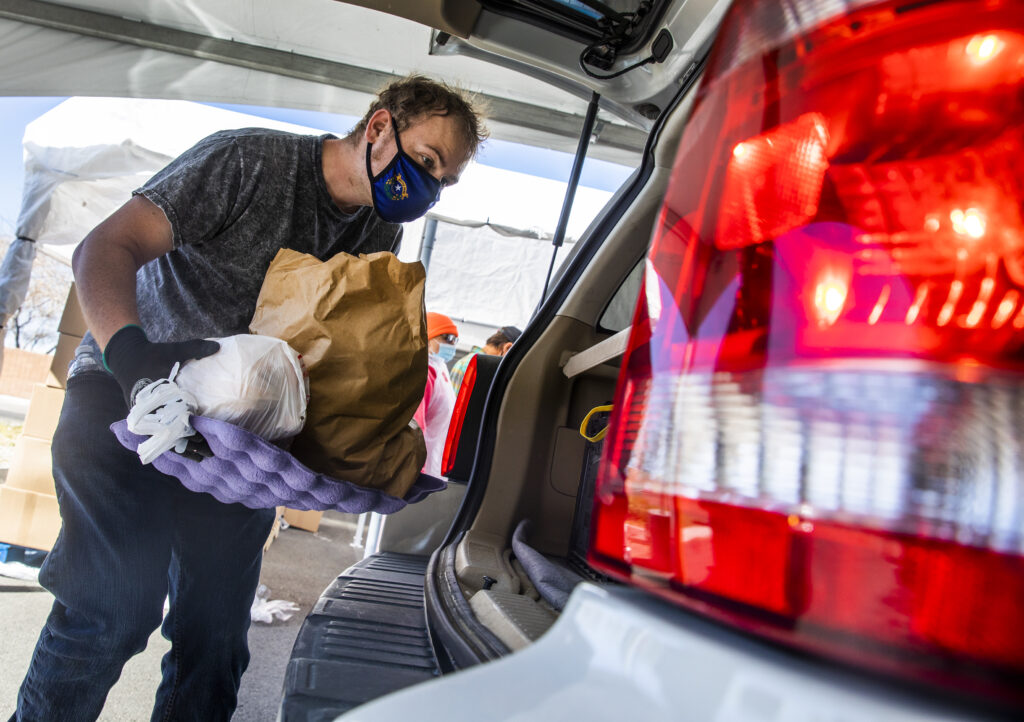 DETR Director Elisa Cafferata said when she arrived at the agency in August, there were nonstop calls from constituents needing help and a major backlog. To this day, she said the applications haven't tapered off as much as she expected.
"We've definitely made a lot of progress. There's still a lot of hard work to do," she said. "The thing I'm most focused on is how do we sort of pivot and help people start thinking about going back to work."
But the employment figures also highlight a troubling trend, said Brian Peterson, director of public policy and economic analysis with the Anderson Economic Group. In Nevada, nearly 74,000 people dropped out of the labor force completely between February and December of last year. These are people who have reported not actively looking for a job in the past four weeks.
"The big question is, what are those 74,000 people doing?" he said. "Have they become discouraged? Are they planning on waiting out the pandemic? My guess is that at least some of those 74,000 folks want to have a job, but they just haven't been able to find anything."
---
There is a certain optimism within the resort industry about Las Vegas's ability to once again come roaring back as a tourist destination.
Las Vegas has already, essentially, been at the capacity allowed under the state's emergency directives for some of the recent three- and four-day weekends, Vassiliadis said. World of Concrete is slated to be the first major convention to return to Las Vegas in June, and Cirque du Soleil is hoping to bring back its aquatic acrobatics show "O" at the Bellagio by July.
Tourism officials say the old notion of Las Vegas — a great escape in the desert where fun and freedom trump judgment — could be the very reason it will bounce back more quickly than other destinations. Sure, it might currently lack some of the traditional offerings. Nightclubs, for instance, aren't jam-packed with partygoers on the dance floor. But the sunshine, warm weather, dining and gambling options might be enough to lure travel-hungry guests, even if other entertainment options are somewhat limited.
"People want to see family and then they want to get away, and when they want to get away, Vegas tops that list," said Steve Hill, president and CEO of the Las Vegas Convention and Visitors Authority.
Of course, this all boils down to people's willingness to travel. Vaccine deployment will play a crucial role boosting that confidence level, state leaders say. But the Centers for Disease Control and Prevention hasn't exactly given would-be tourists its blessing. The nation's top health authority recently issued guidance discouraging travel among fully vaccinated people — a point that has received pushback from some within the travel and health industries.
Plus, it's unclear whether COVID-19 cases will remain at their current plateau or see a springtime surge as a result of the increasing spread of variants and loosening restrictions. In Las Vegas, tourism outpaced projections when casinos initially reopened last summer but then took a nosedive toward the end of the year as coronavirus cases multiplied again.
"I'm pretty optimistic about the direction we're headed in now," Hill said. "But we didn't anticipate the extreme nature of the spikes that we saw around Thanksgiving and Christmas and how much damage that did to the economy here."
Another variable: the return of business meetings and conventions, which boost the economy during off-peak travel seasons. There's even hope that some conventions might return to Las Vegas in the second half of 2021 and then return during their normally scheduled time in early 2022.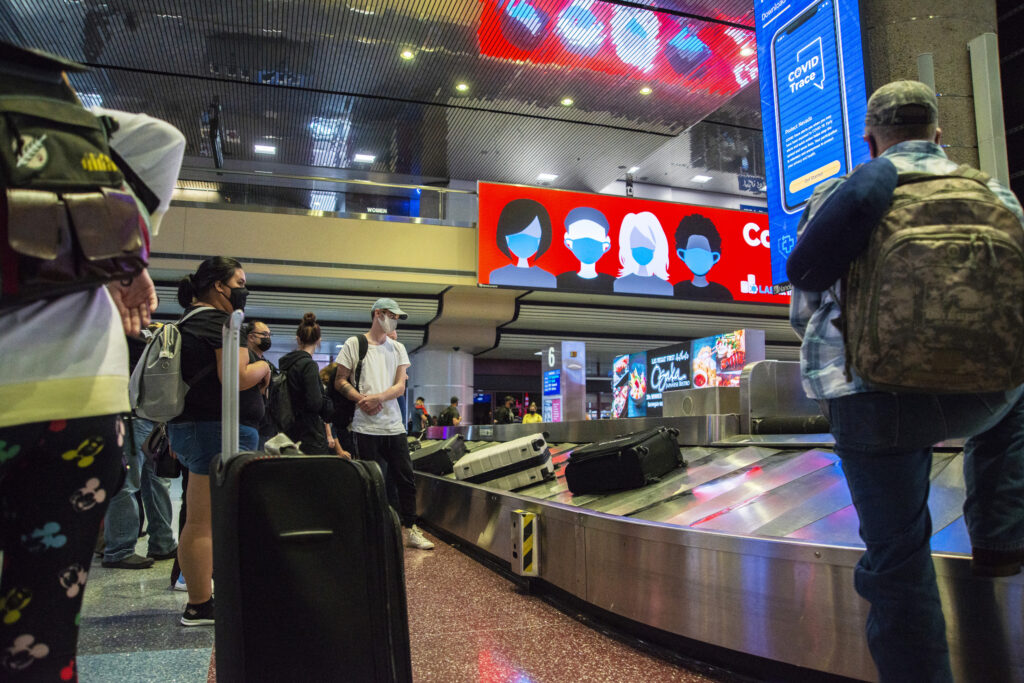 The Las Vegas they return to, however, will likely look a little different. Resorts have more eagerly embraced new technologies, such as remote check-in and keyless hotel room entry. In the case of MGM Resorts, a partnership with Clorox as the resorts' "official guest disinfectant and hand sanitizer brand" is now a selling point.
Jim Murren, former CEO of MGM Resorts, envisions Las Vegas marketing itself as the "preeminent health safety tourist destination in America" — even beyond what resorts are already doing.
"When you do that ... we rip conferences and conventions away from Atlanta and Miami and New York and Chicago and Dallas and LA," Murren said. "If they have a choice of listening to Lady Gaga in LA versus Vegas, and we can market that it's safer to do it here, they're going to come here."
There is, however, less optimism about the future beyond the Las Vegas Strip. It's not that state officials don't believe Nevada's economic situation will improve across the state — they do — but they worry about the small businesses and workers getting left behind.
Lawmakers have taken steps to help, including authorizing $100 million for the Pandemic Emergency Technical Support (PETS) grant. They hope $10,000 or $20,000 cash infusions backed by federal dollars will keep thousands of small businesses alive.
"It's always easier to keep what you've got … You're so much better off doing that and trying to spur new startups," said Bob Potts, deputy director with the Governor's Office of Economic Development. "The recovery side of things — that has to be paramount."
Sisolak is hopeful he will be able to work with the Legislature to fix the longstanding problems with the state's unemployment system. A computer modernization project that could cost up to $50 million is on tap for the next few years pending availability of funding, and a "strike force" led by former Assembly Speaker Barbara Buckley made extensive recommendations for how DETR could be better prepared to scale up staffing if another crisis hits as suddenly as COVID.
"Prepare for war in times of peace," Tyler-Garner advised. "I couldn't underscore more the need to ensure that we're always planning to strengthen our systems, because we never know what the demand might be in the future."
But there's also an acknowledgement among many in the state that Nevada's problems run deeper, and that recovery cannot begin and end with Nevada's tourism industry, or even with fixing the state's unemployment system. The goal, they believe, has to be a long-term fundamental shift in thinking about the state's economy. Murren, who became the CEO of MGM Resorts during the Great Recession, recalled seeing the "economic, social, mental, physical devastation of our community" because of Nevada's reliance on one industry for a significant chunk of its tax revenue.
"Here we are again, and what did we learn? It seems very little," Murren said. "Whenever things are doing well here in our state, there seems to be this expectation that they'll always be that way and that we should just not rock the boat."
Tyler-Garner said before the pandemic, she had been working on how DETR would respond to problems that lurked just below the surface of the state's illustrious unemployment rate: Wage stagnation. Jobs without adequate benefits. Dramatically higher unemployment in subgroups such as the formerly incarcerated.
"Some of the families that were already working two or three low wage jobs ... I shudder to think of what is happening to those families right now," she said. "Those segments of our community were invisible."
For Buckley, who runs Legal Aid of Southern Nevada as her day job and has seen the agency deal with a record of nearly 163,000 clients in 2020 in a region of a little more than 2 million, the pandemic has highlighted the need to invest further in the safety net and — deeper than that — Nevada schools.
"I think that key leadership throughout our state do recognize our shortcomings and are working on plans to change our over reliance on gaming and hospitality," she said. "But as many have pointed out, it means more of an investment is needed in education and in our schools, to allow us to compete."
That's, in part, why the governor's private-sector COVID-19 task force, which has in the last year helped the state secure personal protective equipment, ramp up testing, build out a contact tracing app and bridge the digital divide for students, plans to focus next on workforce recovery. Nevada was also one of nine states awarded up to $100,000 in grant funding through the National Governors Association to help states prepare for a post-COVID economy.
But Murren, who chairs the task force, believes economic diversification will only happen in Nevada if and when the state chooses to make a significant investment into the quality of life of its residents, including supporting education, health and safety, the elderly and homeless individuals. And he believes it will take the support of everyday Nevadans, too.
"What makes me incredibly angry is that so many people move to our state to avail themselves to our lifestyle, to our weather, to our natural beauty, to our entertainment, to what is great about Nevada, but they don't contribute to it," Murren said. "The will of the people seems to be that we don't want taxes, or little taxes, or we don't want to raise any revenue, any form of proper investment. Then, you get what you get in Carson City as well."
Nevada's budget was already slim to begin with, and it became even slimmer when lawmakers cut nearly a billion dollars from the state's budget over the summer. That included hundreds of millions of dollars in spending on health care and education. Though Nevada received nearly $25 billion in federal aid in the last year, state officials felt like they were constantly worrying about how to pay for needed services.
"Nevada doesn't have a huge safety net to provide on the best of days, and that's the reality of it," said White, the governor's chief of staff. "That's the hard reality of it."
That reality is visible in places like the Culinary Academy's parking lot. Its food distribution operation is called Helping Hand, and Scott, the organization's CEO, said it's not time to let go yet. The Culinary Academy anticipates providing food assistance to needy families through the end of the year in some form.
Scott knows community members remain appreciative.
It's not uncommon, he said, to find notes of gratitude waiting in the vehicles' trunks.
Part III coming Sunday, March 21.