We tried, at first, to shake the uncanniness of it all.
The virus, of course, would be brought under control. It would go away. It wouldn't come here. It couldn't.
Hadn't we seen this before? In a movie? In times long past? In another place far, far away?
But the feeling stubbornly lingered, that nagging doubt in the back of our minds that everything was not as it should be, that speck in our periphery, that dread that would not be shoved back below the surface.
Isolation. Quarantine. Masks. Social distancing. Panic buying. Unemployment. Loneliness. Fear.
Pandemics happen there, not here. It couldn't happen here, could it?
For Las Vegas cab driver Delmar Jones, it was the crowds. Or, rather, the lack of them as the seasonally busy March period fell unseasonably still.
"When things like that change is when you're really nervous, because there's never a lack of people," Jones, 51, said. "You saw the writing on the wall. It was all tumbling down."
Rumors started spreading between cab drivers that someone at this hotel or that hotel had "corona." That is, the 2019 novel coronavirus, or COVID-19. After one scare, cab drivers were asked to get their vehicles disinfected. Jones started eyeing every passenger warily.
For Nancy Boland, a retiree who lives in a tiny town in Esmeralda County, it was when people from Las Vegas started panic buying toilet paper three hours away at the grocery store in Tonopah. Some thought rural Nevada might be protected from the virus because of its isolation, but Boland was concerned.
"If it gets bad in Vegas, they're all coming up through here," Boland, 68, said. "That was my thought: That we had to be just as worried as somebody in a big city, to be honest."
For 29-year-old Sarah Young, it was when she and her coworkers showed up one morning and were told they would be working from home for the foreseeable future. Managers handed out food and other supplies from the office. It didn't go well.
"People started to fight each other immediately for these supplies," Young, from Las Vegas, said. "People that I've worked with for years got snappy with each other."
For Boulder City resident Cheryl Hauntz, it was at a St. Patrick's Day party in Las Vegas. The festive atmosphere was marred by the governor's announcement that evening that all nonessential businesses would be required to close the next day to slow the spread of the virus. It was unthinkable.
"To be perfectly honest, for me, it was kind of scary because you still have to go out," Hauntz, 72, said. "You have to go to the grocery store. You have to eat. You still do the things and you come home and you wonder, 'Well, am I going to get sick?'"
Anxiety and uncertainty in those early days were high. In the span of two weeks, Nevada had gone from identifying its first COVID-19 case to bringing daily life in a state known for its 24/7 lifestyle to a grinding halt. If government officials knew little about the virus and how to effectively respond to it, the general public knew even less. All they knew was the World Health Organization had declared the virus a global pandemic, the NBA had suspended its season, actor Tom Hanks had tested positive and cases were skyrocketing in New York.
"It became pretty real for us at that point," said Don Bittle, 62, from Henderson. "We're not that old, but my wife and I have some medical complications going on. We got very serious about it pretty quick."
People stockpiled meat, canned goods and toilet paper amid concerns of a global supply chain collapse. They showered after going out in public and washed their hands until they were raw — cracked and speckled red — as public health officials repeatedly insisted they sing the "Happy Birthday" song twice to make sure they were scrubbing their hands long enough. They quarantined their mail and wiped down their groceries.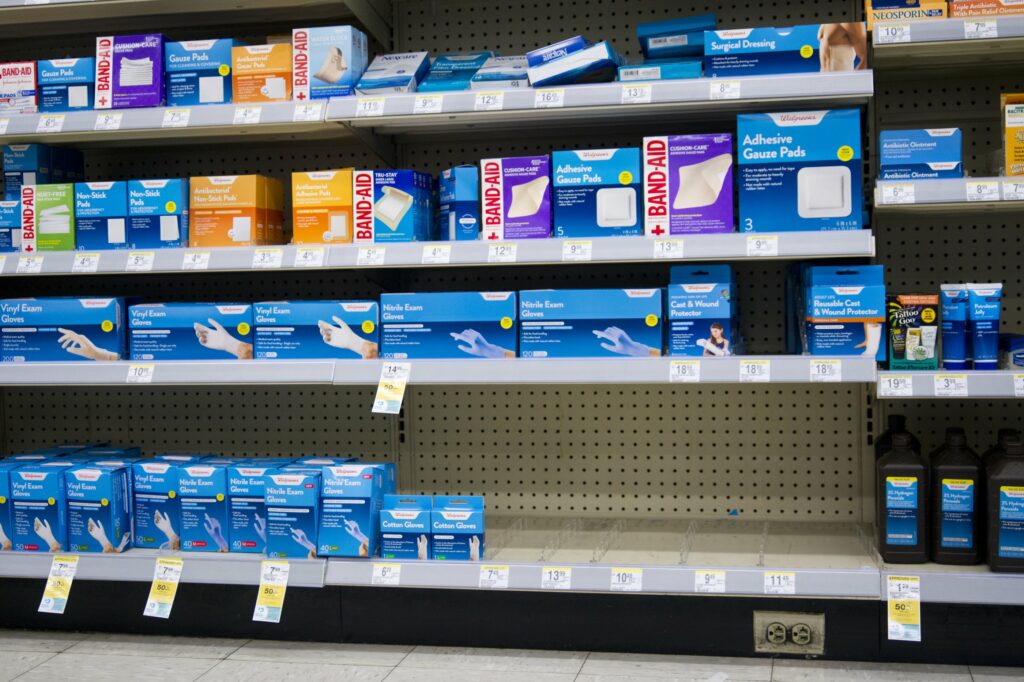 Hundreds of thousands of Nevadans found themselves jobless overnight as they were laid off, furloughed or given the option to take a leave of absence as visitor volume plummeted to zero and residents sheltered in their homes. Others, deemed "essential" by the state, many of them people of color, didn't have a choice about whether to go to work. Some were thankful to have a job as their family's primary breadwinners. Some were anxious about bringing the virus home to their loved ones. Oftentimes, they were both.
Even when the acute wave of panic passed after the first couple of months of lockdown, worry settled in as a constant companion for many. If it wasn't the virus, it was financial concerns or their kids' or grandkids' wellbeing. Relationships fractured as people navigated their differing responses to the virus. Loneliness and isolation grew.
Today, many of our lives look very different from the ones we were living a year ago.
Some of the changes we have had no direct say in. Nevadans have grappled with the financial fallout of the pandemic. Kids have fallen behind in school or have had their social and emotional growth stunted after losing out on several months to a year of in-person classroom time. Everyone, still, over the age of 9 is required to wear a mask when out in public.
Others came with a degree of personal choice. Nevadans have been asked to stay at home as much as possible to limit their exposure to the virus. We have been asked to gather outdoors with our friends and family. We have been asked to wear masks in the privacy of our own homes when gathering with those from outside our household.
Each of us has navigated this maze of government rules and requests differently. Some are extremely cautious, never leaving their homes unless for work or essential errands. Socialization became a coordinated effort, complete with masks and strict distancing. Others are more relaxed, falling somewhere on the spectrum between occasionally venturing out in public to living their lives essentially the way they did pre-pandemic.
As cases have gone up and down over the last year, governments have tried, in the form of new directives and rules, to bring them back under control. But public health experts believe the sum of our everyday choices — from the most mundane decisions about whether to go to the grocery store or get groceries delivered, or whether to have friends over to the house for dinner — were critical in shaping the trajectory of the pandemic.
Those choices, whatever they ultimately were, often took their toll on us. Nevadans have struggled with anxiety, depression and other mental health issues. Some have lost friends and had relationships with family strained. And perhaps the most direct consequence: More than 300,000 Nevadans have tested positive for the virus and more than 5,200 have died.
Maybe government is responsible for the deaths, for the economic fallout and for the lasting scars, big or small, the pandemic has left on each one of us.
Maybe so, too, are we.
---
Customer service was not an industry Young ever thought would have given her an advantage in navigating the pandemic.
But, in retrospect, it did. Working in customer service, every day is an unknown. Every day comes with its own new problems. Every day means dealing with frustrated people eager for answers when you don't always have them.
"Ambiguity is something I've always understood, like, 'Hey, we might not have all the information right now, but we're going to share the best of what we have with you guys and that might change tomorrow, it might change in 10 minutes, but this is the best that we have right now," said Young, who used to work in customer service at the Uber Greenlight Hub. "There's only so much you can tell people."
She has had conversations with people who are frustrated with public health experts for telling them at the beginning of the pandemic not to wear masks and, now, urging them to wear two. Her response to them has been simple.
"You need to normalize changing your opinion when new information is presented to you and as things come down the line," Young said.
Others, however, weren't so well prepared.
Humans crave certainty. That meant that we were collectively ill-prepared to face a pandemic where so much was uncertain. In those early weeks, scientists didn't know where the virus originated, they didn't know how it was spreading, they didn't know how deadly it was and they didn't know how to treat it.
"The problem is in a situation where we're still figuring out what's going on with the virus, how it's mutating, and what these various therapeutics actually do, we have to learn to live with uncertainty," said Stephen Benning, a psychology professor at UNLV. "We as human beings are not good with uncertainty and living in it."
In the absence of definitive answers, Benning said, people will try to create that certainty for themselves. Some people decided the virus came from animals. Others were convinced that it was manufactured. Some people feared the virus was extremely deadly. Others thought it was no worse than the flu. Those early views on the virus were shaped by our own personal accumulated knowledge, conversations with friends and family, what public health experts and government officials were saying and what we were hearing through the news media and on social media.
Boland, the retiree from Esmeralda County, said the decision early on for her and her husband to take the virus seriously and wear masks was just common sense. She understood the dangers of communicable diseases, she said, and once she started hearing that the virus might be airborne, masks seemed like a good idea.
"I would run through my head and say, 'Does this make sense to you, Nancy?' Like I said, with the scientific knowledge and whatnot I've accumulated over my life, either it does or it doesn't," Boland said. "I'd kind of go with that."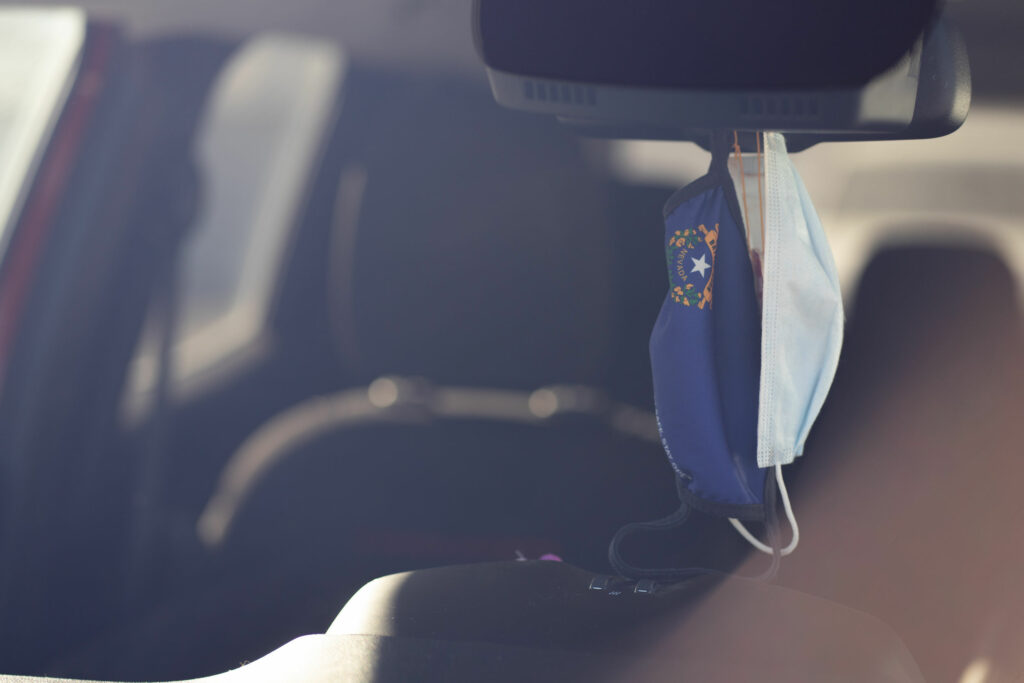 Others turned to the media for answers. Andrea Ruiz, 36, said watching the local and national TV news quickly became "overwhelming" with the number of stories they ran about COVID each night. She believes watching the news contributed to her family's early, panicked response to the virus.
"That was probably the worst thing to do at that moment because, yeah, for like three months every single story, every single news channel was like, 'These many dead,' and the next day it just kept increasing, and nothing's in the supermarket," said Ruiz, who has worked from home during the pandemic. "I think the news and everything around us turned up the hysteric volume."
Part of the problem was that good information early on in the pandemic was scarce. At best, it was incomplete — including early estimates of how deadly the virus was — or at worst, it was wrong. The virus, for instance, is now known to not spread well via surface transmission. Yet, to this day, companies continue to focus on disinfecting surfaces — what some have called "hygiene theater" — largely because it makes us feel better.
Emma Frances Bloomfield, a professor at UNLV who studies science communications, said misinformation spread during the 1918 influenza pandemic as well. The only difference was it spread at a significantly slower rate because it was traveling by newspaper or pamphlet, not over the internet.
"Social media as a way of spreading information can, of course, be a good thing when we have information that's true and accurate," Bloomfield said. "But there aren't a lot of gatekeepers. There aren't a lot of fact checkers."
The beginning of the pandemic also saw a proliferation of theories about the virus's origins. To this day, we still don't know where the virus came from. A report released by the World Health Organization this week was inconclusive, though the global health body said it was "extremely unlikely" the virus accidentally emerged from a Chinese laboratory, one theory about the virus's origin, and suggested animals from farms in southeast Asia could be linked to early cases of the virus.
It's an unsatisfying answer. Bloomfield, whose research focuses in part on the importance of storytelling in communications, said it's much more comforting to believe in an origin story for the virus — whether true or not — because it offers a narrative framework to the pandemic. If we didn't know how the story was going to end, we at least wanted to know how it began.
That storytelling, though, also has a dark side: xenophobia. As humans, our instinct is to find someone to blame, Bloomfield said. Instead of expressing legitimate frustrations with the Chinese government over its lack of transparency during the pandemic, some people have acted on their underlying racist beliefs about all individuals of Asian descent through hateful verbal and physical attacks. At times, they mimicked President Donald Trump by calling the virus the "kung flu" and the "Chinese virus," terms that have been condemned for fomenting racism and stigmatizing those of Asian descent.
A report from the Center for the Study of Hate and Extremism at California State University, San Bernardino released in March found that while hate crimes in the largest cities in the U.S. decreased 7 percent last year, anti-Asian attacks were up nearly 150 percent. People in Nevada and across the country have rallied against anti-Asian hate in the wake of the Atlanta spa shootings last month that left eight dead, including six women of Asian descent.
For David, a high school teacher in the Clark County School District, anti-Asian racism is something he has dealt with his entire life.
David, who is 60, remembers going as a kid with his parents to the McDonald's that had just opened in Atlanta, where they lived. The restaurant, he recalled, was more than happy to sell them burgers, fries and a shake, but when they tried to sit down to eat, a manager came over and told them the seating was for whites only.
His father tried to make the best of the situation and suggested they have a picnic in the car.
"I didn't understand why my mother was crying because I was too young to understand the concept of racism," said David, who asked to be identified only by his first name to speak openly about his experiences. "I tried offering her one of my fries and my dad said, 'Just sit back and eat your meal.'"
He has had students walk by his classroom and shout racial epithets at him. He has had coworkers ask him why he would roast a turkey for Thanksgiving. Last fall, he had a woman at the front desk of a doctor's office berate him over his name: She insisted he couldn't be named David because David wasn't an "Asian name."
"She said, 'I don't care how long you've been in the country. You're Asian and Asians ought to have Asian names.' She said, 'Your parents must have been horribly ignorant people to have named you David because they ought to have given you an Asian name,'" he said. "I just left at that point."
As the weeks drew on, scientists finally started to come up with some answers about the virus.
But their answers required a shift in human behavior. The discovery that the virus could be spread through the air triggered calls for people to mask up. This was after a shortage of personal protective equipment had resulted in officials urging people not to wear masks. It was frustrating and confusing for people who had become accustomed to the idea that the virus was spreading by surfaces and droplets and didn't understand why the scientists were changing course.
It led many to be distrustful of the guidance and to stick with what they already knew. The consistency made more logical sense.
"I believe in science, but I didn't believe the CDC because they flip flopped too much. Science is consistent," Pamela Pierson, a retired teacher and assisted living and nursing home worker from Las Vegas, said. "The people that I listened to, they didn't know each other, but yet every time they reported they were in agreement."
Even some hospital workers found themselves at times distrustful of the CDC.
"When the CDC came out saying, 'You can use a cloth covering for your face like a bandana,' we thought it was a joke," Yarleny Roa-Dugan, a labor and delivery nurse in Las Vegas, said. "We couldn't believe that."
From scientists' perspective, there was a great deal of excitement about how rapidly the research on COVID-19 evolved. Scientists can spend their entire lives making incremental discoveries through research projects that span years, and here was the scientific community dedicating its collective brainpower to learning more about COVID-19 in a matter of weeks.
But Heather Kerwin, the epidemiology program manager for the Washoe County Health District, acknowledged how the general public must have seen those discoveries.
"It takes awhile to let that message sink in, and by the time people start getting it, you've changed it and then it's like, 'Why listen to the message? It's just going to be different tomorrow,'" Kerwin said.
By the time scientists moved from making hypotheses to reaching conclusions about COVID-19, people had often already come to their own. Some people still continue to wipe down their groceries even though science says that isn't very helpful. Some people still resist mask-wearing even though science says it is.
"Once humans have made up their mind about something, it's very difficult to change that opinion," said Paul Devereux, a professor of social psychology at UNR. "It takes a lot of other information from trusted sources or just evidence to the contrary to get people to change an already established decision or opinion."
From a communications perspective, though, Bloomfield still believes more information is better than less, provided it is the best information known at the time. As humans, we're naturally wired to seek out answers. That's why it's better for government and public health officials to provide us with some information, even if it's incomplete, she said, rather than no information, leaving us to seek out answers on our own on the darker corners of the internet.
"Despite the risks, I do tend to fall on the side of more information is better," she said. "People get very concerned, they get scared when we don't know what's going on."
---
A couple months into the pandemic, Ruiz realized something had to change.
While she was overwhelmed by the English-language news, her nearly 80-year-old mother had been glued to the Spanish-language TV stations, which were also portraying the pandemic in dire terms. The world outside seemed so awful that her mom would fret whenever Ruiz or her husband made a grocery store run.
"You should've seen the concern in her face," Ruiz, who lives in Las Vegas, said. "They would take one random story, add an expert, and then make it seem as if this is the whole phenomenon: 'This is what's next. Be scared.'"
Her husband, meanwhile, had become so concerned that he stockpiled ammunition and canned food. Ruiz said it was like their house became a "nice little fortress." And Ruiz, herself, was taking painstaking measures every time she went to the grocery store. She wore a hoodie, to cover her head, in addition to a mask and gloves.
In May, Ruiz started to feel a little sick. But she was so worried about leaving her house that she didn't even want to go get tested.
It was a wake-up call for her.
"I was just like, 'Okay, I need to get ahold of myself,' because my mom, we're Hispanic, so she's watching the Hispanic channels that do a great job of scaring the hell out of people, so I'm having to fact check her and kind of control her emotions and her reactions to all of these things that she's hearing. My husband jumped on that train for a little bit too, where he was like, 'Oh my God, this is all planned,' all these different theories and stuff," Ruiz said. "I was like, 'Okay, we need to kind of get ahold of ourselves and just chill the hell out.'"
Clear-eyed about what was happening, Ruiz made a conscious decision to start making changes to their behavior. She stopped wiping down her groceries. She started taking walks around the neighborhood with her mom.
It was in an attempt, as she put it, to ease back into a "new normal."
Now, she and her husband go to the gym. They go to the park a little more often. They've been shopping at the Las Vegas South Premium Outlets. They've visited friends and family at two other houses that are part of their bubble.
But they've also remained cognizant of the risks. As cases increased this winter, they remained in close contact with that bubble. If any of them were feeling even slightly under the weather, they would stay away.
"We asked them to just be honest: 'If you're not feeling well, we just have to communicate with one another,'" Ruiz said. "And we did so that we could stay away until we knew for sure that everything was fine."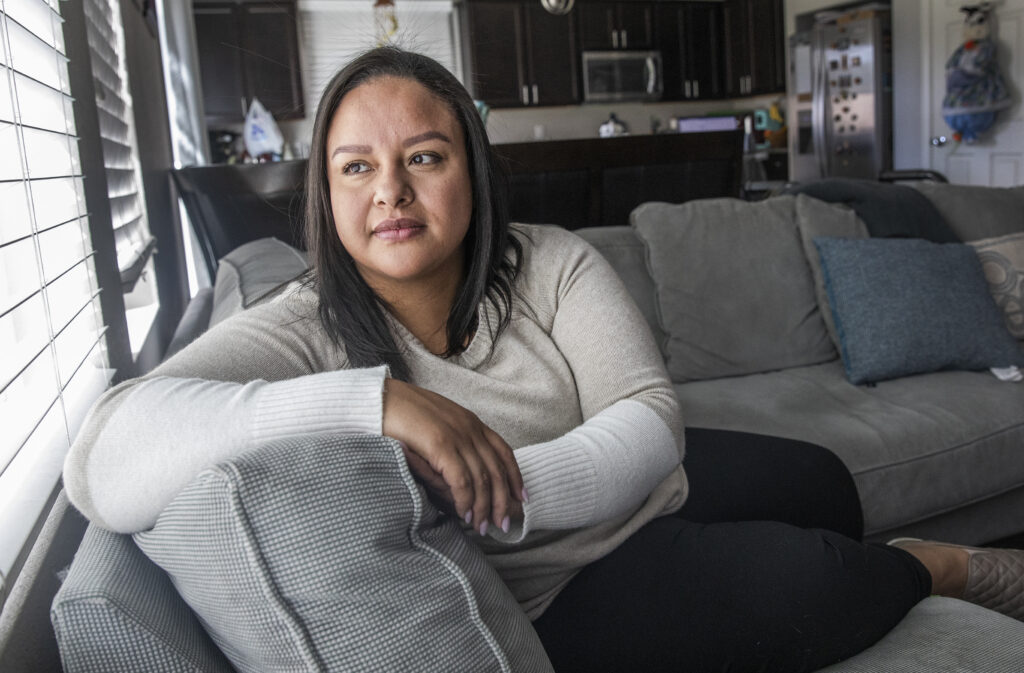 In many ways, Ruiz and her family have been able to do what has been difficult for so many in the time of the pandemic: To thoughtfully assess the risks of each individual behavioral choice and then make decisions about whether it is safe enough to engage in that behavior.
Devereux said the data show a bimodal distribution in our response to risk: We tend to either be very cautious or not at all cautious.
That has to do with the difficulties we experience in judging risk as human beings. Even if it were possible to calculate the percentage chance that we could catch COVID-19 by dining out at a restaurant, for instance, that percentage would likely be so small that it would be difficult for our brains to conceptualize it. We're more likely to see dining out as either mostly safe, and zero percent risk, or mostly risky, and 100 percent risk.
Part of the problem, too, is the way the virus presents itself. It's not the relatively harmless common cold but it's not the deadly Ebola virus either. You could get COVID-19 and never know it, or you could get the virus and die. You could also spread it to someone else, who could be fine or not fine. And judging those probabilities and possibilities is nearly impossible.
"People, faced with how difficult it is to calculate [the risk], might overweight the probability and … strongly behaviorally restrict themselves and believe that any attempts to go back to a normal life, while the virus is circulating, are behaviorally unjustifiable," Benning said. "It is possible to either underweight or overweight these risks."
The important thing to remember, Devereux said, is that we as humans generally act rationally in response to perceived threats. If we feel the biggest risk is to our physical health, we're more likely to be more cautious. If we feel the biggest threat is to our financial stability or mental health, we may be more likely to take more health risks to mitigate the financial and emotional risks.
"If the consequence is that I'm losing business, I have lost my job, I'm worried about my family, those are much more severe, immediate consequences. As a rational actor, I'm going to do what's best for my family to protect my job and my livelihood, because I don't trust the leaders, I didn't to begin with, and we're getting mixed messages," Devereux said. "So it makes sense then that the priority becomes wearing a mask and for somebody else the priority becomes keeping my business open, food on the table for my family or going to work."
But navigating those decisions on an individual level can often prove easier said than done as we balance competing interests.
For instance, Gayle, who asked to be identified by a pseudonym to speak frankly about her experiences over the last year, has continued to be fairly cautious with the virus. Typically either she or her husband will go into the grocery store, to limit the risk. They haven't eaten out in more than a year, and they won't go to the movie theater.
But her children, who are young adults and live at home, take greater risks, she said. They have gone out to eat in restaurants and gather in small groups with their friends. When her son tried to talk her into allowing a group of his friends to come over to their house to join their bubble, she told him it wasn't a bubble if his friends and members of their family were still socializing with other people.
"I really had to put it in very blunt terms with them and say, 'Who are you willing to lose?' Because that's what it comes down to. 'Think about the people you love and care about. Think about your friends' families, and then picture in your mind, who is expendable?'" she said. "'What if you contract the virus? What if you're asymptomatic and don't know you have the virus and you're spreading it, and then someone else gets sick?' I said, 'Can you live with that on your shoulders?'"
Others who have also continued to be more cautious in their response to the pandemic have made decisions such as not sending their kids back to in-person school this year, avoiding bars and restaurants and socializing only within strict confines or a bubble or with masks and social distancing outside.
Boland, from Esmeralda County, has a rule that either you wear a mask when you come over to their place, or you don't come over at all.
"You don't mess around with us," Boland said. "The people who know us understand this, and they respect our wishes."
In fact, the main problem for Boland has been the uninvited visitors. She and her husband live in Lida, which is about 80 miles east of Bishop and 60 miles southwest of Tonopah, in a valley filled with many cottonwood trees and zero gas stations.
Over the course of the last year, Boland estimates they have had somewhere in the ballpark of 40 or 50 people show up at their house looking for gas. It's far fewer than they get in a typical year but particularly unwelcome in the time of the pandemic.
They keep a 300-gallon tank of gas at the house for their personal use but mete out five gallon allotments to sell to strangers in a pinch.
"Sometimes we don't have much choice about having to have some contact with them because if we don't give them gas, we're going to be stuck with them," Boland said. "That's pretty well the only downfall we have for living in paradise."
Some, like Ruiz, have remained cautious but ventured out a little more since the beginning of the pandemic. Bittle and his wife, for instance, went to Esther's Kitchen in the Arts District in Las Vegas for a birthday dinner. It was the first time they had sat in a restaurant in a year.
"We were anxious to go do something like that," Bittle said. "We felt like we'd be comfortable."
Others say their lives have gotten more normal. They eat out regularly, go to the grocery store as normal, visit the salon and even travel.
"We actually went on four little trips starting in June. We did some weekend trips," Hauntz, the 72-year-old from Boulder City, said. "We did everything we were supposed to do, but we weren't scared. We still lived our lives to a certain extent."
Eduardo Torres, 24, said he tried to be cautious, though it didn't stop him from venturing out.
"I would always carry extra masks with me everywhere I go, and I would always socially distance whenever I went into a public place, so I was still fairly careful," said Torres, who lives in Mesquite. "Although I still allowed myself to go into various businesses, to go out to eat or to go into a store or walk around. I felt comfortable enough that I was able to do that while being safe."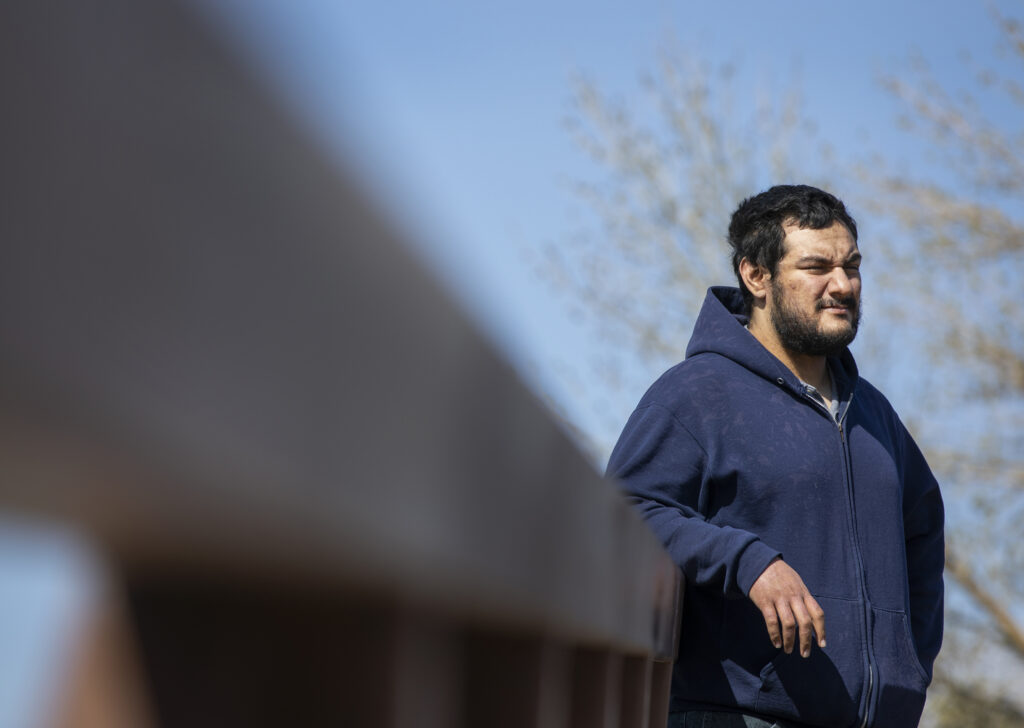 Even those who are skeptical about how effective mask wearing is still say they follow the rules so they can keep living their lives.
Pierson, 70, said the rules on mask wearing are very loose in rural Idaho, where she has a second home and has visited over the course of the pandemic. There, they would go to the bar, hug each other, gather in groups, go to weddings and attend church, all without masks. They felt comfortable doing so, she said, because there were only four positive COVID-19 cases identified in the area the entire time.
But in Las Vegas, when she's told to wear a mask, she wears a mask.
"If they say I can't shop there if I don't wear a mask, I put the mask on," Pierson said.
She doesn't like it, but she does it. She also takes her temperature every morning before she leaves the house.
She sees it as her duty to her fellow man.
---
If the divide in beliefs over what is a matter of individual or government responsibility was wide before the pandemic, it is even wider now.
Pierson, for instance, said she prefers the less-restrictive approach to the pandemic taken in Florida, where Gov. Ron DeSantis has rolled back COVID-19 health and safety rules, and believes Nevada has been too heavy-handed in its rulemaking.
When one woman asked her if she thought they should be mandated to wear masks while in yoga class, before the statewide mask mandate was put in place, Pierson said no, she didn't.
"'If you're afraid to be here, stay home. You can Zoom it,'" Pierson recalled saying. "I just believe in personal responsibility."
Others see the role of government policymaking in the time of the pandemic differently. They might view the approach Florida has taken as more reckless and the one Nevada has taken as more cautious. (Still others would say Nevada hasn't been cautious enough.)
In rural Nevada, where there is little love of mask wearing, Boland is the exception to the rule. But, from her perspective, wearing a mask is a decision she makes to protect herself and others — not because the government tells her to.
"The way I look at it is they're taking away my freedom by not doing a small little thing and trying to help others out," Boland said. "I can't figure out why they can't be bothered to be kind to their neighbors, so to speak."
This divide in beliefs over personal and government responsibility has had significant consequences for the trajectory of the pandemic in Nevada and the nation. Though government officials have tried to shape our behavior through rules and requests, they also needed to convince us what they were telling us or asking us to do was actually going to be helpful. Unlike in some other countries, our strong overall belief in individualism means we don't always do things just because the government says.
And, in fact, research shows that as humans we reflexively resist being told what to do. Formally, it's known as psychological reactance, and Devereux said it's a very normal reaction.
"I just say 'no' just because I feel like you're trying to get me to do something," he said. "It's a human and natural individual response to people feeling like their options are being limited."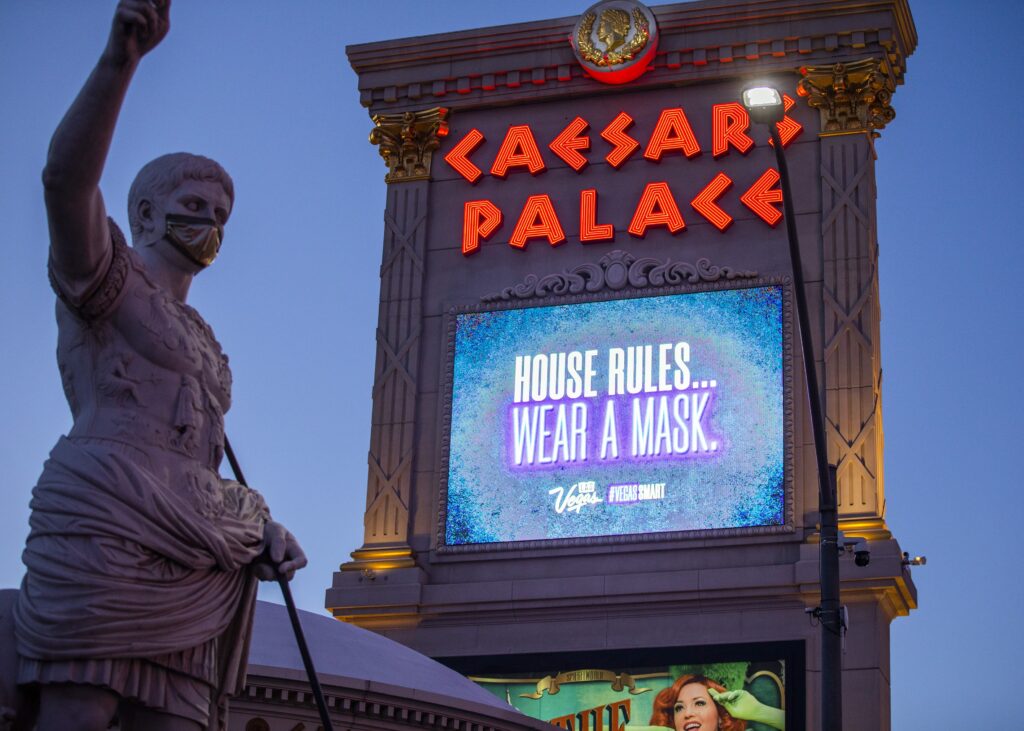 Devereux said the emphasis on individualism, coupled with a high level of distrust in institutions, put the United States in a difficult position with regard to the kind of collective response the pandemic would ask from us.
"We haven't been asked to do things as a community, and collectively, in a very long time," Devereux said. "All of a sudden now to ask a culture that's very individualistically focused and hasn't been asked to think beyond their family — which, that's often about as much of a community people experience, myself and my family, we don't have those larger connections to things beyond us like we used to — it is a difficult ask."
And even when people were inclined to say yes, they sometimes felt like the government didn't give them a good enough reason to do so. The state's policies sometimes seemed arbitrary, even among those who supported Gov. Steve Sisolak or were willing to give him the benefit of the doubt.
Bittle, a registered Republican, didn't vote for Sisolak in 2018. But, as a retired Las Vegas Valley Water District employee, Bittle said he appreciated that Sisolak, when he was the chair of the Clark County Commission, always held them accountable. He described his view of the governor prior to the pandemic as "somewhat positive."
"I didn't vote for him for governor, but I hoped when he got in that he would take that kind of approach with state government," he said.
But Bittle said it often felt like Sisolak and the state failed to effectively communicate with the public about why they were making certain decisions.
"They just seemed to be scattered. You know, the bars can't be open but you can get a drink in a casino and sit at a slot machine," Bittle said. "The decisions that were made early, you can excuse. The decisions that were made later, it's like nobody was paying attention to what the science was saying about being able to reopen and get the economy moving. It felt random."
To others, it seemed like the governor focused too much on the economy and not enough on the public health crisis at hand.
"I think at the beginning, whether it was true or not, Sisolak was maintaining our health and wellbeing as the priority," Ruiz, who works in the gaming industry, said. "I saw that slowly but surely turning into dollars, because the message that I started getting from his press conferences and his tweets was very much like, 'Locals stay home, tourists come over, we are fine,' not giving casino employees a lot of protection."
Nevada was also in a particularly challenging situation as a state in the West, the birthplace of rugged individualism, or the belief in total self-reliance. One working paper, published in the National Bureau of Economic Research in September, found that counties with longer historical frontier experience exhibited less mask use, less social distancing and fewer government policies to mitigate viral spread.
"It suggests that the notion of rugged individualism may shift people's risk perceptions to be more of an egocentric, or an individualistic, as opposed to a collectivistic, or a society wide, kind of approach," Benning said. "In Nevada, there is a long-standing frontier culture that we have."
But Johan Bester, the director of bioethics at the UNLV School of Medicine, said individualism can be often misunderstood.
"We live in interdependence upon each other all the time. We've seen that now in Texas, where there's also this focus on an uber individualism," said Bester, referring to the deadly winter storm that led to days of blackouts in February in the Lone Star State. "But when you suddenly get a natural disaster, the individual cannot look after him or herself. We need to band together to respond to this natural disaster. There are some things we need all of society to come together to fight against it."
For Pierson, that manifested in small but important ways.
When her friends have asked her to wear a mask, even though she wouldn't have otherwise, she did.
When she exchanged jigsaw puzzles with a friend, who was very cautious about the virus because her husband has significant underlying health issues, she made sure to wear gloves and sanitize each set.
"I will comply with anything my friends want because being with them is more important than my wishes at the time," Pierson said. "I did everything I could possibly do to keep them safe."
---
The pandemic hit home for Bittle when his neighbor tested positive for COVID-19.
Bittle and his wife had been cautious in their approach to the virus, but they became even more vigilant when people they knew started testing positive. Bittle described his neighbor as a "healthy guy," the kind who should've easily beat back the virus. Instead, Bittle said his neighbor was a day away from being put on a ventilator.
"It's like, well if that could get him down that much, now you start thinking about how bad it would hit you when your health isn't all that great," he said.
Over Christmas, Bittle's cousin and her husband, whom the couple had gone camping with during the pandemic, came down with the virus. After that, the Bittles started to hunker down even more, ordering groceries online for pickup instead of shopping in the store.
"When it hits close to home, you start taking a little more notice," he said. "It became a little bit more real, I guess."
When cases increase, the government can put in place policies to try to slow the spread of the virus. The news media can write articles and air reports about how bad it's getting. But what has a strong impact, social scientists say, is personal experience.
It's hard to grasp the impact that COVID-19 has had on 300,000 of your fellow Nevadans you don't know. It's much easier to understand the impact on one who you do.
"Maybe they didn't know somebody who's died, but they do know more and more people who have been infected," Devereux said. "That makes it much more real."
The pandemic hit even closer to home for Ruiz. As the new year began, the vaccines continued their early rollout in the U.S., and some started to feel optimistic about the future, Ruiz lost her father to COVID.
"When everyone kind of had the hope for 2021 to be a reset, for us it was like, level two," Ruiz said.
Her dad died in a hospital in Colombia. Ruiz said they lost two or three days while her sister fought with the insurance company trying to get him admitted to the hospital as he struggled to breathe.
"When he finally started receiving the treatment, it was too late," Ruiz said. "The pneumonia had already eaten him up."
March 16 would have been his 80th birthday.
It's frustrating for Ruiz when people don't take the virus seriously.
"It was definitely one of those things that people don't get until it becomes a personal experience for them," Ruiz said. "I can listen to any point of view and try to understand but not when it's absolutely lacking empathy and compassion for people that you see are going through something."
Mary, who lives in a rural town in Northern Nevada, said she figured she would eventually get the virus as her husband interacts with many people daily as a police officer. But they were always extremely cautious when seeing their parents, she said.
As it turns out, they did get the virus, and her husband's parents had come over for lunch during their infectious period. But because they ate outside and stayed away from each other, his parents never got sick. The worst symptoms Mary and her husband experienced were fatigue, headaches and a loss of sense of taste and smell.
"We feel pretty lucky to that extent," said Mary, who asked to be identified by her first name to speak openly about her experiences over the last year.
While Gayle never got the virus, her husband did. It hit him hard.
"All he wanted to do was sleep. He was not the same person. He was disoriented. I would speak to him and it was almost like I was speaking a different language," she said. "The doctors were inundated with patients so we couldn't always get his doctor on the phone. I was basically trying stuff that I'm reading on social media or that I'm getting off of the internet and saying, 'Okay, well try to breathe like this because it can open your lungs and sleep on your stomach so you can help your lungs expand more.'"
During her husband's illness, Gayle moved out of their bedroom. She only went in and out of the room to give him medicine, feed him and check his oxygen levels. She also tried to stay away from her children, so that if any of them were infected they wouldn't spread it to each other.
"I was taken aback by how depressed and anxious I got because you are really alone," Gayle said.
Hauntz's husband, who is 75, fell ill with the virus, too, around the holidays. She made him go to the emergency room after he woke up in the middle of the night struggling to breathe. They tested him for COVID-19, which came back positive, and then sent him home.
"I was concerned about him because I'm basically a worrier anyway," Hauntz said. "I watched him pretty closely to make sure that he didn't get worse."
Fortunately, he never got too sick, and Hauntz herself never had any symptoms.
Those individual brushes with COVID can collectively have a significant impact on the trajectory of the pandemic, public health experts say. Even if it didn't change the behavior of someone who tested positive, it may have changed the behavior of a friend or an acquaintance, as it did for Bittle. The more people start hearing about those within their networks testing positive for the virus, the more real it becomes. The more real it becomes, the more cautious people tend to be.
"If they know somebody in their community, in their city who has died or suffered from COVID-19, they're more likely to be careful psychologically," said Ali Mokdad, an epidemiologist at the Institute for Health Metrics and Evaluation at the University of Washington. "Then the reverse happens when it's getting much better. People start coming out, and it has a snowball effect."
Ultimately, though, there's still no consensus on why cases go up when they go up and why cases go down when they go down. Is it the government's mitigation measures? Is it that so many people are out and about getting infected it's harder for the virus to find any more viable hosts?
To Brian Labus, a professor of public health at UNLV, it comes down to human behavior. The virus's transmission rate, he said, depends on three things: The duration of your illness, the number of contacts you have and the probability of transmission to each of those contacts.
"The last two numbers are the behavioral things that drive transmission. So if people stay home and don't change any other things about their behaviors, they're going to decrease their number of contacts and that's going to decrease transmission," Labus said. "If they go out just as much as they did before but they all wear masks and they keep social distance, that's going to decrease transmission. Over the course of the pandemic, those things are changing daily."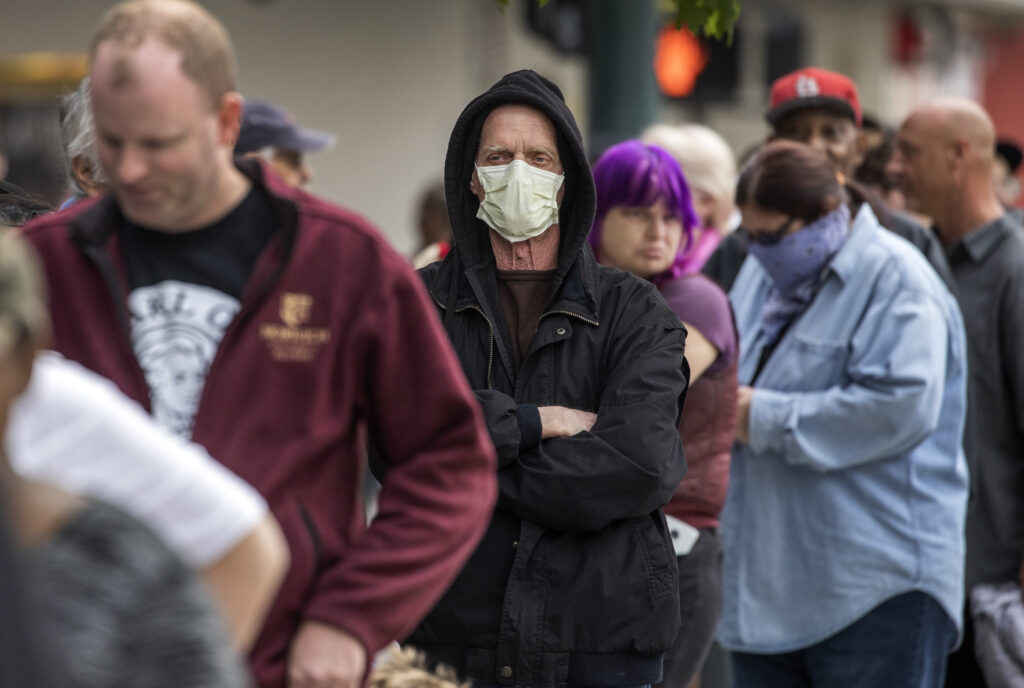 ---
For Gayle, every day at work is a struggle.
Most of the people in her office are convinced they had the virus back in December 2019, she said, and therefore don't see the need to wear masks. They still go out to eat regularly, go on vacation and hold parties — things Gayle herself hasn't done for more than a year.
Though mask-wearing in her office has significantly improved, Gayle said she's still the only person who consistently wears a mask the entire time.
"If someone comes into the lobby or they're servicing a customer, they'll wear a mask," she said. "But in the employee space, behind those locked doors where only the employees go, nobody is masked."
It has made her feel extremely isolated.
"They think that I'm the hypochondriac crazy person because I wear masks. I'm criticized and teased," Gayle said. "It's frustrating."
But the mask issue is only half of it: Gayle is also the only person of color in her workplace.
As people took to the streets over the summer to protest racial injustice after George Floyd, a 46-year-old Black man, was killed in police custody, her coworkers talked about how "Blue Lives Matter," how people "shouldn't be burning down buildings" and how maybe Floyd "should have just complied," Gayle said. People would ask her whether she watched the video of Floyd's death and what she thought of it.
"I'm just like, 'No, I didn't watch the video. I can't watch those things.' It hurts my heart. That could be my brother, my father, my son," said Gayle, who added that her husband has been spat on while going for a walk in their neighborhood. "So when it comes to the virus, they're kind of like the same mentality: 'It's overblown. People are old. They were going to die anyway.'"
But often, Gayle doesn't say anything. As a contract worker, she doesn't feel like she has the protections to speak up in the same way an employee would.
"I've encountered situations in my past where when I speak up and ask for things that I'm entitled to and I have lost business because they think I'm difficult," Gayle said, her voice breaking with emotion. "So I don't say anything about the virus, really. I laugh off when they tease me. I just say, 'I'm trying to keep everybody safe. You guys don't know where I've been either.' But no, there's not really anything I can do or say because I am my family's breadwinner. I need my income, so I can't jeopardize it by having social views that are different from the people I work with.'"
The loneliness and the fear have taken their toll on her.
"2020 was just an eye-opening year between the social issues, between the politics and between the pandemic. It really opened your eyes to people that you thought you knew and people that you thought you respected," Gayle said, tearfully. "Now I look at people and I analyze people: Do they look like they could be a Trump supporter? Do they look like they could be QAnon? Do they look like they're Blue Lives Matter? Are they racist?"
For Jones, the cab driver, the tension has been with his passengers. If someone enters his cab not wearing a mask, he cracks his window and tries to get through the ride as fast as possible.
"It's just not worth it," Jones said, about asking his passengers to put a mask on. "In my head, I say, 'It's a 10 minute ride, the window's a little bit open, whatever.'"
As far as he knows, he hasn't gotten sick.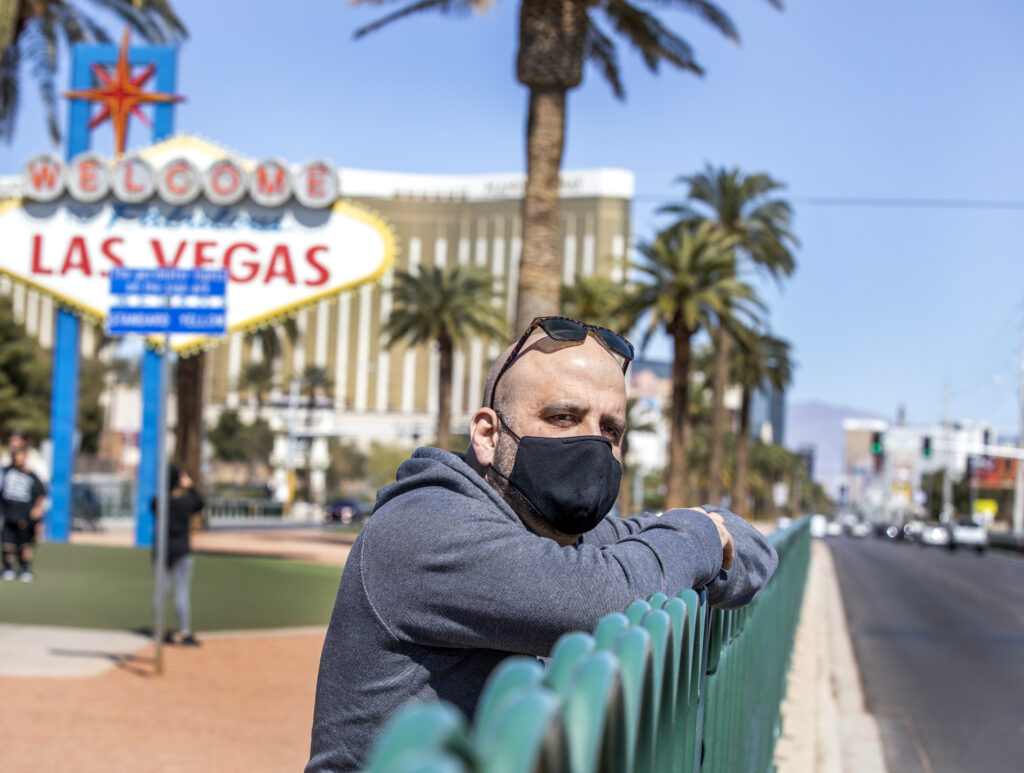 For others, the tension has come in their personal lives, straining relationships and, in some cases, breaking them beyond repair.
Despite being fairly cautious throughout the pandemic, including socializing with friends outside in the yard and being vigilant while making trips to the grocery store, Mary lost a friend of 15 years who thought she wasn't being careful enough.
"She felt that I was endangering other people in my behavior by getting groceries or doing outside socializing. She expressed to me that it was really bothering her, it was very stressful for her to hear I was doing these things, and so I stopped talking to her about stuff like that. But with COVID, what else is there to talk about?" Mary said. "I really couldn't tell her anything."
She didn't tell her friend, who lives on the East Coast, that she and her husband had gotten COVID-19 until they were through it, unsure how she would react.
"I let her know that we were fine and we hadn't gotten anybody else sick and she said, 'That's good,'" Mary said. "And I basically haven't heard from her since."
In mid-March, Mary sent her friend an email to wish her happy birthday. The two used to email back and forth every day.
"If she does not get ahold of me in the next few days, I don't think I will probably ever hear from her again," Mary said, choking up.
As it turns out, the friend did respond — four days later. Mary thinks she was just being polite.
"Considering it used to be the longest I'd ever wait to hear back from her was the next day, and she had to be really busy for it to be that long, it's obvious that the friendship is over," Mary wrote in an email this week. "As much as it upsets me — I feel like I have to respect it."
Others have experienced tension in the opposite direction, with friends and family who are less cautious than they are. Toward the end of the summer, Young, the 29-year-old from Las Vegas, was invited to a small party. Her friend said they would stick to the state's 10-person gathering limit and no food would be served buffet style.
Though she was still reluctant, it made Young feel comfortable enough to go.
"When I got there, there were more than 20 people and there was buffet style food. Every person that came in the door and every person I interacted with, when I went in the door, went in for the hug. They had no mask on," Young said. "By the end of that night, I felt like a little bit of a pariah because I had to say, 'No, don't hug me, I'm not doing hugs,' and 'Oh, I don't really want to eat something I just saw somebody else put their hand in.' Everybody thought I was maybe overreacting a bit whereas in my mind I was like, 'I'm reading the news, I'm listening to the CDC,' so at the very least if you guys behave this way, why do you make me feel like I'm doing something that's strange?'"
She has tried to explain to her friends that she is just trying to be cautious about the virus. But to them, she said, it feels like she's not putting in the effort to be their friend.
"I'm now firmly in the place of, 'I don't want to see people. I don't want to go places.' I still don't want to do any of those things, and I'm not even sure if it's because of the virus anymore,'" Young said. "It's because I've learned so many things about my friends over social media and what they've been doing with their time and how they've been managing this pandemic, and my circle has just gotten a lot smaller because of that."
For Brianna, who also asked to be identified by her first name to speak freely about her experiences, it was a funeral for her husband's grandfather last fall.
They were told it would be a small family event and that everyone would be masked. When she arrived, she said the gathering was probably small by normal standards but "too many" in the time of the pandemic. Her family were the only ones wearing masks while everyone else was "walking around doing whatever," she said.
"It was upsetting because Grandpa had died, but Grandma was still alive — not well, but alive — and no one's even wearing a mask around her," Brianna, 33, said. "My brother-in-law did make a statement to my husband, I guess, at some point saying — I don't remember the wording — but it made me think like, 'At her age, what difference does it make? Something's going to take her anyway.' It was very upsetting to hear something like that."
The pandemic has asked much of us in the way of cooperation. It has asked us to work together with our family, with our friends and with our community against the virus. But it has at times driven us further apart, deepening the isolation many have already experienced during the pandemic.
For extroverts, like Mary, the isolation has taken a toll. She counts her blessings: Both she and her husband were able to keep working during the pandemic. They live in their own house. Everything, she said, was on their side.
And yet, it was still hard.
"I'm a hyper social person, and this has been pretty miserable," Mary said. "I'm in good health. My family's all got their shots. I don't fear losing my job or money, but it doesn't change the fact that it's pretty miserable."
Ruiz sought professional help because of how overwhelmed she was feeling. She had six weeks of sessions with a therapist before she realized it wasn't working for her. She started meditating. She took up bicycling. She and her husband have lost a combined 120 pounds during the pandemic as they turned to fitness as an escape.
Torres, who was furloughed for a month last spring from his job at a food manufacturing plant in the St. George area, said he was "demoralized" for a time not knowing when he would be called back to work.
"It was really challenging, the uncertainty of it," Torres said.
For Young, who described herself as more of an introvert in recent years, the pandemic has still had its emotional challenges. She has been unemployed since she was laid off in May and, though she's tried to make the best of it and take time to do things she never had a chance to, the monotony of the routine has gotten to her.
"I wake up in the same space every morning. I do the same routine every day. I make the same food every day. It's so repetitive, and it's all in this few square feet of space," she said. "The repetitiveness is just a weight that I don't think people understand … I've had many days where it's just hard to get out of bed and shower and get ready because there's not really much of a point to any of that."
In mid-March, Young was in the middle of preparations for her friend's wedding, which she said she found not only frustrating, as she had canceled her own wedding last year because of the pandemic and hasn't yet made plans to reschedule it, but also tiring because of how unused to social interaction she is. She wishes she would've backed out of participating in the wedding.
"It is completely exhausting in a way that I've never really experienced before," Young said. "I don't know how long it's going to be until I feel that same excitement seeing these people after everything now, after I've had to argue with them and explain, I don't know if that excitement is going to return."
For other introverts, the isolation was actually welcome.
David, the Clark County School District teacher, was diagnosed late in life with autism. He said the pandemic has given him a reason to avoid the kind of social contact with others that makes him anxious.
"I do grocery shopping through Walmart curbside pickup. All of my bills are online," he said. "I really don't have any reason to interact with anyone face to face. I don't. It hasn't really bothered me at all."
In fact, in an interview in mid-March, David said he was feeling anxious about returning to in-person teaching. It's hard enough, he said, transitioning back into the classroom after a two-and-a-half-month-long summer break. He worried what a year's absence from the classroom — which for David, as a culinary arts teacher, is a kitchen — would mean for his social skills.
"It's sort of like a pool. You stick your toe in the water and it's cold and you think, 'I don't want to get in,' and the only solution is to jump in, and you quickly get used to the water temperature," he said. "I guess that's probably a good metaphorical analogy of how best to do this is to just do it, don't think about it, because if I think about it, my emotions are going to get a hold of me and I'm going to think, 'I don't want to do this.' So I'm going to just do it."
The transition back to school, though, has actually gone better than expected. David has had at most four students in his classroom at a time, which has been much more manageable than the usual number.
"My anxiety was much better than I thought it would be," he said in an email this week.
For Gayle, the pandemic meant not having to come up with excuses about why she didn't want to attend her coworkers' social events.
"Not working around people who look like me, always being the odd man out when there's company parties and lunches and meetings, they're always stressful for me. I always am anxious about how I am going to be perceived," she said. "It's been kind of nice not to have that social anxiety of trying to come up with a reason that someone will accept why I can't participate or why I can't join in. Now, I've been able to use the pandemic."
The pandemic has also given those who don't usually spend time reflecting on their own mental health time to pause.
Bittle said it hit him one day when he was listening to the NHL radio station while driving and one of the guys — someone Bittle listens to every day — opened up about the depression he had experienced during the pandemic.
"I'm thinking, 'Damn, well, yeah, that's what I've experienced.' I would never have said that I was depressed," he said. "It was kind of an eye-opener to be sitting there, and I'm like, 'Well, man, that was me.'"
---
The last year has been bleak for many.
But, for some, it finally feels like things are looking up: COVID-19 cases and hospitalizations in Nevada remain low, businesses are opening up further and the vaccine rollout continues apace. A third of Nevadans aged 16 and older are now either fully or partially vaccinated against the virus, a percentage that is expected to increase when eligibility for the vaccine opens widely on Monday.
Many are eager to get the vaccine because of what it represents: A chance to return to normalcy. Hauntz, who is 72, said there was no question in her mind that she would get the vaccine as a retired registered medical technologist.
"I read up on it and decided that I would have it," Hauntz said. "I was happy to get it."
In mid-March, Mary, who turns 50 this year, wasn't yet eligible for the vaccine but was eager for her turn to be called.
"Oh my gosh, they could just throw that needle at me, I'd be happy as a clam," Mary said. "I don't care what they offer me. I will take any vaccine."
On Monday, when all healthy adults become eligible for the vaccine, it will finally be her turn. She already has an appointment scheduled for 8 a.m. the next day, the earliest slot she could find.
Others had reservations. Young said she was initially hesitant about the vaccine because she believed the process seemed rushed and almost too good to be true. But she said she took the time to read up on the vaccine, specifically the frequently asked questions on Immunize Nevada's website, which allayed some of her concerns.
"That FAQ on the website and everything I read there really did help me gain a little bit more confidence with understanding the vaccine a little bit more," Young said. "I probably will get it as soon as it's available to me. But I am always distrustful of things that seem too good to be true."
Ruiz, who encouraged her mom and husband to get vaccinated when they were eligible, has some concerns about getting vaccinated herself, mainly because she has experienced significant reactions to vaccines in the past. She still plans to get it, but she's in no hurry.
"I don't consider myself an essential worker at all, I'm not, and I think I'm in pretty good health," Ruiz said. "I'll let others get it first."
For others, it's hard to feel optimistic. Brianna, who was vaccinated early on as a health care worker, said she won't feel better until her elementary-school-aged daughters are eligible for the vaccine. Pfizer announced this week that its vaccine is 100 percent effective in 12- to 15-year-olds, though results are still outstanding for other age groups and no vaccine has yet been approved for use in those under 16.
"I'd like to say I see a light at the end of the tunnel but, to be perfectly honest, I'm not sure when that will actually be," she said. "My husband, him being vaccinated won't make a whole lot of difference because the kids still aren't, so it's not like we're just going to start hopping around, doing whatever. It's still just a waiting game."
The hard part for many of us is that we still don't know how this story ends: Will there be a spring surge? When will we be able to stop wearing masks everywhere? When will life finally feel normal again?
Will it ever feel normal again? Will the pandemic really ever end?
Young, who turns 30 in May, feels in some ways like she wasted the last year of her 20s in isolation.
She fully believes in the virus and its severity, but no one around her has fallen seriously ill with COVID. She sometimes grapples with envy as her peers have continued to live their normal lives apparently without consequence while she has remained cautious.
"I just don't know if it's worth it," Young said. "It's really hard to draw a personal connection to the need to be safe and the need to isolate and the need to stay cautious and vigilant when I have not really been personally touched by the effects of COVID."
Public health experts say this is what has made our collective response to the pandemic so difficult. Our individual choices, alone, are insignificant: The grocery store trips we never took. The parties we never attended. The meals we never shared. The masks we wore. The six-feet-apart we stood.
It's easy to feel like nothing we did made a difference. Our victories are invisible, the sum of the infinitesimally small probabilities of millions and billions of choices we made.
We won't know the people who never got sick, never had to go to the hospital, never died.
We'll never know if we could have been one of them.
Part VI coming Sunday, April 11.