Steve Waclo and his wife, Zita, have long loved the Hawaiian islands.
Last February, over the course of four days, they took a train ride around a farm on Kauai, sipped margaritas on Oahu, snorkeled with tropical fish off the coast of Maui and visited lava flows on the Big Island. The island cruise was a much-needed respite from the snowy Carson City winter for the retired couple.
As their ship clipped across the Pacific Ocean to Ensenada, Mexico, the final port of call on their cruise, the captain came in over the intercom: They had received word from the mainland that multiple passengers on the previous leg of the ship's voyage had fallen ill with COVID-19, which was at the time still in the early stages of spreading across the globe. The ship, the Grand Princess, would be changing course and returning to San Francisco, its port of departure, immediately.
At first, the couple didn't see any reason for alarm. No cases of the new virus had been identified onboard, and the early return seemed precautionary. The most substantial change was that they had to be served at the buffet. But when they reached the Bay Area, they watched with interest as the Coast Guard airlifted test kits onto one of the top decks of their ship.
Shortly after, all passengers were ordered confined to their cabins, their meals delivered to them on trays at their doors and the news of their fate delivered to them largely by the national media. Information on the boat itself was scarce.
"We didn't know where we were going to go. We were out in the ocean going around, which was kind of disturbing," Zita Waclo said. "Nobody told us even when we were going to get off the ship."
The Waclos found themselves entirely at the mercy of the federal, state and local government officials back on land who were struggling to figure out what should be done with them and their fellow passengers.
As the Grand Princess held 50 miles off the coast of Northern California with 3,533 passengers and crew members, President Donald Trump made his preference known: that the boat stay where it was. At the time, 238 people in the United States had tested positive for the virus; results from the airlifted test kits showed the ship would add 21 more to that total.
"I like the numbers being where they are," Trump said during a visit to the Centers for Disease Control and Prevention in Atlanta. "I don't need to have the numbers double because of one ship that wasn't our fault."
Two days later, on March 8, state health officials in Nevada finally received the full list of the names and contact information for the 49 Nevadans on the ship. (A 50th, the spouse of another passenger, was later identified.) As the Grand Princess docked at the Port of Oakland the next day, state officials scrambled to prepare to bring the Nevadans home so they wouldn't be sent to an out-of-state military base to quarantine. The final decision, though, was up to Gov. Steve Sisolak.
"You have a situation where there's this new virus. People are really fearful and scared. You have a group of Nevadans who are on this cruise ship. You want to protect the residents back home, so you don't want to bring in potentially infected folks back into your state, but you also are worried about these Nevadans who are now stuck on this ship and then being told they're going to go to an army base and then, potentially, an army base in a state very far away," Michelle White, the governor's chief of staff, said.
The next day, Sisolak emailed the passengers directly to let them know his decision: They would be coming home. In the email, he acknowledged their frustrations and anxiety over the lack of information they had received and said he felt the same.
"I can assure you that my frustration will be loudly and clearly expressed to leaders in Washington D.C.," he wrote.
Back on the ship, the Waclos watched from their stateroom balcony as ambulances, buses and trucks lined up at the docks in Oakland. Below them, National Guardsmen readied supplies and rearranged tents. People needing medical attention were carried off the ship. It brought the gravity of the situation into focus.
"Watching the ambulances back up and the stretchers being taken off, we realized this is serious business, people are dying," Steve Waclo said. "We could potentially die if we do something wrong, if someone slips up."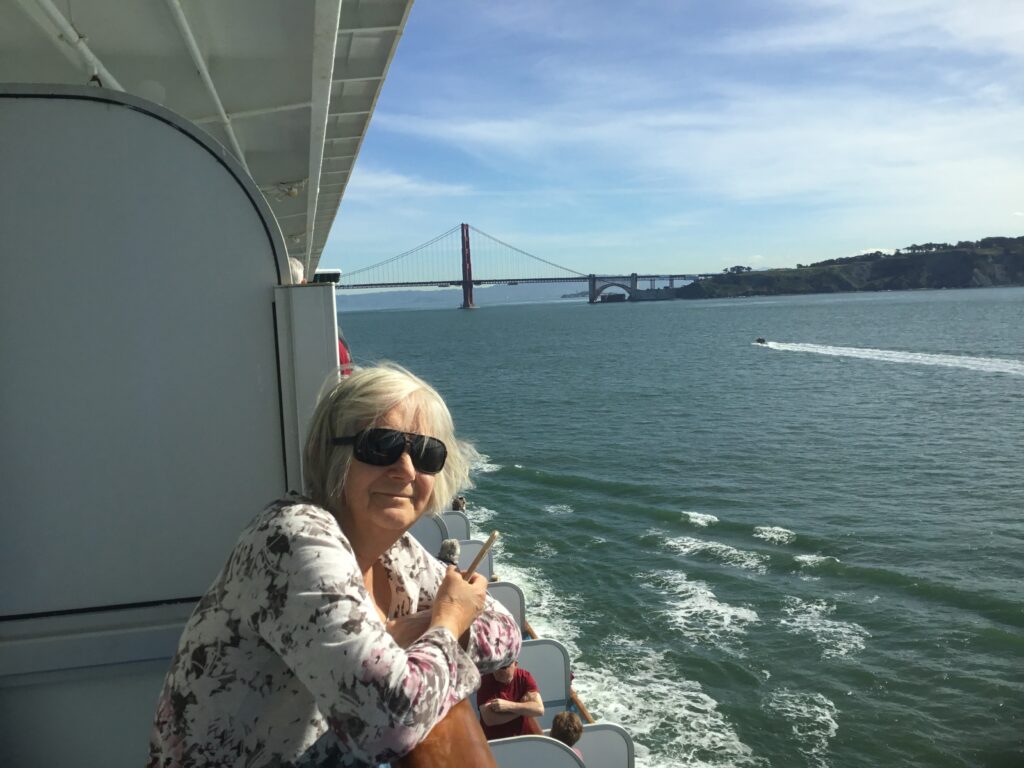 When the Waclos were finally told one morning it was their turn to disembark, they had no idea where they were going. It wasn't until they were on a bus to the Oakland International Airport they were told they wouldn't be heading straight home to Nevada but rather flown to the Marine Corps Air Station Miramar, in Southern California. Federal officials wanted to test all the passengers for COVID-19 before sending them elsewhere.
At home, state officials felt equally in the dark as the federal government provided them with an ever-changing timetable for when the Nevadans could return.
Local health districts made preparations to receive the passengers once they landed on Nevada soil, including securing the personal protective equipment and vehicles needed to transport them home. A representative of McCarran International Airport voiced concerns about even being able to receive the Southern Nevadans when the time came because of flight restrictions associated with a planned visit by Trump that week. State officials sent out flurries of emails each day informing local officials and airport representatives that the Nevadans were coming, not coming, then coming, and then not coming again.
This went on for four days.
"I completely understand the frustration with the lack of timely detailed information from the feds as I too share in this sentiment," Malinda Southard, manager of the state's Public Health Preparedness Program, wrote in an email to Clark County's fire chief on March 11, a Wednesday. "Best I can do is keep pushing us forward to get our residents home soon and safely."
In Washoe County, local health officials were eager for their residents to be home. They had gone to the airport three times in anticipation of the passengers' arrival, only to be called off. Officials just hoped that when the operation was finally a go it wouldn't be in the middle of the snowstorm expected to roll in that weekend.
Of course, it was.
"I have confirmation we have a dedicated plane out of Miramar tomorrow just for Nevada residents. US HHS confirms there are no more maybe's probably's hopefully's — our people are coming home tomorrow!!" Southard wrote in an email to state health officials on Saturday.
That night, nearly two feet of snow piled up in Incline Village, half a foot in Northwest Reno and an inch elsewhere in town. Ski resorts shuttered as an avalanche warning was issued. Washoe County Health District staffers scouted their neighborhoods the next morning to figure out if the roads were passable; they even had to go buy snow chains first thing that morning for one of the vehicles.
After days of anticipation, the plane touched down in Reno at 12:27 p.m. on March 15. The Northern Nevadans, at least, were home and the Southern Nevadans, who were on the same plane, soon would be, too.
Many of the Washoe County residents needed help getting down the stairs and out of the plane before they were loaded into two vans. One of them, staffed by health district employees Jim English and Wes Rubio, would make stops in Reno before heading over Mt. Rose Summit to Incline Village. English read the directions and checked in on the passengers while Rubio drove.
Both were suited up in white, full-body hazmat suits, full face respirators and gloves as they plowed through the snow with a van full of weary, N95-wearing, COVID-exposed passengers. An unmarked sheriff's car trailed them to make sure there was no trouble.
At each stop, they battled snow flurries and their respirators iced over in the freezing temperatures. At one point, they swapped their transit van for a four-wheel-drive Jeep Cherokee in a passenger's Galena cul-de-sac to make it over the summit to Incline through four inches of snow. They had to keep driving. There was nowhere else for the passengers to go.
"We were trying to do as best we could to protect the public and those people that were on that on that bus just to at least get them home," Rubio said. "It was a massive effort."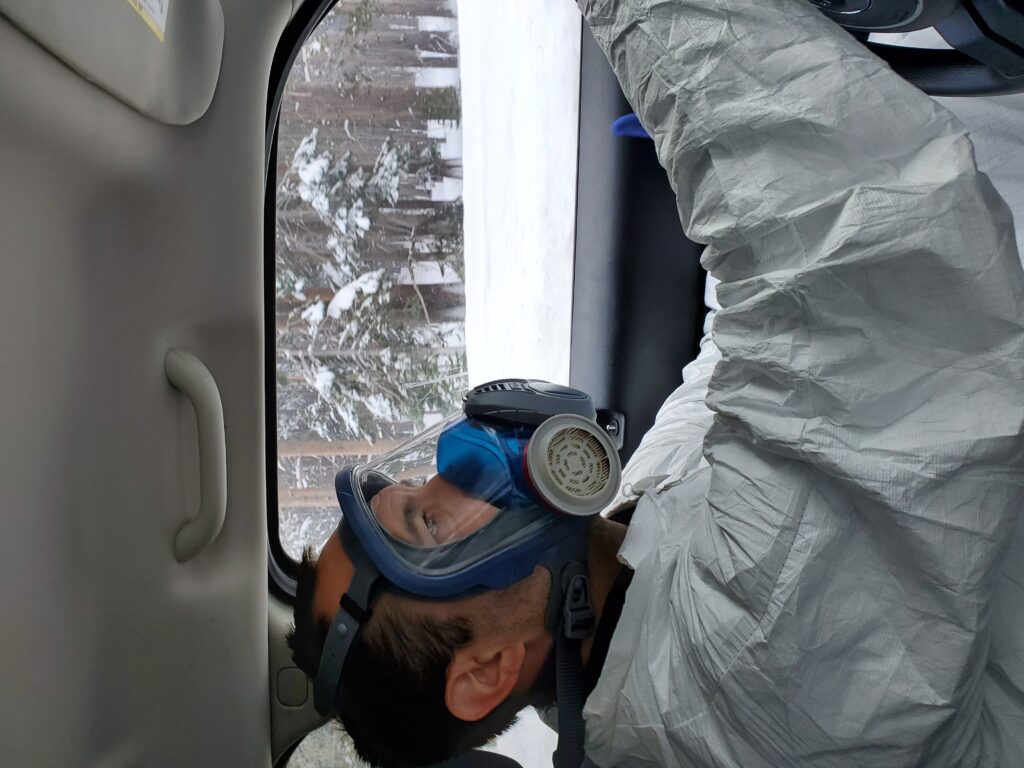 The repatriation of the Grand Princess passengers was not only a massive effort but also the first major challenge in the pandemic where local, state and federal officials were asked to work together to solve a pressing public health problem. They would be asked to overcome many more together in the months to come, from ramping up testing and contact tracing efforts to deploying a mass vaccination campaign.
"That was a big test," White said. "Then, it only got harder."
For state and local officials in Nevada, the repatriation effort was largely a success story, a proof of concept that they could work together and communicate effectively to achieve a common goal. Despite their frustrations with the lack of information onboard the Grand Princess and at Miramar, the Waclos praised the state's response. Once they were home, Carson City Health and Human Services called them every morning during the 14-day quarantine period to check in on them and offered to bring any food and medicine they needed; the governor even called once to see how they were doing.
"I was very impressed by the Washoe County people and the Carson City people," Zita Waclo said. "They were ready for us, and they really followed up very well."
The coming months, however, would strain relationships between state and local governments as they struggled to address a daunting public health crisis with few resources and what much of the time felt like little to no support from the federal government.
Sometimes the adversity brought them together as they allied to face a grim future in the face of no centralized national response strategy. The Grand Princess incident, they say, should have been a harbinger of what was to come in the way of federal communication and support during the course of the pandemic. It also showed that state and local governments could work cooperatively to meet the needs of everyday Nevadans.
But the adversity also sometimes wrenched them apart, widening a growing political divide in the state and turning existing cracks in differences in beliefs over the role of state and local governments into deep chasms. Sisolak's COVID-19 response plan, formed in the absence of a national response framework, caused rural governments long known for rebelling against the federal government to direct their ire instead toward the state. And even when the state and local governments agreed about how to best address the pandemic, underresourced and overworked officials often struggled to effectively communicate with each other, leaving wounds and eroding trust.
There's a term doctors use to describe what happens to COVID-19 patients when their immune systems go into overdrive: It's called a cytokine storm. When it happens, the body's immune system turns against itself and starts to attack healthy tissue and organs.
It's not unlike the position Nevada has often found itself in over the last year.
---
There's an oft-repeated phrase in the emergency response world about how disasters should be managed: They're supposed to be locally executed, state managed and federally supported.
But, from the get-go, state officials in Nevada say federal support was lacking in the pandemic response. The tone was set at the top, they say, with Trump's comments downplaying the seriousness of the virus and supporting unproven treatments. This seeped down to the federal Department of Health and Human Services, which clashed with the state over more mundane, bureaucratic public health policies, including whether asymptomatic individuals should be tested and which COVID-19 tests were reliable enough to use in nursing homes.
"There was never a time when our decisions, the governor's decisions, at the state level and our partnership with the local governments was not undermined by the mixed messages or new messages coming out of the federal government," Caleb Cage, Nevada's COVID-19 response director, said.
Cage, the former head of the state's Division of Emergency Management under Gov. Brian Sandoval, said the first step in any emergency response is to move past collective denial by getting everyone's buy-in on the seriousness of the situation. That's much more easily done with something like the response to a wildfire, where the threat is readily apparent, than it is for a pandemic, where the threat is an invisible pathogen.
That collective buy-in, however, never happened. Instead, Trump painted Democrats' response to the virus as part two of the January 2020 impeachment trial in an attempt to cost him his re-election; Democrats, meanwhile, were eager to point out all the ways in which they believed Trump was failing to lead on the pandemic.
"Now the Democrats are politicizing the coronavirus — you know that, right? — coronavirus, they're politicizing it," Trump said at a rally in South Carolina on Feb. 28. "... And this is their new hoax."
The politicization of the virus, Cage said, created an incentive for people to stay in the denial phase, hindering the federal government's ability to move to the collective response phase.
From the state's perspective, it was trying to communicate one thing to the general public and having it constantly contradicted by federal leadership. A week after Nevada made the decision to shut down nonessential businesses on March 17, 2020, the president was still drawing parallels between COVID-19 and the flu. (Scientists believe COVID-19 may be 10 times more deadly than the flu, though the exact mortality rate is still unknown.)
"We lose thousands of people a year to the flu. We never turn the country off," Trump said at a Fox News virtual town hall on March 24. "We lose much more than that to automobile accidents. We didn't call up the automobile companies and say, 'Stop making cars. We don't want any cars anymore.'"
The politicization of the virus made it more difficult for the state to get widespread buy-in from everyday Nevadans on the importance of key parts of the state's pandemic response, too. On one hand, there was Sisolak, the state's Democratic governor, advocating the importance of mask-wearing; on the other, there was Trump, the Republican president, waffling on the benefits of masks. Even though the scientific evidence only supports one of those two positions, the issue felt — and continues to feel — political to many because of the differences in the way that Republicans and Democrats spoke about masks.
The divide in messaging over public safety measures became, perhaps, the clearest when Trump rallied thousands of supporters in Minden and Henderson in September in defiance of Nevada's COVID-19 health and safety rules. Dave Fogerson, who at the time managed Douglas County's pandemic response as deputy fire chief at the East Fork Fire Protection District, said the event put him in a difficult position.
Officials at the county — which is home to more than twice as many Republicans as Democrats — made clear that the event would go on. The local paper, the Record-Courier, summarized the county's position as this: "Spokeswoman Melissa Blosser said that after careful consideration and weighing the authority of state directives versus First Amendment rights, the county ultimately decided to welcome the sitting President of the United States to our community." 
Privately, though, Fogerson said that people who supported the event were calling to apologize.
"'Hey, sorry we're doing this. We want to do this because how often does the president come to town? But we understand what we need to do to keep this going,'" Fogerson recalled them saying. "In the end, the county gave me an award when I left Douglas County for all those efforts — even though we were, it seemed like, on opposite ends of the spectrum — because of trying to do that balance of, 'Here's where we need to go and here's what you need to do to get there.'"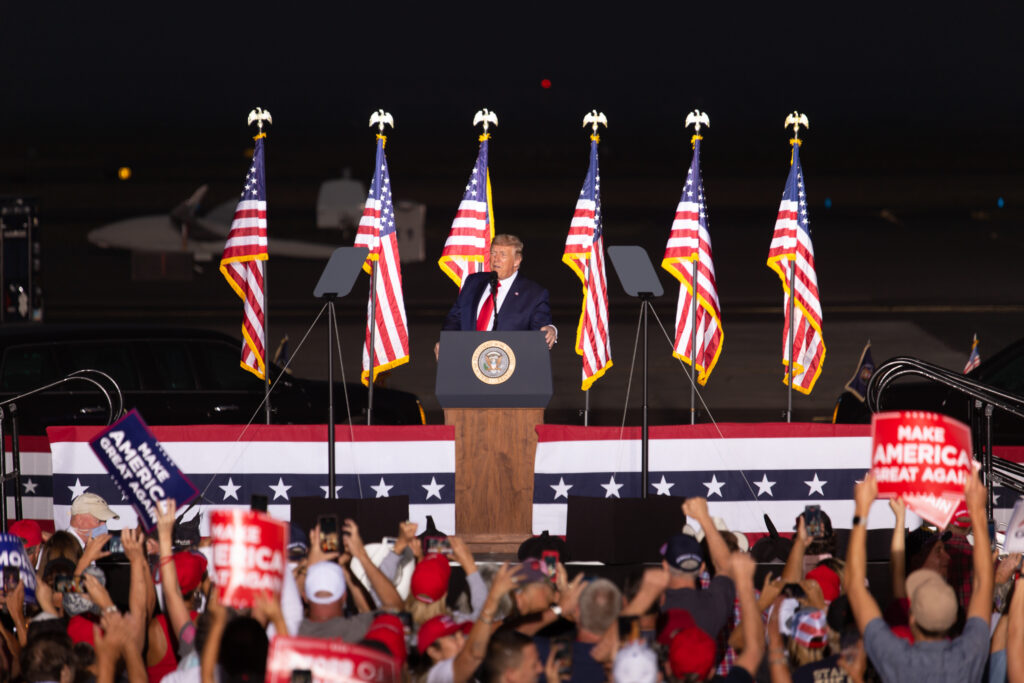 For state health officials, the pandemic brought a significant shift in the kind of communication they were used to having with their federal counterparts. For one, inconsistent communication from the federal government about what was expected made it difficult for state health officials to do their jobs, Richard Whitley, director of the Department of Health and Human Services, said.
"They weren't responding to us as a state in the same way that we were familiar with," Whitley said. "All of those seemed to be in flux and seemed to be being changed while we were needing, perhaps, that relationship to be at its strongest."
One example state health officials point to from the beginning of the pandemic was the conflicting guidance they received from the Centers for Disease Control and Prevention about which individuals coming in by plane needed to be quarantined.
In one instance, state health officials struggled to get contact information from the CDC's Division of Global Migration and Quarantine (DGMQ) for three passengers on a Las Vegas-bound Korean Air flight who had recently been in China. The state only discovered the situation after news outlets reported the flight had been diverted to Los Angeles, one of three airports that was screening for COVID-19 at the time.
State officials said that CDC representatives they spoke with seemed not to be aware of their own agency's latest travel guidance. Melissa Peek-Bullock, the state's epidemiologist, said one federal official even hung up on her.
"It wasn't clear that everybody within the organization understood that guidance," Peek-Bullock said. "The inconsistent messages that were coming from CDC to the states made it very difficult and frustrating for us early on."
The situation prompted Whitley to pen a letter to the CDC expressing his concern.
"I understand this is a rapidly evolving situation; however, I am concerned about the breakdown between the communication the states have received from the CDC, and information provided to the CDC DGMQ," Whitley wrote in a Feb. 11 letter. "Our state relies on DGMQ to assist in the response to travelers, and the lack of communication in this circumstance created frustration and confusion for all those involved."
State health officials also saw politics seep into their everyday work. For instance, they were shocked when Dr. Robert Redfield, director of the CDC, directly telephoned Nevada's chief medical officer, Dr. Ihsan Azzam, in early March to request his help in getting Adam Laxalt, the former attorney general of Nevada and a prominent Trump supporter, tested for COVID-19 after he was possibly exposed at the Conservative Political Action Conference but showing no symptoms. At the time, the CDC's own guidance restricted testing to symptomatic individuals.
"We do everything possible to treat all people the same, focusing on their risk and not on who they are in terms of importance," Whitley said. "That's not a population approach. That's a privileged approach, and so they set a tone for that."
State health officials were also wary when the federal government quietly changed the rules to require hospitals to directly report COVID-19 data to the U.S. Department of Health and Human Services instead of to both HHS and the CDC, and asked nursing homes to directly report their data to the federal government instead of to the state. Those moves made it challenging for the state to get its hands on valuable COVID-19 data, Whitley said.
"We had to figure out our own ways of collecting the data and identifying where the opportunities for intervention were and where the problems were, with not direct assistance from the federal government," Whitley said.
The state also directly clashed with the federal government in its policymaking as well. The CDC, for instance, released new guidelines in August that said asymptomatic people should not "necessarily" be tested for COVID-19. The move prompted an immediate backlash from Nevada health officials, who made it clear the state would continue asymptomatic testing.
"When you really have large widespread outbreaks of pandemic, this is the time to test more, not the time to test less," Azzam said.
Nevada also made the decision in late June to follow in the footsteps of more than a dozen other states and enact a mask requirement in the absence of any federal rule. It wasn't until late January, a little more than a week after President Joe Biden took office, that the CDC finally issued its first mask order, for travelers only.
"We kept on asking the CDC, 'Should we start implementing masking for everybody?' and we were told, 'No, we don't really need that,'" Azzam said. "If we don't know who is spreading the virus, it's better to mask everyone. You can't prevent 100 percent transmission, but you can prevent a reasonable amount and reduce infection."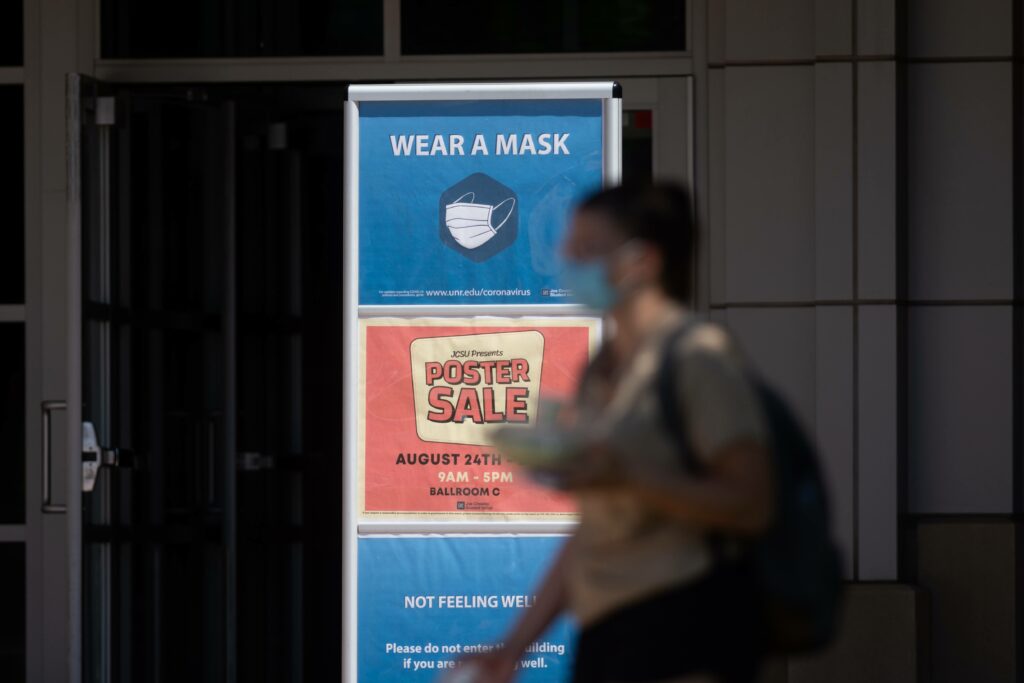 State health officials' biggest dust-up with federal health officials, though, came in October. The federal government had directly distributed antigen tests — a type of COVID-19 test helpful in identifying people with COVID-19 but generally less accurate for those who don't have the virus than the gold-standard PCR tests — to nursing homes, with what state officials described as very little guidance on how to use them appropriately. Nursing homes were also given no guidance on how to report the results of those antigen tests to the state to be counted in its COVID-19 data, state officials said.
As state health officials scrambled to develop that reporting mechanism, they noticed that the antigen tests were coming back with a high percentage of false positives. Among 39 positive antigen tests sent for confirmatory PCR testing, 60 percent came back negative for the virus.
State officials' immediate concern was that some nursing home residents were incorrectly being identified as positive for COVID-19 and sequestered with true COVID-positive patients, thereby exposing them to a virus they didn't actually have. So state health officials issued a directive to nursing homes to stop the use of the antigen tests as they looked into the issue further.
In a scathing letter in response to that decision, Adm. Brett Giroir, the Trump administration's COVID-19 testing czar, accused state health officials of "a lack of knowledge or bias" and said their decision would "endanger the lives of our most vulnerable." He added the federal government would "take appropriate steps" if state health officials did not "cease the improper unilateral prohibition" on use of the antigen tests.
"Your Department's across-the-board ban on POC antigen tests in such settings is based on speculation," Giroir wrote. "It may cost lives."
In response to those threats, state health officials rescinded their directive while reiterating their concerns over use of the tests and asked the federal government to reconsider its stance. (One federal official did, however, note in an email to state health officials the CDC does not recommend that nursing homes group asymptomatic patients into a COVID ward based on a single antigen test; rather, those individuals should be considered presumptive positive and isolated with precautions until a confirmatory PCR test is performed.)
What could have been a civil back and forth over a policy difference turned into a heated clash. Peek-Bullock described the federal government's response to the state's decision on the antigen tests as "very unusual."
State officials say that even when they believe the federal government was genuinely trying to help, it often did so in a way that subverted the state's role in the pandemic response. For instance, when hospitals struggled to secure PPE early on, the federal government provided it directly to hospitals and other health care providers, instead of sending it to the state to then be sent to the counties to then be distributed to hospitals — the usual chain of custody.
"I believe in their minds they were doing it to fight bureaucracy," Cage said. "But there's a reason this framework is in place, and that's because these private hospitals, public hospitals, aspects of the health care system in the state are asking us for resources, and we don't know how to prioritize the resources if the federal government is going around us."
But the federal government was critically helpful to the state in one primary area: funding. As of early March, it has provided nearly $25 billion in federal aid to Nevada with $4.1 billion more on the way from the American Rescue Plan. State and local officials say that federal funding — approved by both Republican and Democratic-controlled congressional chambers and signed into law by both Republican and Democratic presidents — was key to their pandemic response efforts.
And, a year since the pandemic began, the federal-state relationship is healing. State officials say they have seen a night and day difference in their relationships with their federal counterparts since Biden took office earlier this year. They report that communication has significantly improved with federal officials — U.S. Health and Human Services Secretary Xavier Becerra met with Sisolak at the Capitol in Carson City this week — and when they have a request, such as federal support to catch up on a vaccination data-entry backlog earlier this year, it's usually granted.
They say it isn't because Biden is a Democrat, either.
"The difference in mutual respect, collaboration, willingness to have hard conversations, willingness to work together, willingness to not worry about who gets blamed for what and all of this — that's just the starting point," said Cage, who worked previously under two Republican governors and is a lifelong Republican voter. "The previous administration had what I believe will be long remembered as the poorest disaster response in the nation's history."
---
The state's frustrations with the federal government, however, have a parallel: Local governments' frustrations with the state.
The root causes of each are strikingly similar. Local governments, charged with executing the finer points of the state's overall pandemic response, say they often found themselves struggling to play catch-up when the state publicly announced its latest COVID-19 health and safety policy because they had been given little advance warning. They also grappled to keep up with ever-shifting state policies about which establishments could be open, to what extent they could be open and the timetable for those rules. Some think the state struggled to be collaborative in its response as the pandemic drew on, unwilling to cede its decision-making authority even when circumstances may have necessitated different solutions for different parts of the state.
The frustrations date back to the state's initial decision to close schools and shutter nonessential businesses in mid-March of last year. To some extent, counties understood the hurried nature of the decision: The state was in an emergency situation and was reacting to a constantly developing situation. But they still found themselves in the uncomfortable position of trying to provide guidance on a local level — to residents and businesses alike — to policies they themselves had just learned about.
"I still remember when we closed everything down and schools were closed, we met in Douglas at 7 o'clock the next morning to, 'Oh my God, did you hear that yesterday? What are we going to do? How are we going to take care of this?'" said Fogerson, the former deputy fire chief from Douglas County. "Kind of having a panic moment because we were being reactionary."
Local officials say they often scrambled before each state press conference to figure out what was going to be announced before it was released publicly. In the early days of the pandemic, local officials say they often received no advance information about what policies were going to be announced; they were happy when they started getting even an hour or two's notice.
"When I was in Douglas, it was 'What do you mean there is going to be a press conference at 3 o'clock today? Aren't they going to tell us what it is? Why do we have to watch it on TV?'" Fogerson said. "Whereas now the governor's office is leaning forward a bit more and getting some information out ahead of time."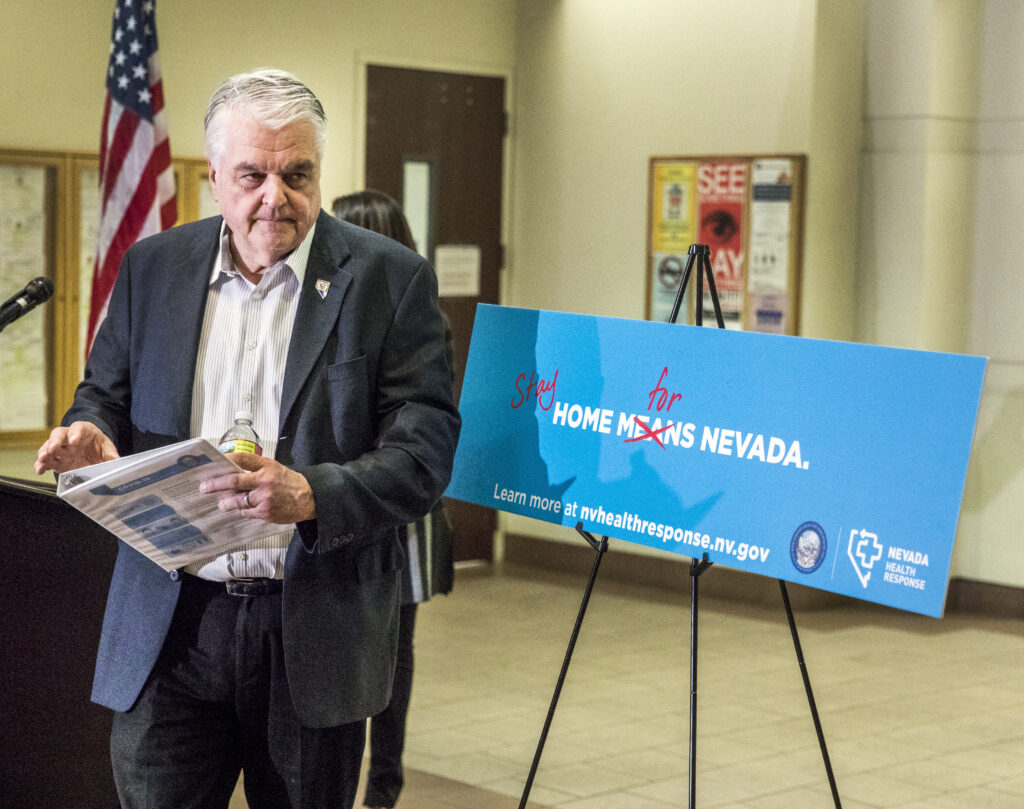 Because local officials had little warning about new state policies, particularly early on in the pandemic, they felt there wasn't an opportunity for them to voice their concerns and have a consensus-building conversation with the state, which meant some local governments were charged with carrying out policies they didn't agree with, believe in or understand. The state may not have needed counties' permission to enact emergency policies under the law, but the state did need local buy-in for those policies to be most effective.
State officials acknowledge the frustrations of their local counterparts. But when they reflect on why they didn't bring local governments into the fold earlier, they see themselves moving quickly to make choices deep in a crisis response mode that didn't allow hours for multiple roundtables and scores of phone calls about each policy decision. White, the governor's chief of staff, said there were dozens of consequential policy decisions the state was making each day.
"It is hard to loop in everyone who feels that they need to be looped in. I'm not saying that they shouldn't be. I'm not saying that their voices don't matter, that they wouldn't have great input," she said. "But the reality is you have to make those decisions quickly. We have an incredibly small staff that can only make so many phone calls."
On the flip side, the state's attempts to centralize certain aspects of the public health response were complicated by the fact that public health in Nevada is historically decentralized. Public health services are provided at the local level in Clark and Washoe counties, as well as Carson City, which together make up more than 90 percent of the state's population, while the state is responsible for managing public health for the remaining tenth of the population living across 14 rural Nevada counties.
While the localized public health delivery model can be quite effective, in the time of the pandemic it meant the state was often in the position of offering assistance to local health districts for contact tracing or testing, though the decision of whether to accept that help was left to local jurisdictions. That made it difficult, if not impossible, to have a standardized public health response across the state.
"There needs to be a level of statewide response consistency, yes, but there was great latitude and need for them to be completely different locally because they have different resources," said Julia Peek, a deputy administrator in the Division of Public and Behavioral Health.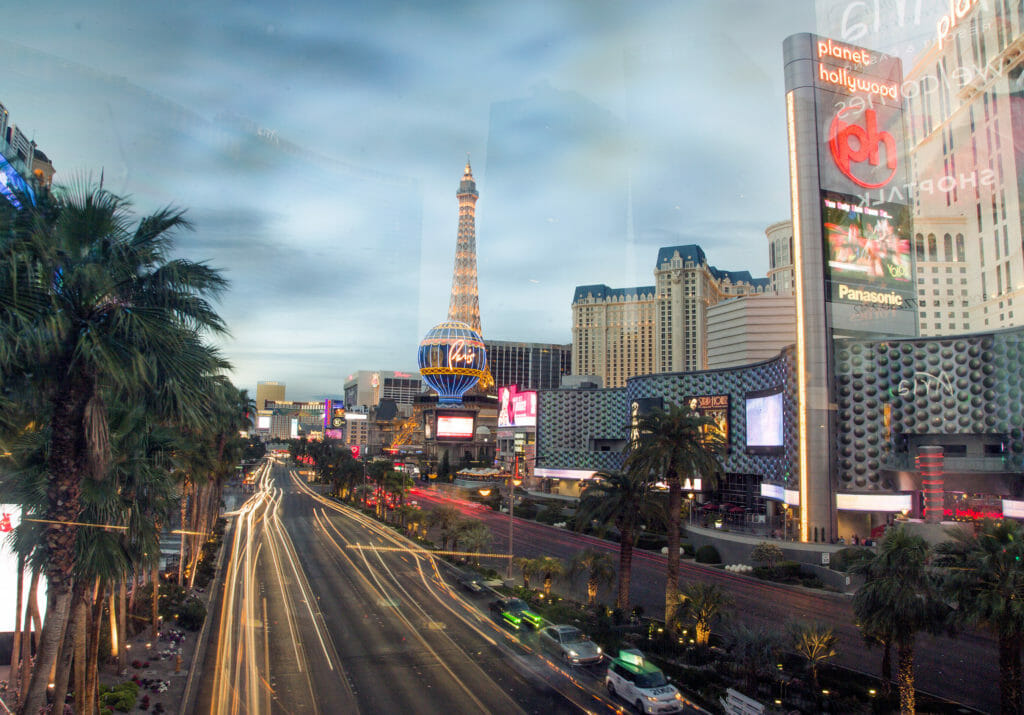 As the pandemic drew on, the state made several overtures to local governments to try to create that latitude on the emergency response side as well.
The first came in the form of a so-called Local Empowerment Advisory Panel, or LEAP, which was tasked last spring with assisting counties as they started to reopen businesses after the shutdown. Sisolak, during a late April press conference announcing the new body, said it would be a "disservice" to the state's residents to pretend its urban and rural counties have the same needs.
When Eureka County Chairman J.J. Goicoechea was asked to join the panel as a representative of the state's rural counties, he was optimistic. His urban counterpart on the panel was Clark County Commission Chair Marilyn Kirkpatrick, whom he had a longstanding collaborative relationship with and who had recommended him for the job.
But LEAP's responsibilities ended up being much narrower than Goicoechea initially anticipated, centering primarily around drafting reopening guidelines for approval by the state.
"We thought we were going to have maybe a little more authority and we were going to approve this or approve that or do some things," Goicoechea said. "It never really materialized."
Once all businesses — save strip clubs, night clubs, day clubs and brothels — were allowed to reopen, LEAP essentially fell by the wayside. It was frustrating not only for Goicoechea but other local officials who believed the state was finally starting to get things right by delegating more authority to the rurals and bringing more people into the decision-making process.
"LEAP just dissolved, because we were no longer effective. We weren't being talked to," Goicoechea said. "That's the unfortunate thing."
The governor's office, however, said it was more that LEAP evolved.
"The input and interaction and coordination with a lot of those leaders who were a part of that group, I don't think, has stopped at all," White said. "I think things just take on a different form as we're going through that response."
In August, Sisolak announced a new pandemic response framework. This one, he said, would also take into consideration counties' innate differences: Counties would be evaluated based on three criteria to determine whether they are at elevated risk for the spread of COVID-19 and, if so, they would be required to present a mitigation plan to a new statewide COVID-19 Mitigation and Management Task Force.
The task force, though, ended up doing more management than mitigation. The body spent its first several weeks determining whether bars in seven counties could reopen following a summer surge in cases. As cases began to climb in the fall, counties flagged at elevated risk of transmission spent significant time telling the task force about their plans for community-wide education about the virus and almost no time about any new mitigation measures, such as business closures or limits on gatherings, they planned to put in place.
In fact, in the more than seven months it has existed, the task force has only approved one concrete mitigation measure stricter than the statewide standards. In September, Washoe County proposed keeping its gathering sizes small as the state moved to allow larger events to take place.
"[The task force] made it fairly clear that with the increase in cases that we were seeing in Washoe County that the county needed to do something or the task force was going to do something to them," Washoe County District Health Officer Kevin Dick said. "That perspective and understanding on the part of local leadership provided some leverage to get them to that commitment."
Even under the task force model, some counties still felt like they were under the thumb of the state. Scott Lewis, director of emergency management for Nye County, said it sometimes felt like counties were children trying to appease their parents.
"What its intended goal was, as a state, what can we do to best remedy this as a collective team?" Lewis said. "And it was never that. It was always like a parental type of approach, and we had to come up with the magical words to make our parents happy with us."
Cage, who chairs the task force, acknowledged the body did not work out in practice the way in which he had initially anticipated. Counties, for instance, largely did not bring forward to the task force individual mitigation measures during the fall surge, and the task force didn't put them forward either; rather, Sisolak enacted a new "statewide pause" that limited occupancy at businesses and again limited gathering sizes homogeneously across all 17 counties.
"The governor always had reserved the right to do so, and that's where we got in November," Cage said. "So in a sense it worked as it should. My personal opinion is that the pressure locally was so much that there really wasn't an appetite locally to put additional measures in place."
While it may not have been a robust decision-making body, the task force has helped repair some relationships between the state and local governments by providing a regular forum for communication. Some local officials say the task force opened a line of communication to the state.
"From my perspective, and I can only speak for Lyon County, once they developed the task force and put Caleb Cage in charge of it, the majority of my communication complaints went away," said Jeff Page, Lyon's county manager. "We were getting good, direct positive feedback from Caleb and the task force as to what they were expecting, what the issues were and what the challenges the state was facing were."
Dick echoed those sentiments, calling the task force "worthwhile overall."
"I think that relationship between the health district and Caleb Cage and the members of the task force has really strengthened over time," Dick said.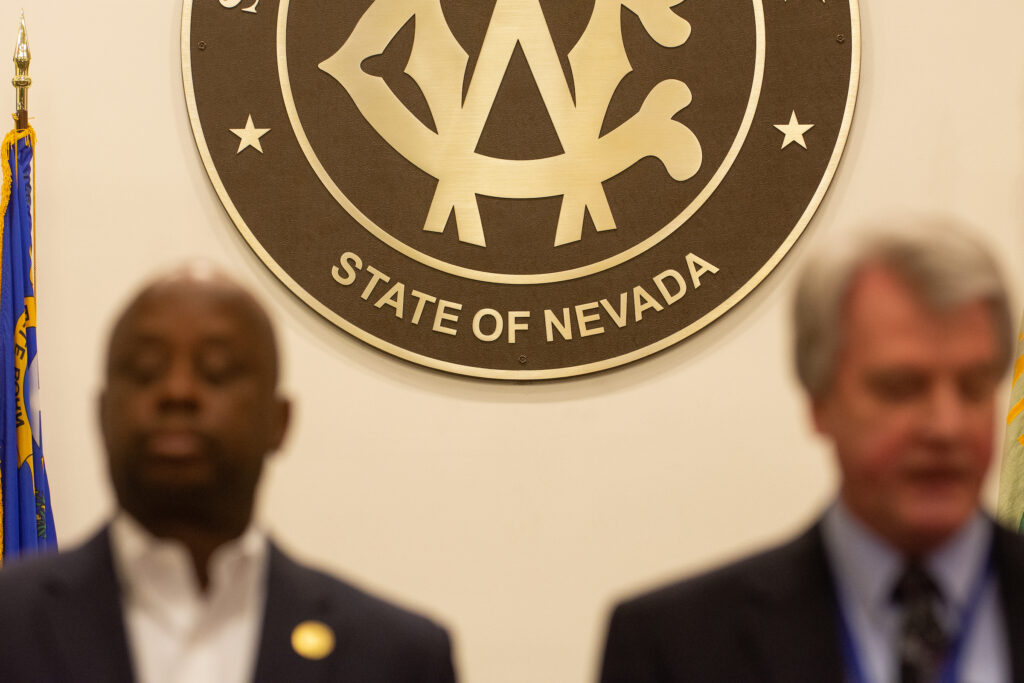 ---
Nowhere was the state-local relationship, perhaps, more strained over the course of the pandemic than in rural Nevada, where individual liberty is prized and love of government is scarce.
Initially, as Clark and Washoe counties were hit hard by the virus, rural counties were optimistic that they might be able to avoid the virus altogether. While urban America grappled with SARS scares in the early 2000s, rural America was largely untouched by the virus. Rural counties hoped their isolation and low population density would come in handy this time, too.
It quickly became clear that would not be the case as tiny Humboldt County, with a population of a little less than 17,000, became Nevada's hardest-hit county, the result of a large family gathering that had exposed many individuals to the virus. As the virus began to spread across rural Nevada, public health experts and rural officials became increasingly concerned about the effect COVID-19 could have on those communities, owing to the fact that rural counties generally have older populations than urban ones and the dearth of medical care in rural counties.
For some rural health officials, the importance of community buy-in about mitigation measures quickly became evident. Rural Nevadans might not take kindly to rules being handed down to them from the federal or state governments, but they could be appealed to on an individual level to take steps to protect themselves and their community.
The rest of the country was grappling with how to balance individual liberty with the need for collective action too, but that tension was acute in the rural West.
"One of the things that makes our country special is all the choices that we have. To me, that is a very sacred thing. It is, I think, to all of us," Dr. Charles Stringham, Humboldt County's health officer, said. "But, as a result, when you fight the virus in the United States, your best weapon is information and also trying to encourage people by being compelling, because at no point did we ever have interest in encouraging people by regulating or legislating. We've just never really wanted to do that here in Humboldt County."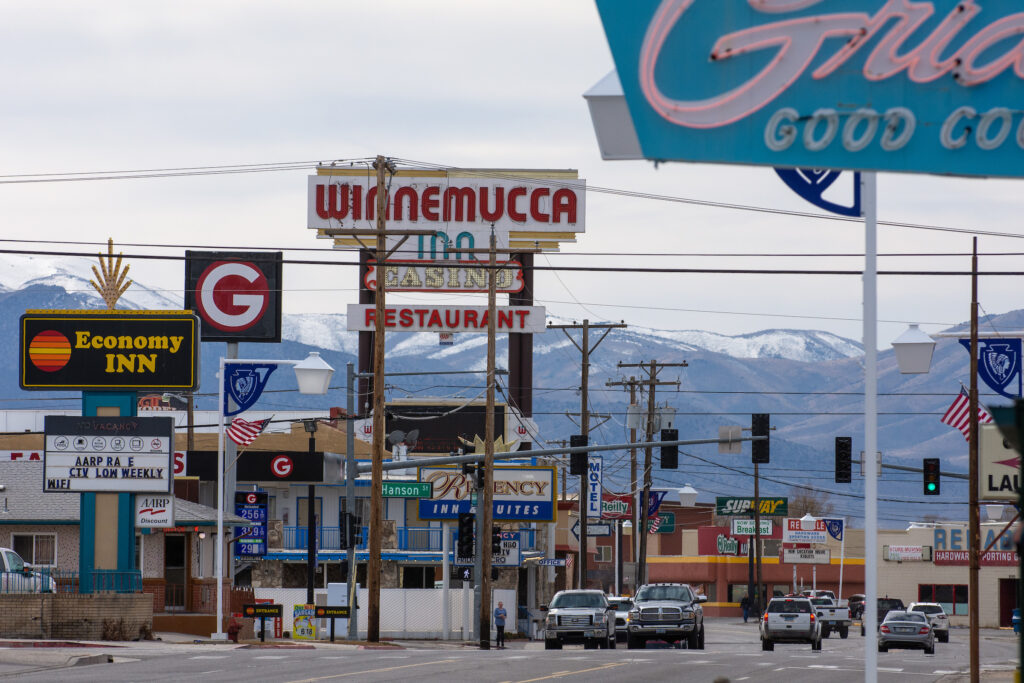 Stringham's approach was particularly introspective: If the residents of Humboldt County weren't listening to him, he figured his message needed to be more compelling. He started a series of "Ask Me Anything About COVID-19" Zoom sessions to answer community members' questions about vaccination, viral transmission and the efficacy of mask wearing, among others, in a commonsense, plainspoken way.
"My hope was that if people really did think that masks were ridiculous and that they didn't work, and if people really did think that six feet seemed arbitrary, and that if people really did think that mutations in the virus would negate the effect of vaccinations, that they could call in and ask those questions and get real answers," Stringham said.
During one of those Zoom calls in December, Stringham was asked why he and other members of the medical community were so focused on social distancing and mask wearing instead of advocating the benefits of, among other things, the malaria drug hydroxychloroquine. Stringham was calm and deliberate in his answer, saying he wished the drug would have worked to treat COVID-19 but that scientific studies didn't bear that out.
"There's always an assumption that if allopathic physicians don't do something, that it's because we're holstering that or we're sequestering it, we're not bringing that to bear," Stringham told the man. "But the bottom line is that in allopathic medicine, we have to be able to prove that something has an effect."
Another asked why the media makes such a big deal about COVID-19 deaths and not flu deaths. Stringham explained that 34,000 people in the U.S. died of the flu during the last flu season; at the time, 300,000 had died of COVID-19. He also noted that people who contract COVID-19 can go on to develop long-term health conditions that impair their quality of life.
"I can't even really talk about this without getting a little bit choked up," Stringham said. "This is not the flu. It is not the flu. I wish it were, but it isn't."
Other rural communities took a similar approach. In Ely, Mayor Nathan Robertson went on the local radio station every day to answer people's questions about the virus, from technical inquiries about which businesses were allowed to be open and what assistance was available to broader questions about whether martial law had been declared and whether the National Guard would prevent people from getting to their doctor's appointments in Salt Lake City.
"There was a real vacuum of just credible answers," Robertson said.
As the state created new COVID-19 health and safety rules, the focus for some rural leaders was how to help their businesses comply. Robertson said Ely's focus was on assisting businesses at the local level to avoid the state sending out compliance officers.
"Everybody was just kind of in an attitude of cooperation: 'Hey, how can we help? Our goal is to make sure your business stays open,'" Robertson said. "We can't afford to lose a single restaurant in our community. We can't afford to lose any of our businesses. We're so isolated."
In Lyon County, Dr. Robin Titus, the county's health officer and the Republican Assembly leader, advised local ranchers about how to group guest workers into pods so that if someone tested positive for COVID-19, they would know exactly who was exposed.
"They were paying attention. They were calling me," Titus said. "They wanted to make sure things were safe."
And though rural Nevada has earned a reputation for opposing the state's COVID-19 health and safety rules, several rural officials say they believe their residents took the virus seriously when it counted. Titus said she has a 95-year-old patient who was very cautious about the virus and stayed home. Goicoechea, who is also Eureka County's health officer, said his residents were "really good" at isolating and quarantining when they tested positive or someone in their household came down with the virus.
"They may be chipping their teeth on Main Street saying, 'This is all fake. This is a hoax. I don't believe in it,'" Goicoechea said. "But when we called them up and said, 'You're positive, I need you to shut 'er down. You gotta stay home. Let us know what we can do,' they went home and they stayed home and they cooperated."
Of course, compliance wasn't universal. Robertson acknowledged there were some instances in Ely where people called the sheriff alleging a business was discriminating against them because they weren't wearing a mask. Law enforcement would inform them that businesses could put in place whatever rules they wanted and could kick them out for not following them.
"They were like, 'Well, what do you mean? They didn't let me in.' And they'd say, 'Well, this is a private business. They don't have to,'" Robertson said.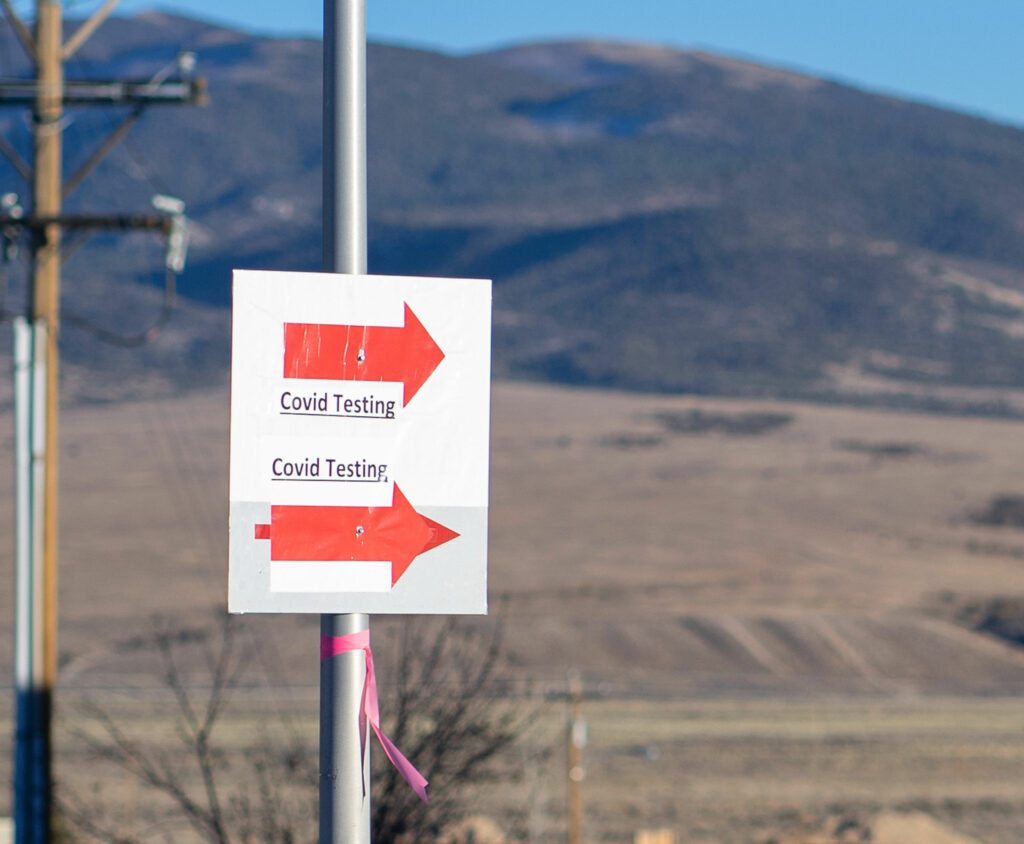 Multiple rural officials also noted that there was always going to be some degree of pushback from their residents about the state's rules simply because of the high price they place on individual freedoms. But they also believe that philosophy shouldn't stop people from doing the right thing for their neighbors.
"You don't have to choose either safety or freedom," Stringham said. "You can absolutely have both, and that was the message that I was trying to deliver."
But, because of the communication role they took on, some rural officials found themselves in the difficult position of trying to be the bridge between the state and their residents. They didn't have great answers when their residents asked why the state had allowed casinos to open to 50 percent but churches were required to be limited to 50 people. They didn't have great answers when residents asked why their kids couldn't go to school but daycare centers were open. They didn't have great answers for why casino restaurants remained closed while eateries across the street could open.
"That would be frustrating, because you would be getting calls from these businesses going, 'Hey, my neighbor across the street, who's got a restaurant, their restaurant is open. Why can't mine be open?'" Robertson said. "There would be a lot of calls like that."
They also didn't have good answers for their residents about why certain statewide policies should be applied to them when they were experiencing a low level of case growth in their communities or could pinpoint where the case growth was coming from. In White Pine, most cases were traced back to specific gatherings, including a Halloween party and a softball game, Robertson said.
"When the sheriff's office gets something from the county health officer and that says, 'Hey, so-and-so tested positive,' he knows exactly where that person is most of the time. He knows who they hang out with," Robertson said. "He can say, 'Well this is how you get ahold of so-and-so and here's how we do this,' and bing-bada-boom, it's done."
Rural officials who have tried to actively aid the pandemic response by getting their communities to follow the state's health and safety protocols have often found themselves in the community's crosshairs as a result.
"There's some lifelong friends of mine who are very, very upset. I mean, they're to the point where they don't want to talk to me because they think I quote-unquote 'drank the Kool Aid,' if you will," Goicoechea said. "But everything I've done is to protect people and to protect the economy. I'm not taking unnecessary risks but, at the same time, I'm willing to take some calculated risks because I know where the disease is spreading in my community."
It didn't help that the pandemic became a political issue, either. If conservative rural Nevada was already wary of government officials telling them what to do, they were particularly wary of a Democratic governor from Clark County telling them what to do — particularly when that message contradicted the one coming from their local officials and a Republican president most of them supported.
Lewis, Nye's director of emergency management, said that though local officials have become more supportive of pandemic response efforts "because they see the light at the end of the tunnel," it used to be "horrific" to come before the county commission at each of its meetings to give a COVID-19 update when many didn't believe in the severity of the virus.
"The political side of it was probably one of the worst things to deal with when we're trying to make sure we meet the state's requirements, we meet the state mandates and yet our local governments were telling us just the opposite," he said. "They wanted nothing to do with it. They didn't want to hear the reports. They didn't believe in the masks. They didn't believe in the numbers and what the numbers meant. The deaths were made up, and it was a huge conspiracy, and that was extremely disheartening."
In fact, the political discord was so severe that several rural county commissions, starting with White Pine County, passed a series of similar resolutions opposing Sisolak's emergency directives. Robertson, who leads the only incorporated city in White Pine, framed those measures as chest-thumping by a small contingent of politically motivated individuals.
"I mean, honestly, I think I got more support for just being level-headed and cool and attending to the issues than I would have by screaming and thumping my chest and sending nastygrams to Carson City," Robertson said.
Goicoechea, who said that he was responsible for drafting 99 percent of the version of the resolution Eureka County passed in January, acknowledged the measure was a statement. But he said it's also one that his constituents needed to hear.
"People needed to see it in writing," Goicoechea. "I'm not going to make a demand, knowing that he has the authority granted in the Constitution of the state of Nevada and he was exhibiting that under his emergency powers. But I did want him to hear we want things to be done differently. We expect them to be done differently."
Looking back, rural officials wish there had been more communication with the state early on.
"We're the ones down on the frontlines trying to implement what you're drawing down from the top," Robertson said. "If you want to know how it's going, if you want some help on 'hey, how could this go better?' talk to your mayors, talk to these people, talk to these county commissioners, and there could've been more of that."
Now, the relationship between the state and rural Nevada may, in some ways, be worse than it has ever been. Rural officials believe there is a healing process that needs to happen.
"It's too far into it. We're 12 months in. If it had been six months: 'Okay guys, let's get back to work,'" Goicoechea said. "But now we're 12 months in and I feel that maybe some folks are really starting to entrench: 'Hey, you guys aren't working for us and when you do come back, you think you're just going to come out here and start dictating how we're going to do this stuff?' I'm very fearful that the relationship we're having with the state agencies, there's going to be a long time trying to build that back."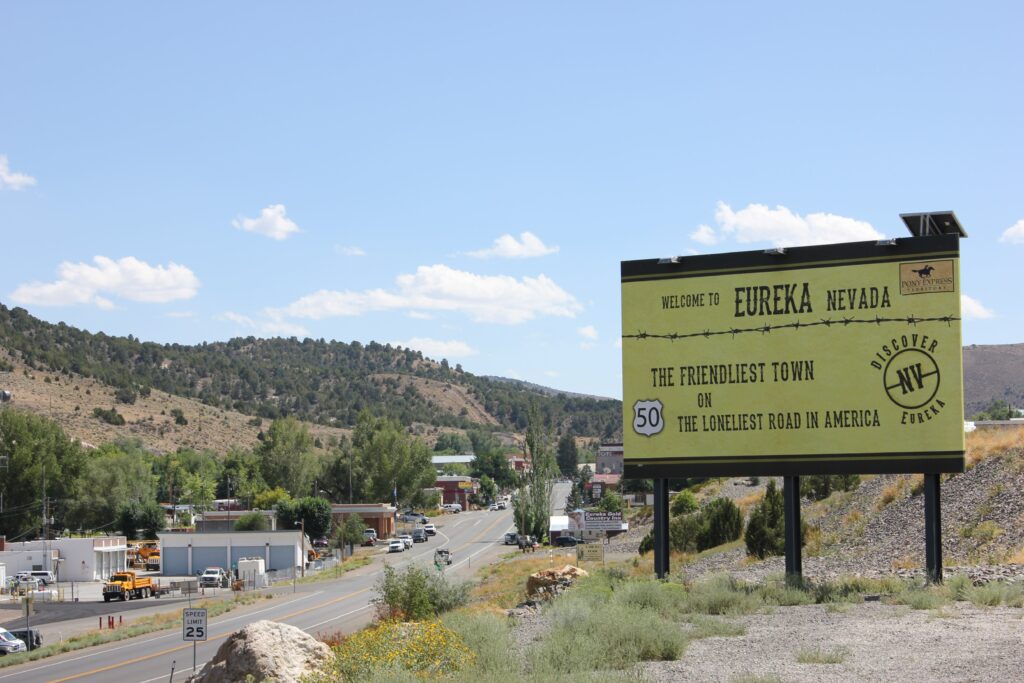 ---
Beyond the rural context, the relationships between the state and local governments have continued to have their hiccups.
In response to the state's decision to expand gathering sizes in September, health district officials in Clark and Washoe counties sent a strongly worded letter to the state, saying that it was "inappropriate" for local health authorities to not be consulted in the state's public health decision-making process.
More than six months after the state's first emergency directive, local health districts found out about the decision at the same time as the public.
"Our phones would just light up here. All of those businesses were calling us to find out what was going on, how they were affected, what they needed to do. We didn't have any more information than they did," Dick, Washoe County's health officer, said. "That was quite frustrating."
While they were given slightly more notice before the state put in place its statewide pause this fall, concerns over communication remain. The state's overtures to local governments — in the form of LEAP, or the task force — while positive have often felt like just that: overtures.
"I think there could be better communications, and more regular communications," Dick said. "There have been opportunities for those dialogues and discussions but they haven't been continued. There's been some activity and initiative to make sure those communications happen and then they sort of go away."
Counties say they still sometimes have to play catch up when it comes to the state's policies. Lewis, Nye's director of emergency management, said everyone had just gotten on board with the state's tiered vaccination structure — though some believed it didn't make the most sense for Nye — when the state announced that it was moving to a new, lane-based approach.
"You've got to be kidding me," Lewis recalled thinking at the time. "Here we are toeing the line and the line came back and snapped us right in the butt."
Even now, a year after the pandemic began, Lewis isn't sure what exactly his role is supposed to be. With the ongoing rollout of the COVID-19 vaccine, which is supposed to be managed at the local level, he still feels like he doesn't have the flexibility he needs to make decisions at the county level.
"Every time we made a decision it was, 'You can't do that, you have to do what we tell you or what we're giving you,'" Lewis said. "I'm like, 'Well, no, no, you can't have it both ways. You can't say I'm responsible for the decision and then take the ability away from me.'"
In Clark County, Sisolak and Kirkpatrick, the commission chair, have butted heads at points over the course of the pandemic, including after Kirkpatrick publicly pushed for the state to reopen businesses more quickly after the winter surge and Sisolak targeted Clark County for inequalities in the vaccine distribution process. For her part, though, Kirkpatrick says communication with the state has improved.
"Some days are harder than others, because we try to understand what's behind the reasoning," Kirkpatrick said. "But I will tell you there are a lot more meetings, a lot more conversations."
And then there's Las Vegas Mayor Carolyn Goodman, who during a CNN interview last year suggested the city serve as a "control group" to determine the benefits of social-distancing measures and recently said the governor's prolonged emergency power "smacks of tyranny," indicating that Sisolak had been unwilling to hear her input.
Sisolak, in an interview earlier this month, acknowledged his communication with local governments could have been better. But he also noted that there are hundreds of local government officials around the state and said it's just not possible to communicate with all of them.
"Some of them were saying, 'Wait a minute, why don't you do this?' or 'Why don't you do that?' There's 17 counties I've got to deal with, not just one," Sisolak said. "They all want some attention, they all deserve some attention, and we can always do better."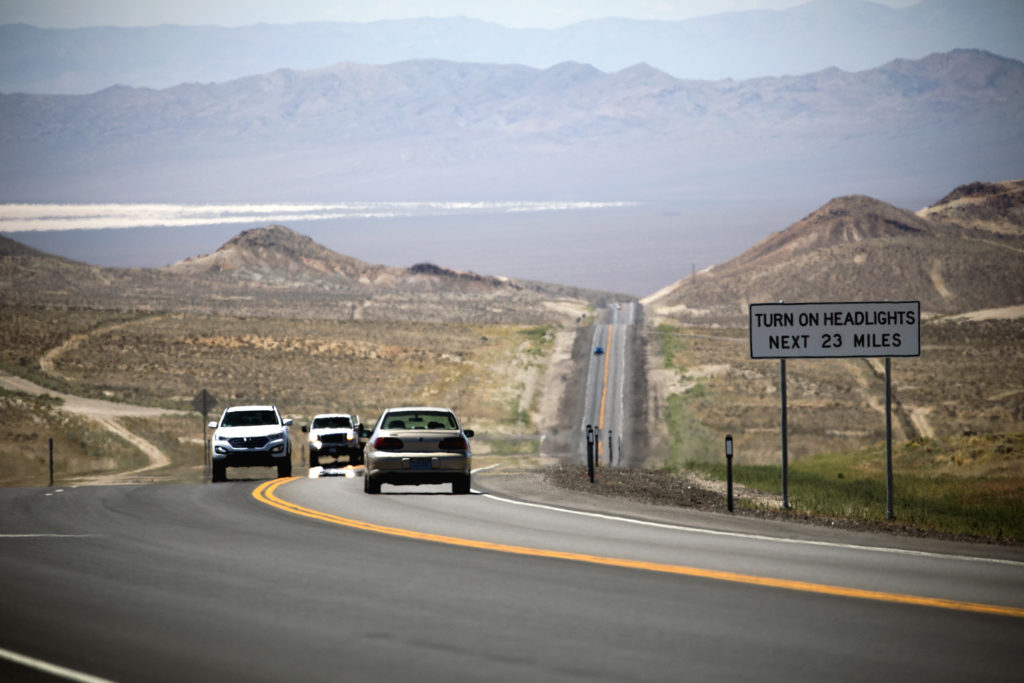 And, alluding to Goodman's earlier comments, Sisolak said that he refused "to let the citizens, the residents of Nevada be used as test subjects or guinea pigs." Whatever criticism he has received for his decisions during the pandemic — whether for being too strict or too lenient in the state's rules — he bears.
"The buck has to stop with somebody and it stopped with me," Sisolak said.
Still, multiple local officials said they give the state credit for the way it supported their pandemic response at the county level. Jeanne Freeman, public health preparedness program manager for Carson City Health and Human Services, said that trust between her agency and the state is deeper than it was before.
"They have their perspective and what they see, but then they have inquired, they have listened to us when we've said, 'We see what you're saying about that, but we're not sure that's really going to be how it's going to work when we get it down to the local level,'" Freeman said. "We've met them in the middle. They have given a lot."
Lewis said there were some state officials with "really spectacular personalities" that "shined" during the pandemic who understood the difficult situation local officials were in.
"I understand there's both sides of that because they're obviously overworked," Lewis said. "There was that lack of compassion and empathy both ways."
And some local officials, despite their complaints, give Sisolak and the state credit for the difficult position they were in.
"Part of my respect for the governor is those tough decisions that he's made to protect the state of Nevada," Dick said. "I really commend the governor and his courage for the decisions that he's made. But I haven't seen that type of leadership, for the most part, coming at the local level."
If anything, the pandemic has underscored the importance of relationships — and highlighted how difficult it is to build them in the middle of a crisis situation if they weren't already there.
"Theoretically we could've done listening tours and town halls and developed those relationships as much as we could," Cage said. "But the resources and the time constraints were so extreme and really remain so extreme right now as we transition to the vaccination effort that there really just was not the mechanism, the capacity to do that."
Fogerson, who was appointed the head of the state's Division of Emergency Management this fall, says the value of relationships is something he tries to keep in mind as a local-turned-state official.
"At the state, your job is not to do. Your job is to support and enable the local providers," Fogerson said. "I used to get very mad at state employees that would come down and tell me how to do something or, 'Here, we're going to do that for you.' … It's going back to that civics lesson of who really needs to be the sharp end of the stick and how do we help them to sharpen that stick better?"
---
For some in local government, it finally feels like things are looking up.
In February, Sisolak announced the state would be transitioning the responsibility for COVID-19 health and safety mitigation measures to the counties by May 1. Mask and social distance requirements will remain in place statewide, but it will soon be up to counties to figure out how many people can be inside a business and how large gatherings are allowed to be.
Several counties, at multiple meetings of the COVID-19 Mitigation and Management Task Force last week, voiced their intent to open businesses 100 percent as soon as they can. Most businesses across the state are allowed to operate at 50 percent capacity.
"We can do it safely. We have the plan. We're ready. We're looking forward to it," Goicoechea, the Eureka County Commission chair, said. "We will be ready to go and open up safely in a big way as soon as he lets us."
For the next couple of weeks, county staff will be working on their plans for the transition to local control and getting them approved by their county commissions. Those plans will then be presented to the task force sometime in mid-April.
"That's one of the smart things about what the governor is doing is put that decision-making process back in the hands of the people in the state of Nevada to use the sense that they have to take care of themselves and their families, and businesses to take care of their business and their customers," Page, Lyon's county manager, said.
Local governments now find themselves grappling with the kinds of questions the state has been facing all along, including how to enforce any mitigation measures.
Once the transition to local control happens, the state's Occupational Safety and Health Administration will continue to enforce statewide policies but doesn't have the authority to enforce local policies. That will be left to local code enforcement officers, who may not have the bandwidth to routinely surveil stores, and sheriffs, who, as elected officials worried about their reelection bids, may not be interested in enforcing the measures.
Counties are also pondering what happens if cases once again start to rise: Will the state step back in, or will it be up to them to put in place mitigation measures on their own?
"Go ahead and kick it out to local government control, see a spike in the summer, and then issue some kind of an emergency directive that we're going to pull back some of these openings, you will have a complete uprising," Goicoechea said. "That is my biggest fear."
While Sisolak said the state would remain "flexible" and continue to monitor trends on a county level during the transition to local control, the goal of the new plan is for counties to take the reins and the state to step back. Still, Sisolak will retain the legal authority to issue new statewide emergency directives unless the Legislature takes action to limit the governor's power.
Republican lawmakers have put forward legislation this session that would do just that, though those proposals have not yet been given hearings by Democrats, who control both chambers of the Legislature.
"There's three branches of government for a reason and this extended emergency stuff really needs to be defined on what the governor's role should be, and that's the thing: There's really no definition of it and that's the problem," said Titus, the Republican Assembly leader. "We're trying to put some bills forward to define it, but so far we haven't gotten any traction with that."
Counties, however, are finding that taking the reins from the state is easier said than done.
"I want people to open their businesses up to 100 percent capacity, but my fear is if that happens and then we get wave three of COVID and it's more severe than wave one or two, do we go back to what we've been doing? That's a concern," Page said. "I've said this publicly: I thank God I'm not the governor. I can't imagine making those types of decisions and impacting people's lives."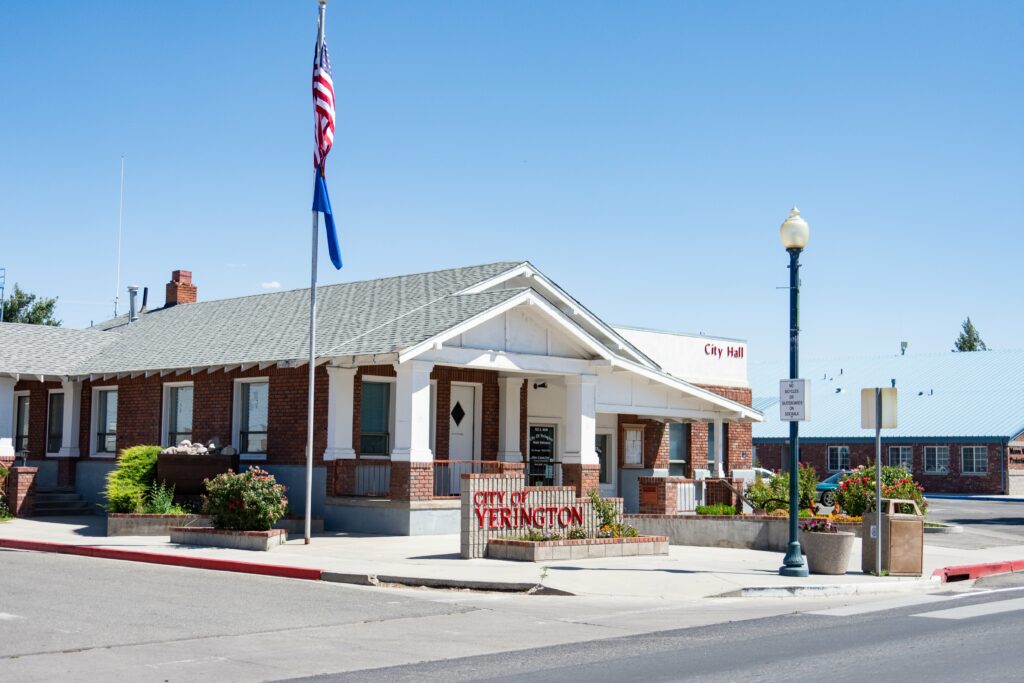 A year into the pandemic, Titus, who is also a family practice doctor in Lyon County, is of the mind that people are well-informed enough to be able to make choices about what behavior is safe or unsafe. She says it's the kind of conversation she often has with her patients when discussing treatment options.
"Once a person has all the information, and I give them the information that I have, they have the right to refuse treatment. They have a right to self-determination, even if I didn't agree with their decision, even if I thought they made a bad choice," Titus said. "Once we've educated everybody as the government, once we give them good informed consent, they have the right to choose not to do that."
There are, however, limits to that idea.
"You have the right to self-determination as long as it doesn't impact those around you," Titus said. "You have the right to get COVID if you want to. You have a right to make a bad choice and get sick, but if your choice then impacts the entire roomful of people that you've now exposed, I'm sorry, we have the right to remove you from that room."
From top state officials down to everyday Nevadans, many are of the belief that the biggest challenge of the pandemic wasn't the virus itself, but the lack of communication — and, by extension, the relationships, community and trust that come along with that — to respond to it.
Without communication, state and federal governments can't cooperate, state and local governments can't work together and governments at any level can't effectively convey important, potentially life-saving, information to their citizens.
"Communication, it's always going to be something we have to strive for in government to do a better job of," Page said. "It's always going to be our biggest failing."
Part V coming Sunday, April 4.