A city park in Reno had been a refuge for Mariluz Garcia and her two children.
It was their little slice of solitude in an increasingly chaotic world last March. When COVID-19 landed in Nevada and triggered school closures, Garcia joined thousands of parents and caregivers statewide — and millions more globally — who raced to turn their homes into learning centers. Garcia and her husband were sharing devices with their then-kindergarten-age son and first-grade daughter, whom they adopted through the foster care system five years ago. Both children have academic and mental health struggles.
In the early days of the pandemic, Garcia's husband created a makeshift office in a backyard greenhouse; she closed herself in a walk-in closet to take work Zoom calls. The Wi-Fi sputtered and the kids needed pencils, scissors, paper, computer help and emotional reassurance.
Her daughter chewed her fingernails down to raw nubs. She struggled to sleep at night and wailed when told she couldn't go back to school. Her son bounced on the bed, couches and against walls, unable to concentrate on his virtual classes. The slightest frustration would set off aggressive episodes. He couldn't verbalize his emotions.
These are children who thrive on consistency and routine. With all of that disrupted, Garcia tried to make their daily midday trip to the park a new bright spot.
"I would go down to the city park and swing them and let them get their wiggles out," said Garcia, who would use the time to scroll through emails and news alerts. "I remember reading the announcement that all city parks and public spaces were going to be shut down, and I literally broke down and cried in the middle of the park."
The virus that had siloed them from family and the children's in-school support network had made the playground off limits, too. A myriad of safety nets gone in the blink of an eye.
By some accounts, they were the lucky ones. Garcia didn't lose her job. She could feed her children. The family had internet access, even if it was a sluggish connection. But the pandemic weakened their mental health and, she fears, set her children up for an even greater uphill climb academically. Her son, for instance, didn't learn to read many words in kindergarten.
"This 2020 cohort is going to be remembered forever," said Garcia, who is director of the Dean's Future Scholars program at UNR. "The implications on their educational trajectory (are) going to be huge."
The full extent of the pandemic's toll on child learning and development won't be known for years or decades. But, over the past 12 months, it had a polarizing effect on conversations about the actual school buildings. Some lobbied hard for brick-and-mortar schools to reopen, especially as evidence mounted showing COVID wasn't spreading easily in classrooms where students and teachers wore face masks and practiced social distancing. Prolonged remote learning and isolation was harming students emotionally and academically, they argued. But other parents and educators warned the potential risks — to themselves, their children and older or immunocompromised family members — outweighed the reward of a highly modified, in-person classroom experience.
While the virus muddied decisions about in-person learning, it crystallized existing problems dogging Nevada and the nation at large. The state-mandated school closures last spring exposed stark technological inequities, rendering remote learning nearly impossible for the thousands of students who didn't have access to a device or internet. The situation was so severe that, in Clark County, Superintendent Jesus Jara declared the school district couldn't promise students would actually learn anything new during the fourth quarter of the 2019-2020 academic year.
School parking lots, meanwhile, transformed into food distribution sites. The closure laid bare the crucial role those buildings play in American society. Schools, and the human beings within them, educate children, feed children and care for children, often while parents work.
"I think that was eye-opening to a lot of our community," Washoe County Superintendent Kristen McNeill said. "We shouldn't have this problem. Hunger should not be a problem in our country."
The mad dash to export everything that happens daily inside a school bred innovations. That's the upside of an otherwise lousy situation, according to educators and advocates across the state. Now, as vaccinations multiply among the adult population and more students enter physical classrooms, the looming battle isn't just about erasing learning loss and repairing children's damaged mental health. It's also about steering clear of a return to the status quo.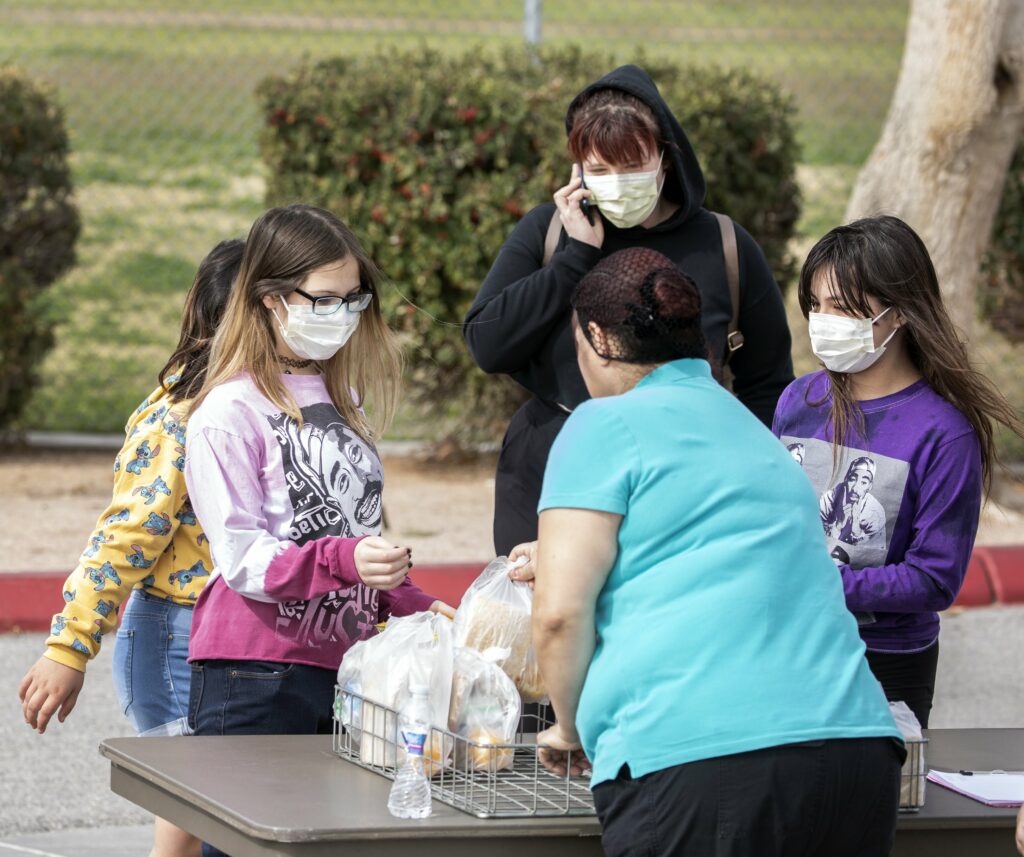 ---
In late February last year, before Nevada had even recorded its first coronavirus case, top officials from the Centers for Disease Control and Prevention warned of community spread and what that could mean for education. Closing schools and moving to "internet-based teleschooling," they said, might be needed.
That's exactly what happened less than a month later. Gov. Steve Sisolak held an afternoon news conference on Sunday, March 15, and announced a three-week school closure. Hours earlier, Jara had received a text message from Richard Carranza, then-chancellor of New York City Schools, saying his district was shuttering, too.
"It was the right thing to do," said Jara, who stood alongside the governor at the news conference.
The temporary shutdown turned into a lasting distance-education experiment when Sisolak extended the closure order for schools, casinos and other nonessential businesses. Students statewide finished the academic year virtually, which largely meant practicing existing material but no new learning given uneven technology access.
The governor's five-member Medical Advisory Team was tasked with providing guidance on how to reopen schools in the safest way possible. That required taking the kinds of recommendations the state had been making for adults and adapting them for children, who, by and large, do not fall as ill to COVID-19 and do not spread the virus as effectively as adults.
"We really sat down and looked at what can we do effectively and what is the truth about kids and their transmission risk," said Trudy Larson, dean of the School of Community Health Sciences at UNR and one of the advisory team's members. "We had the opportunity to go through all of those and say, 'Based on the best science we have, what makes the most sense?'"
The advisory team, for instance, recommended that elementary and middle school students should be required to wear masks and practice handwashing — the same as adults — but they could stay just three feet apart instead of the customary six feet. High schoolers, however, would be required to follow the rules in place for adults because they act more like adults when it comes to contracting and spreading the virus.
"The youngest kids are at least risk. They're less likely to get sick and, if they do get sick, they're unlikely to really even have disease, much less serious disease," said Brian Labus, an assistant professor of public health at UNLV and another advisory team member.
Labus and his fellow advisory team members also recognized that there was a public health cost to keeping schools closed, from children who rely on school lunch programs going hungry to child abuse going unreported.
"You're not going to see it on a webcam. You're not going to see a kid covered in bruises necessarily. You're not going to see how they act when you're not seeing them every single day," Labus said. "We knew those sorts of things could happen. The question is, how do you balance all of that out?"
The governor, on June 9, gave the green light for schools to reopen for summer learning if they met social-distancing protocols. But it wasn't mandatory. The directive also required districts, charter schools and private schools to develop reopening plans for the upcoming year.
The reopening decision coincided with a summer surge in COVID cases, intensifying school board discussions, especially in the populous Reno- and Las Vegas-area districts.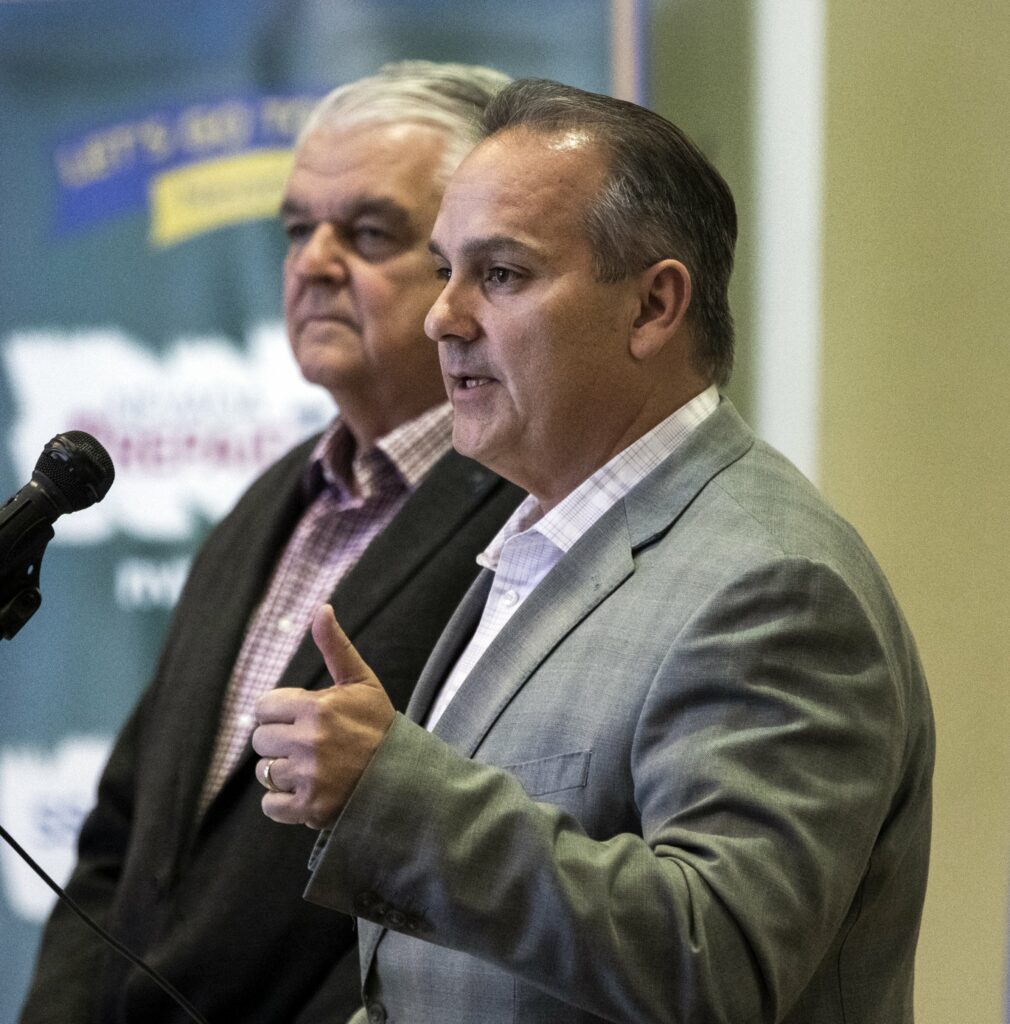 The Washoe County School District opted to reopen, offering some form of in-person learning for all students who wanted it. The Clark County School District did not.
The Washoe County School District's decision sparked controversy among some teachers and parents and even went against the advice of the county's health officer Kevin Dick, who at the time warned against the possibility of the virus spreading among students and faculty and, eventually, to other more at-risk members in the community.
Dick, looking back on that recommendation, described it as the right stance for him to take in the moment given the high levels of disease transmission that were happening in the community. When Washoe County schools reopened in mid-August, the county was seeing a case rate that was twice what it had seen in mid-June.
"All of the information that I had and all the recommendations that were coming out of the CDC, Harvard Global Health Institute, and others were that it was not a good idea to be opening schools at the level of disease transmission that we had at the time," Dick said. "While there was a lot of CDC encouragement for reopening schools when I made my recommendation, they were all based on having low levels of transmission in the community, and we certainly were not at low levels when they made the decision to reopen."
But McNeill called it an "exceptionally courageous" decision by her school board. It was a pioneering move, devoid of any playbook detailing what would work or not work. The district chose a hybrid schedule for its middle and high school students but worked out the logistics of social distancing to allow elementary students to return five days a week.
The superintendent credits teamwork among staff and employee unions for making it happen.
"We didn't always agree, but we knew in our minds — intellectually, emotionally — that this was the best thing to do for children," McNeill said.
Dick did praise the district for making a distinction between younger and older students by having elementary students attend in person full time while having middle and high school students participate in a hybrid model.
But while there might not have been as much spread occurring in the schools, Dick suspects that children heading back to school increased the amount of interaction their parents and caregivers had in the community, which in turn may have contributed to the significant surge in cases the county saw in the fall. The day kids headed back to school in August, the county was seeing 71 new cases reported on average each day; at the peak around Thanksgiving, the county was seeing more than 500 new cases on average each day.
"Reopening the schools, I think, certainly increased the mobility of the adults in the community, and I think you can see impacts from that with the increasing number of cases," Dick said.
Larson, one of the members of the governor's Medical Advisory Team who at the time supported the school district's decision to reopen, still believes it was the right move.
"I thought our school board up here was very brave and the superintendent has been a champion for this," Larson said. "In retrospect, I can say they did a good job."
When Washoe County staff and students occupied school buildings again last fall, it took some adjusting, said Calen Evans, president of the advocacy organization Empower Nevada Teachers. Hallways and classrooms were suddenly quieter, as students navigated communicating while maintaining social distance, wearing face masks and, in some cases, talking through plexiglass barriers on their desks. But children largely complied with all the new rules, putting to rest some fears heading into the new school year.
For many educators, the biggest challenge was learning how to teach under the hybrid model, Evans said. They were constantly tending to the needs of both children in their classroom and those working remotely.
"That's too much to ask," he said.
Many rural school districts, where coronavirus cases were generally lower, offered some in-person learning as well. The Churchill County School District piloted six-week courses for its middle and high school students, allowing them to spend a half day in person five days a week.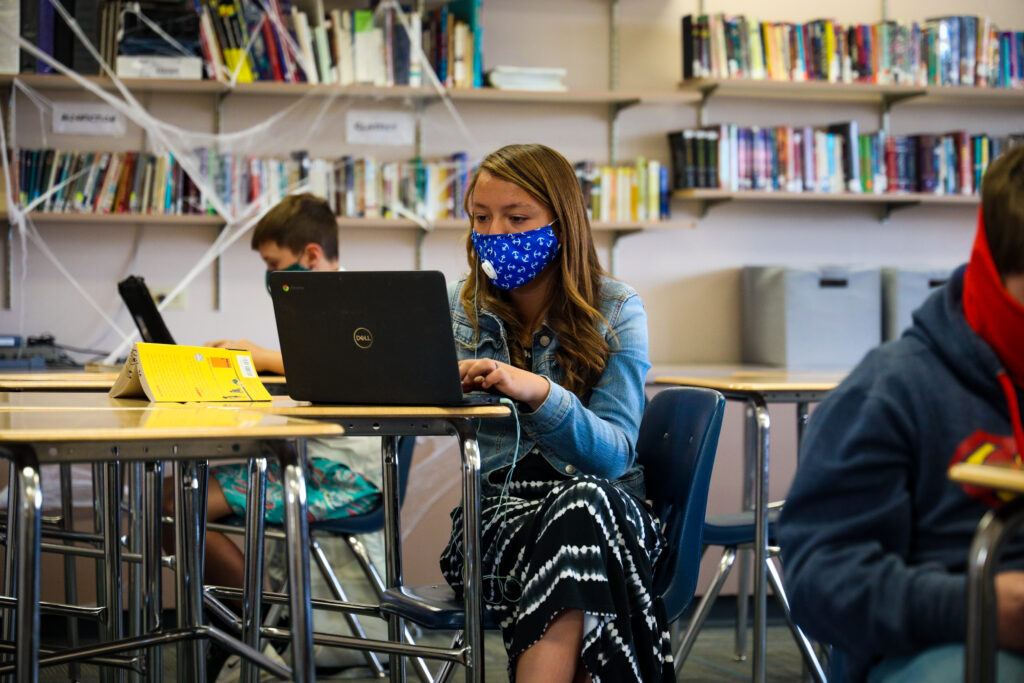 The Clark County School District, on the other hand, remained fully virtual until earlier this month when it began a staggered reopening, starting with the youngest students. Jara said the local coronavirus case numbers after the summer surge posed too much of a concern for the district to reopen in August. By October, concerns about students' academic and mental health were growing, reigniting discussions with the Southern Nevada Health District about reopening.
Since the school closures began last March, 23 students in the Clark County School District have taken their lives, Jara said last week. Data from the Clark County coroner's office, however, show those numbers are heartbreakingly in line with recent trends — 21 kids took their lives in 2018, 11 in 2019, 18 in 2020 and five so far in 2021 — and underscore the ongoing struggle Nevada faces in addressing children's mental health.
The district recently hosted a virtual mental health forum to address the problem and has launched a program called Lifeline that mobilizes support when academic data, mental health screenings or parent and teacher referrals indicate a student may be in crisis.
Emergency room doctors across Nevada have reported seeing an uptick in kids coming in with serious mental health issues. Data from the Centers for Disease Control and Prevention show that mental health-related visits to the emergency room for kids 5 to 11 are up 24 percent and adolescents 12 to 17 are up 31 percent.
"It's just breaking our hearts to see so many kids struggling right now, because there's a lot of kids that do fine in isolation, fine with online learning. But there's a lot of kids that are not doing well at all, and those are the situations that keep me up at night," said Dr. Bret Frey, an emergency medicine doctor in Reno and president of the Nevada chapter of the American College of Emergency Physicians.
But the mental health consequences of the pandemic could just be beginning. A scientific review of previously published research released last summer showed that loneliness in children and adolescents could manifest as future mental health problems up to nine years later; depression was the most common outcome. One study found that children who have experienced isolation or quarantine were five times more likely to require mental health treatment and experience higher levels of post-traumatic stress.
"The worst thing that I don't think we're really going to understand for a significant period of time is the effect on the children, because we're gonna have a whole generation of kids that have been isolated," said Dr. Dale Carrison, the former head of emergency at UMC and now an emergency room physician at Carson Tahoe Health. "Your socialization occurs when you're in school during your formative years, and if you don't have that socialization, what are we going to turn out as adults?"
Ideally, when would Jara have liked to bring back students? "The turn of the semester in January," he said.
But in a district as large as Clark County — it has five times as many students as the Washoe County School District — the decision involved complicated logistics, agreements with employee bargaining groups and sign-off from a fractured school board. The March reopening was later than hoped, Jara said, but it allowed time for employee vaccinations and avoided any legal battles with the unions.
"I needed everybody to be aligned in the direction," he said. "We got there."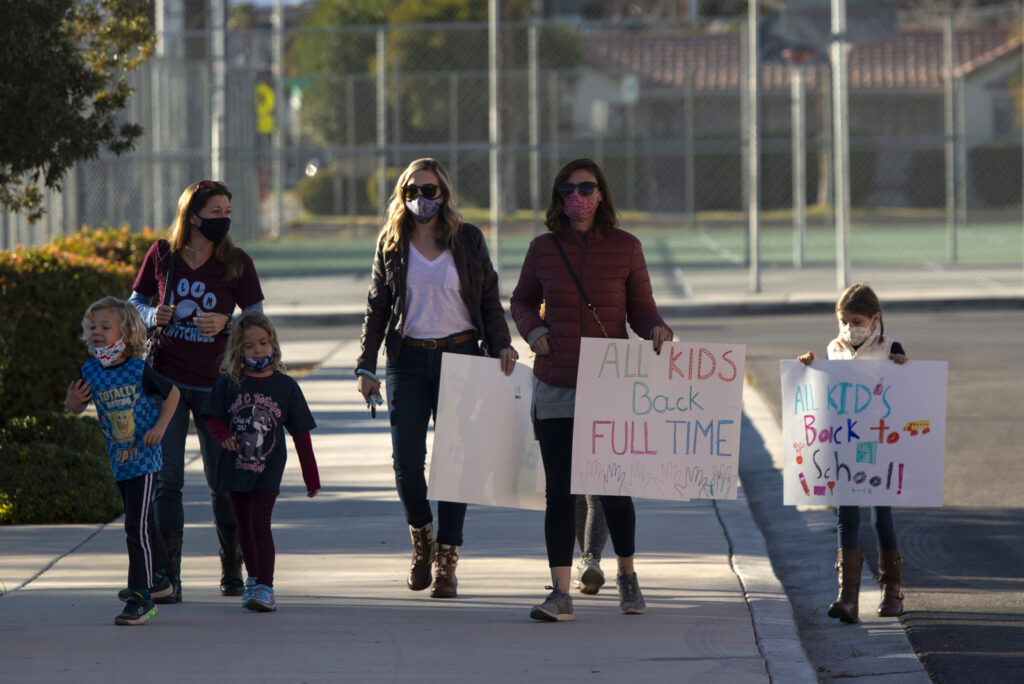 ---
The pandemic-imposed upheaval in the K-12 education system led to enrollment drops in 15 of Nevada's 17 school districts. Of those, seven districts saw enrollment shrink by more than 5 percent. The changes sprung from families faced with difficult decisions: In an academic year where learning would look and feel much different, not to mention the ongoing threat of the virus, what would be best for their children?
Mater Academy of Northern Nevada was among the schools that saw an initial enrollment dip. The charter school, which sits in a high-need part of Reno, opened under a hybrid model to accommodate spacing and staffing needs. Principal Gia Maraccini said about 100 students left the school, with many returning to the Washoe County School District, which was offering in-person learning five days a week for elementary students. (The school has since gained new students, boosting its enrollment to normal levels.)
Mater Academy's solution to the hybrid challenge: It partnered with the attached Boys & Girls Club and provided a space for students to work remotely. Maraccini stationed a long-term substitute teacher in the club, and administrators bounced back and forth between the two buildings all day.
"We tried to get every kid into the club that we knew was going to struggle at home," she said.
The same fear — students floundering amid remote learning — inspired the city of North Las Vegas to embark on its own education initiative. In August, the city launched the Southern Nevada Urban Micro Academy (SNUMA) as an option for families who wanted or needed in-person instruction. The microschool, serving first- through eighth-grade students, operates out of recreation centers turned into classrooms.
The program initially cost parents $2 a day per child, but CARES Act funding has since rendered it free for the roughly 100 students participating, city officials said. Parents who enrolled their children in SNUMA were required to declare them homeschooled, thus de-enrolling them from their prior schools.
"We could have just opened our rec centers and said, 'You know what, come on and you can play all day or just do whatever,'" North Las Vegas City Councilwoman Pamela Goynes-Brown said. "But we thought, 'Let's seize this moment. We have the opportunity to offer educational services.'"
The city partnered with an organization called Nevada Action for School Options to run the microschool, which places a learning guide — most of whom have a teaching license — in each class of no more than 15 students. On a recent morning, eighth-grader Adelmo Calvo practiced reading comprehension skills using an online program inside a neighborhood recreation center. Three other students and their learning guide were in the room, too.
After an unsuccessful run with distance learning, this is where Calvo wanted to be.
"I didn't have the willpower," he said. "Individually, I couldn't, like, talk to the teacher and they couldn't stop the lesson just to help me out."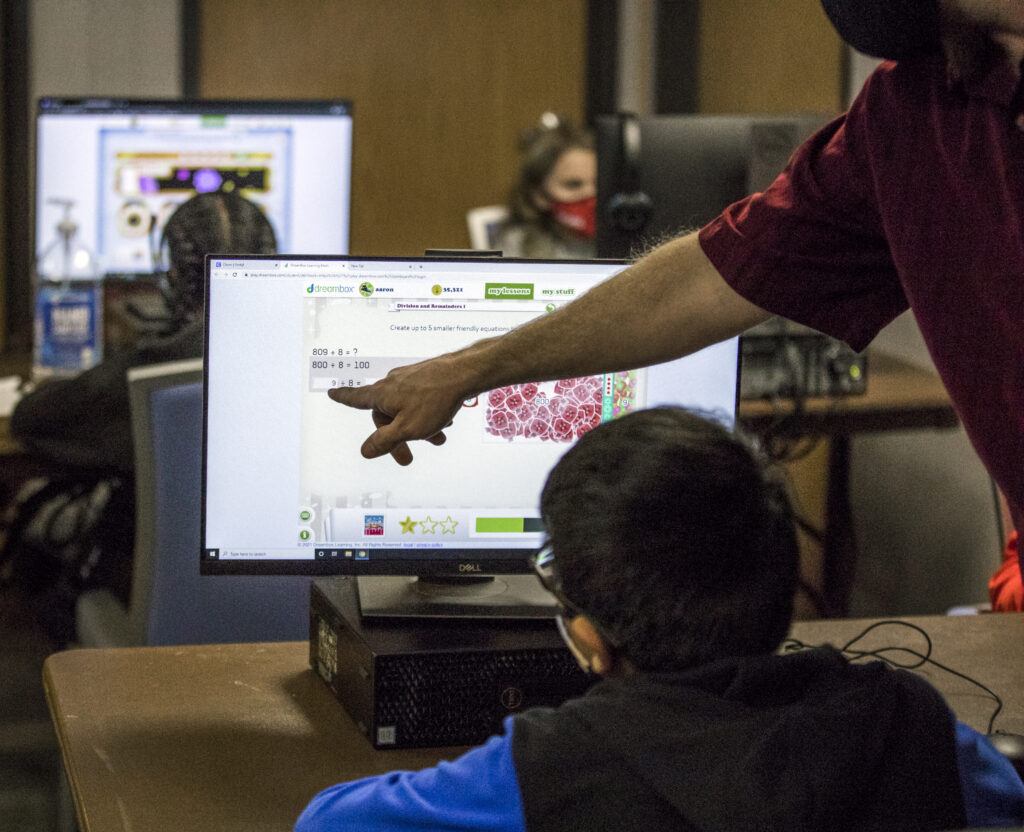 The one-on-one attention is a hallmark of the SNUMA program, said Don Soifer, president of Nevada Action for School Options. It was designed to address learning loss resulting from the pandemic shutdown or earlier. About three-fourths of students were reading below grade level. Now, 62 percent of students are reading on grade level or beyond. For math, the growth has been even sharper. Ninety-three percent of kids entered the microschool behind in math and, more than halfway through the year, all students are at least at grade level.
Soifer described the program's success as an "active learner paradigm."
"These kids come in knowing that every decision they make in the day matters," he said. "They're a partner in their own learning and their families understand that."
Although born out of the pandemic, SNUMA won't necessarily wind down when more schools resume in-person learning. Goynes-Brown said the city intends to keep it as an option for families as long as there is demand.
---
Over the last few months, Jo Beth Dittrich's second-grade students have examined ancient rocks at Lake Mead National Recreation Area and toured historic aircraft at the National Museum of the United States Air Force in Dayton, Ohio. And they never left their homes.
Their teacher bought a GoPro camera with donated funds and started recording her adventures, talking to park rangers and museum guides along the way. It was her way of making remote learning a little more vibrant.
"You can do a YouTube video for the same thing," she said. "But it's not as engaging as your teaching talking to the person."
For all the gripes about and pitfalls of virtual learning, a subset of students and teachers have excelled. Dittrich, a teacher at Tanaka Elementary School in Las Vegas, is among those who preach the benefits of the education delivery model. She marveled at her second-graders' ability to craft Google Slides and navigate online learning platforms — 21st Century skills they rarely practiced in a traditional classroom because of inadequate technology.
Plus, Dittrich said she was able to more discreetly differentiate instruction without children feeling self-conscious in front of their peers. Her students responded so well to the new environment, she said, that many lingered on camera even after their live virtual sessions ended.
"They are hurting for some social interaction, but, hey, let's be real: That's just not going to happen like they remember it last year," she said.
Tanya Fowler adapted to the online teaching environment long before the pandemic emerged. She has taught at Nevada Learning Academy, an online school within the Clark County School District, for eight years. But when COVID shut down brick-and-mortar schools, she received a firsthand glimpse at life on the other side of the screen.
Suddenly, her twin daughters, now 9 years old, were working from home, too. She observed differences in what her daughters needed versus the high school students she teaches online. Sometimes her third-graders need help logging in or a nudge to pay attention.
"It really requires a very cohesive relationship between parents and teachers, especially dealing with younger kids," Fowler said. "I've had to be much more in contact throughout the day with their teachers, and their teachers have been ready to respond."
While not without its challenges, Fowler said online learning hasn't been a negative experience for her daughters. But she acknowledges the equity issues that surround online learning. Unlike some families, Fowler and her husband were able to work from home and guide their daughters' education over the past year. Not all parents have that luxury.
Furthermore, some children simply don't learn well through a computer screen. Others thrive.
Despite the option to enroll her daughters in in-person learning, Fowler said she and her husband are keeping them home the remainder of this year. From a parental standpoint, she said, there has been some relief knowing where their girls are at all times.
"We forget these young people were doing active-shooter drills," she said. "COVID is not my only concern when I send my kids to school every day."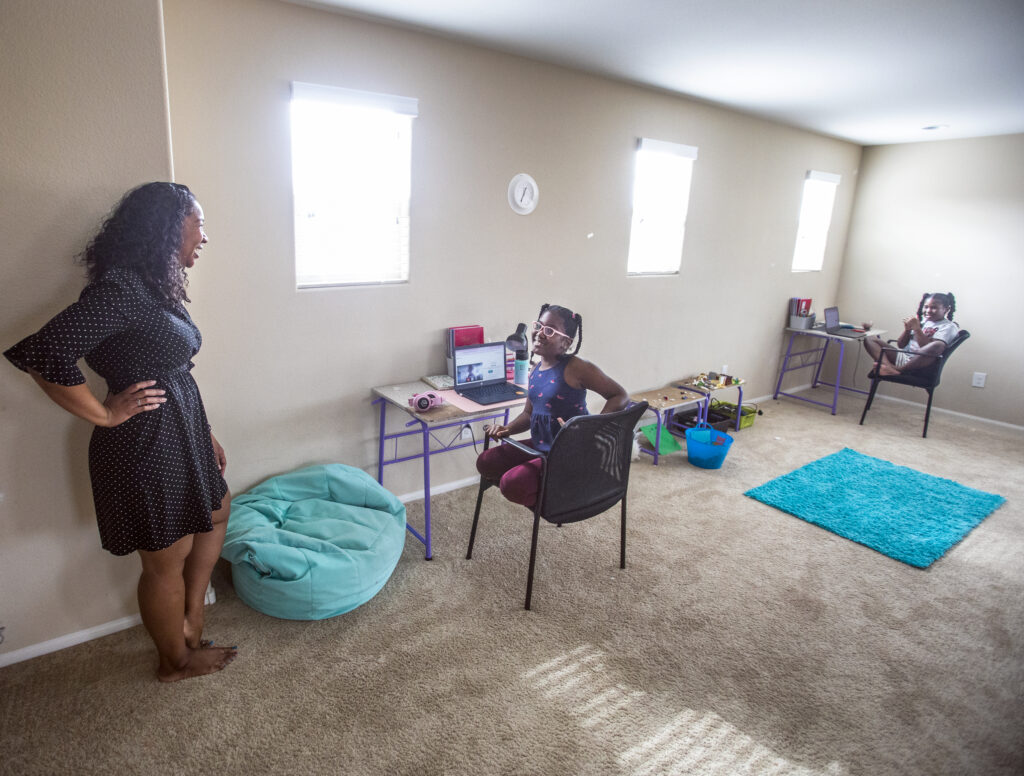 At Valley High School — located in central Las Vegas near Eastern and Sahara avenues — administrators expect only a quarter of students to return for in-person learning this year. Four Valley students recently joined a Google Meet session, from their bedrooms or living rooms, to reflect on the past year. All plan to remain in distance-education mode.
That's not to suggest online learning has been an entirely joyful experience. They lamented the lack of social connection and too many hours confined to their rooms staring at a computer screen.
"At home is where you relax, but now everything is just all at home," said Christina Nguyen, a junior. "You're supposed to be focused and relaxed all in the same home-slash-room that you're in."
Her opportunities to socialize with friends in person have been few and far between. Nguyen's parents work at casinos and have been the target of hateful, anti-Asian comments lobbed by tourists, she said. They now fear for Nguyen's safety outside the house. The nation has seen an uptick in racism and violence against Asian-Americans during the pandemic, including a string of shootings in Georgia last week that left eight people dead.
"It's definitely been a strain on mental health," she said.
Bobby Degeratu, a senior, said he had to look for ways to break up the monotony. He realized he was losing track of time and not making the most of a flexible schedule. Fast forward several months, he now has his driver's license. It's something the teen never felt he had the hours or confidence to pursue before the pandemic because of his course load and athletic obligations.
Degeratu also spent time researching careers and settling on a post-high school plan: He wants to major in biochemistry and become a psychiatrist.
"For such a long time, I was just kind of letting it go by without making anything positive out of it," he said, referring to the pandemic and related shutdowns. "Once I made that change in mindset, I stopped panicking, I stopped feeling afraid and I kind of set myself up to do the most I could with the constraints that were happening."
Still, Degeratu and his peers in the Class of 2021 have missed some milestone moments, such as their senior sunrise, a tradition when students gather in the football field before dawn to kick off their last year of high school. It's unclear whether prom or in-person graduation ceremonies will happen.
The Clark County School District is letting high school freshmen and seniors return to campuses on Monday. Sophomores and juniors can do the same April 6. Those who choose to do so will be entering physical classrooms for the first time in more than a year, but it won't be five days a week. Under a hybrid model, students will rotate between in-person and remote learning.
The perks — seeing friends and learning face to face — weren't enough to woo the majority of Valley High School students three-fourths of the way through the year amid an ongoing pandemic.
"I don't even feel safe, like, going out to see my friends when it's just us one on one," said Julianna Melendez, a senior.
Devin Hicks, also a senior, agreed. Despite senioritis creeping in and not being a huge fan of online learning, his grades have improved this year. Hicks, who played three sports before the pandemic, suspects it boils down to extra hours.
"Now, I don't do anything," he said, "so I think I have more time."
It's bittersweet.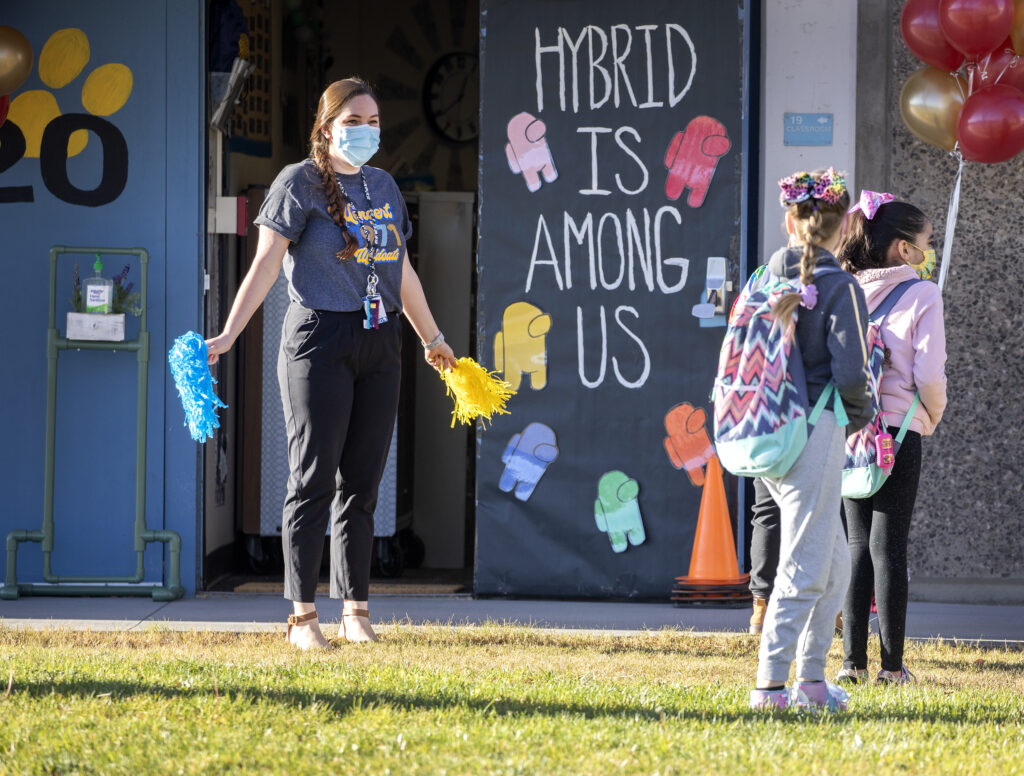 ---
Hicks may be an outlier, though, when it comes to academics.
The Clark and Washoe county school districts both reported an increase in the number of failing grades issued during the first semester. It mirrors a worrisome national trend, underscoring the blow the pandemic has taken on student learning.
Maraccini, principal of Mater Academy of Northern Nevada, has observed academic slides among her students as well. Many of them enter the school two to three years behind grade level, she said, making rapid upward movement a necessity. But by winter break, her staff estimated that only 20 percent of students were on track to reach their annual typical growth. Since then, they have seen more progress, indicating that figure could increase by the end of the academic year.
The bottom line, though, is that Maraccini worries students may have lost between half a year to a full year worth of academic growth. The hybrid model couldn't compete with traditional five-day-a-week classroom instruction.
"That hurts my heart because we work really hard to get kids back on to grade level," she said. "... And we lost it this last year. Two days a week isn't enough."
The big question moving forward: How can students regain their academic footing?
Democratic state lawmakers have introduced SB173, dubbed the "Back on Track Act." The proposed legislation seeks to reverse pandemic-created backward academic slides, particularly among at-risk children. Federal relief funding would be used to help school districts create learning loss prevention plans, set up summer programs for pre-kindergarten through 12th-grade students, provide supplemental pay to staff and offer transportation and food for students in need.
"Learning loss because of the pandemic is a crisis that threatens to set many of our kids back with the potential of leaving behind a widened achievement gap," Sen. Marilyn Dondero Loop (D-Las Vegas), who worked as a teacher for 30 years in the Clark County School District, said during a virtual news conference earlier this month. "If we don't work now to correct it, it will have implications for their educational development for years to come."
The bill received its first hearing last week in Carson City.
District leaders across Nevada already have begun tackling that same question. McNeill said the Washoe County School District will be unveiling a "two-year response to recovery strategic plan," detailing the path it envisions to bridging academic gaps. She emphasized that it's a long-term roadmap.
After all, the pandemic has disrupted learning for more than a year. Undoing related damage will take time.
"It's important to realize that we are not going to make this up in a summer," she said.
Even so, educators are eyeing summer break as an opportunity to continue this work. McNeill said the district is crafting a summer program featuring a "camp-type atmosphere," where students can come for acceleration, enrichment and credit recovery.
Educators say schools will have to walk a fine line in the months to come: They'll be trying to pull students up academically while not dampening their enthusiasm for school or ignoring their heightened social-emotional needs.
There are staff considerations as well. Maraccini couldn't bear to log onto social media at certain points over the past year. She said it was too discouraging seeing rhetoric accusing teachers of lounging at home during distance learning.
"This has been the hardest year ever for teachers, and my teachers have done — I'll cry again — unbelievable things," she said, fighting back tears. "They are a gift to children."
But will they be a gift to children if they are burnt out? That's what Maraccini is weighing as the charter school considers summer school programs and other options.
"It's not fair to ask them to do more at this point," she said.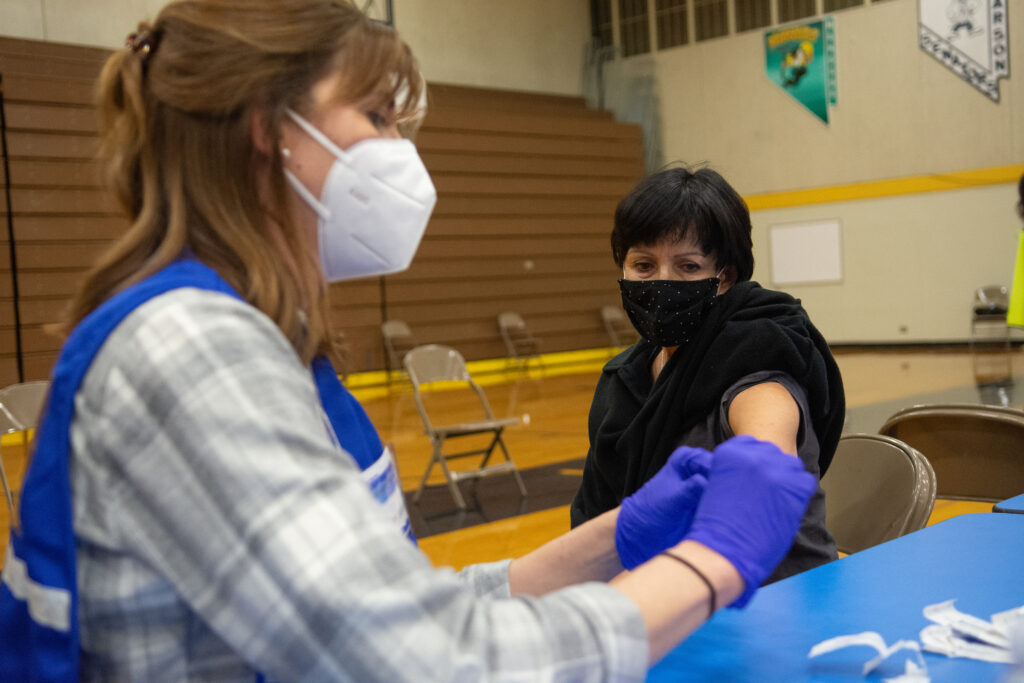 ---
The pandemic didn't only create learning loss, though. It upended the K-12 education system, forcing experimentation that could lead to lasting, and some may argue, long-needed reforms. Academic researchers say the past year has challenged assumptions about how learning can and should occur in a system historically resistant to change.
But the gravitational pull to return to pre-pandemic routines will be strong, said Robin Lake, director of the Center on Reinventing Public Education at the University of Washington Bothell.
"It will take real intentionality, real insistence from people to carve out something new," she said. "What I'm hearing from many, many families is they're not willing to go back to normal because it wasn't working for their kids."
Microschools, flexible schedules and online learning have emerged as popular options among some families, Lake said. Communication has also improved between teachers and parents thanks to the "two-way mirror" live virtual instruction provided to both parties, she said.
The tricky part will be turning those realizations into permanent fixtures in the nation's education landscape. But if there was ever a time for reinvention, now is it, Lake said. States could earmark portions of their federal relief funding for this purpose and start collecting feedback from families, students and educators.
Jara said he plans to embark on a listening tour starting this week in Southern Nevada. The community events will address forward-looking questions.
"How do we offer choice? What does school look like?" he said. "We know that we have to improve and provide distance education."
But the onus shouldn't entirely be on school districts, said Jana Wilcox Lavin, executive director of Opportunity 180. She pointed to Connecting Kids — the public-private partnership that mobilized to solve the digital divide statewide — as an example of the community coming together for a common education purpose.
Wilcox Lavin said schools should leverage partnerships with community organizations to provide summer programs or after-school enrichment opportunities that would help mitigate pandemic-related learning struggles.
"Certainly we've learned, if nothing else, that all the learning doesn't happen in the (school) building," she said.
Aside from where and how students learn, other questions are surfacing about what students should be learning. Remote learning, in theory, put Chromebooks or laptops in the hands of every public student statewide, accelerating their 21st century skills in the process. Nevada Succeeds, a policy-minded education organization, established an educator fellowship last year that focused on researching high-performing education systems around the world.
Although a planned trip to Singapore got dashed by COVID, the group examined the island nation's use of a future-ready graduate profile, said Jeanine Collins, the organization's executive director. It grew out of some deep introspection.
"In Singapore, they collectively said, you know, we're scoring really high on all these tests, but are we as entrepreneurial, creative?" Collins explained. "How are we preparing students to really be engaged in a global economy?"
The pandemic has presented Nevada an opportunity to do a similar self-examination, Collins said, because so much has already been disrupted. Seizing on the right moment to promulgate change is half the battle.
"There really is a desire to meet everybody's needs in the best ways that we can and to be open to what that could mean," she said. "It might look like things we haven't done before, and that could be great."
One change could be a shift to competency-based learning, which is rooted in the belief that children should move at their own pace and progress to higher levels of learning as soon as they master skills and concepts. The Churchill County School District is already involved in a pilot program for competency-based learning, but other education leaders, including Jara and state Superintendent Jhone Ebert, have signaled their support as well.
Ebert said the pandemic has made it an ideal time to transition away from standard, age-based learning models because children's skill levels will cover a wide spectrum. Some will be breezing through English Language Arts and struggling in math or vice versa.
Churchill County Superintendent Summer Stephens knows dramatic shifts can be difficult. Her decision to launch six-week courses for older students this year as part of a hybrid model received a mixed bag of reaction. In general, high school students and staff haven't been as enthusiastic as those in the middle school environment, she said. And it's too early to draw any lasting conclusions from grade data because students haven't completed their second semester courses.
Still, Stephens said the six-week courses have at least sparked conversations about traditional time constructs and other rigid practices in public education.
"We have had a one-size-fits-all model," she said. "It takes a lot of effort and coordination and collaboration to get to a spot where we can get to a more personalized situation, and we just have to give it time."
And, in the education world, there never seems to be enough of that.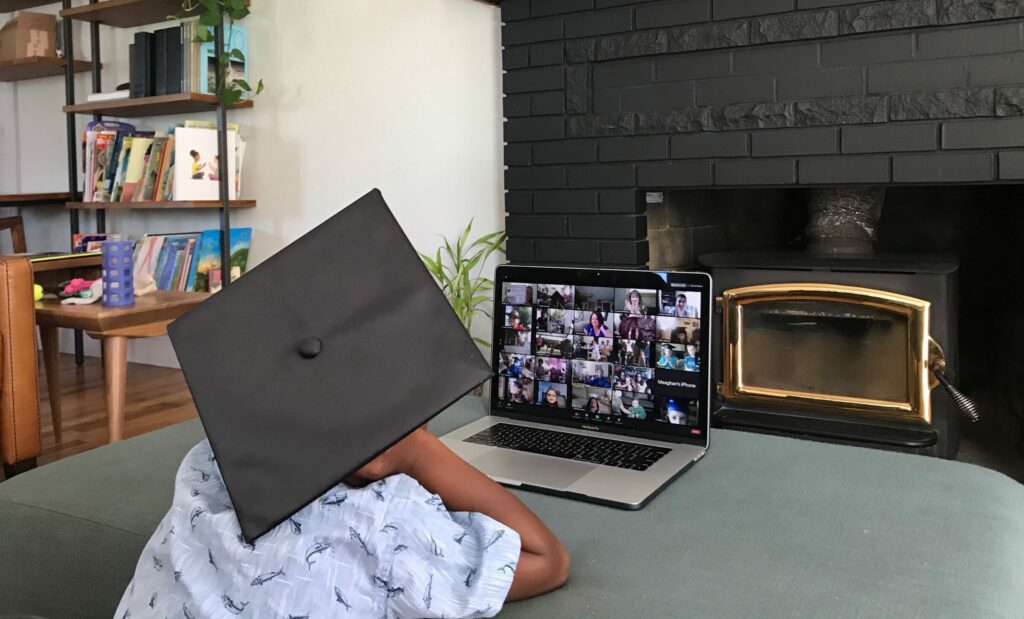 ---
Mariluz Garcia and her two children can see the finish line of the school year approaching. Her son and daughter, now in first and second grade, made it through the starts and stops of the unconventional year. First, the virus shuttered schools last spring. Then, wildfires delayed their reopening in the fall. And by the time the holidays rolled around, COVID stymied in-person learning once again.
The virus left them unscathed physically, but emotionally? That's a whole other matter.
"This was a rough year for everyone, not just our family but the whole world," she said. "We all went through it together."
Garcia isn't dwelling on the learning loss. Children are "resilient creatures," she said, but they're listening. They can sense negativity. Instead, she is hyping the positives. Her children still love school. They love their teachers. They love seeing friends.
The calendar's creep toward spring is already blooming with more optimism. Her children recently came home bursting with excitement because their school's playground reopened.
And just days ago, Garcia's 6-year-old son blurted out a phrase that almost made her drive off the road in shock.
"Life is too short to drink bad coffee."
The words were on her coffee mug. He had read them.
Part IV coming Sunday, March 28.