The denouement comes slowly.
It comes as hugs with family, dinners with friends, work days that feel just a little safer and errands run without a second thought.
It comes as first doses, second doses and paper vaccination cards multiply. It comes as cases, hospitalizations and deaths fall.
It comes as the virus begins to slip into the background, as the numbers seem less important, as the deliberateness and thoughtfulness with which many have approached the last year fades away.
It comes as a gradual exhale, a slow sigh of relief.
Hospital workers, who for a year have had a front-row seat to the pandemic, were the first to start to feel it.
Jody Domineck, a pediatric nurse in Las Vegas, was so excited for her vaccine appointment that she accidentally arrived early. As she sat waiting in the parking lot, she was at the point of tears. The awfulness of the last year, the fears of bringing the virus home to her family and the relentless drumbeat of the pandemic seemed like they were finally coming to an end.
"We took pictures. Everybody was cheering," Domineck said. "The history was almost palpable, that this is literally making history, this is saving lives, this is how we beat this. All the work we've done, all the stress, all of the fear: This is how we get out of it."
Dr. Shadaba Asad, the medical director of infectious disease at University Medical Center, described receiving the vaccine as a blessing and a relief. Her husband, who is also a doctor, fell very ill with COVID during the pandemic.
"If you work in a hospital, you're exposed to these patients day in and day out," Asad said. "I think when the dust settles and this thing ends, we will realize that this was the turning point in the pandemic for us."
Dr. Scott Scherr, an emergency medicine physician in Las Vegas, described a feeling of "pure happiness."
"When the vaccines rolled out, that was the first time in nine months that we had a sigh of relief," Scherr said. "Having that extra layer of security really takes a huge weight off all of our shoulders."
It has now been 118 days since the first health care workers in Nevada received their jabs, a small price to pay for protection from COVID-19. Since then, more than a million Nevadans have been either partially or fully vaccinated, a number that officials hope will quickly climb in the coming weeks now that eligibility has opened up widely to the general population.
For many, the hope is palpable.
The denouement, though, is tentative.
Roughly two-thirds of the state's population remain unvaccinated, with 49 percent of Nevadans eligible but unvaccinated and another 19 percent ineligible because they're under the age of 16. Typically, somewhere between 50 and 90 percent of the population needs immunity against a virus to slow its spread for good, though scientists still don't know what the magic number will be for COVID-19.
If the current pace of vaccination from the last week holds steady, it will take 35 more days for 50 percent of Nevadans to be at least partially vaccinated against the virus. Ninety percent will take 116 days.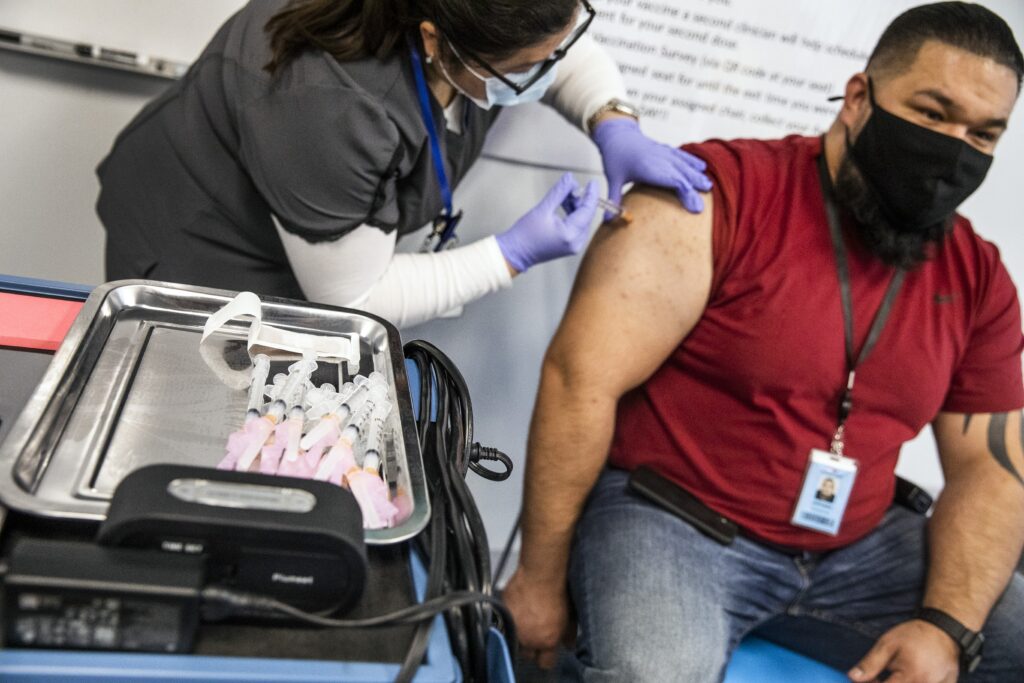 And, in the near future, the pace of vaccination may shift from a sprint to a crawl when the state runs out of Nevadans eager to be vaccinated. At that point, the work of informing and persuading those who are open but less eager to get the shot will become even more key for public health officials, immunization advocates and community organizations.
Those involved in the vaccination effort in Nevada acknowledge that once the state reaches that phase, it could take significant effort to boost the total percentage of vaccinated Nevadans even slightly.
The denouement drags its heels.
One day, the World Health Organization will officially declare the pandemic over, the U.S. will end its state of emergency and, so, too, will Nevada. But there is no sense of when we can expect to hit those milestones in what continues to be an ever-evolving situation.
This past week, COVID-19 cases in Nevada ticked upward for the first time in three months. It's a trend other states are seeing too as they lift pandemic health and safety restrictions and as more transmissible variants of the virus become more prevalent. Michigan, where the situation is worse than anywhere in the U.S. right now, has almost climbed back to its December peak.
Some public health experts have warned of a fourth wave of COVID-19 cases nationwide. Rochelle Walensky, director of the Centers for Disease Control and Prevention, recently described a sense of "impending doom." Others, including Dr. Anthony Fauci, the Biden administration's chief medical advisor, believe a fourth wave is unlikely in light of the increasing number of vaccinations.
Where there is more consensus, though, is that we have once again reached a critical juncture in the pandemic as the vaccination effort races against the spread of the variants and our overwhelming desire for life to return to normal as quickly as possible.
We long for a catharsis that will purge the virus and its many varied consequences — financial, emotional or otherwise — from our lives.
That catharsis has been delayed.
It may, however, offer an opportunity:
An opportunity for state officials, public health experts and others involved in Nevada's pandemic response to not put the events of the last year behind them but instead sit with them and think through what could have been done differently. An opportunity to assess where the state is today and prepare for a recovery that is only beginning. An opportunity to think about the future and how to better brace for the next pandemic, the next natural disaster and the next emergency.
We want life to go back to normal. We want to move on. We want to forget.
The denouement, though, comes slowly.
It asks us to sit here among the still-smoldering ashes of a once-raging wildfire.
It asks us to nurse the wounds of the devastation the pandemic has brought down on our public health system, on our economy, on our schools, on our government entities and on us.
It asks us not to forget.
---
For the last year, hospital workers in Nevada and across the nation have found themselves on the frontlines of a war with what has often felt like little to no armor.
Even when they did have the appropriate personal protective equipment, they still worried about getting sick or, often worse, bringing the virus home to their families. Anxiety, for many, became a constant companion.
That all changed when the vaccines arrived.
"The bullets were flying by you for a year, and finally somebody handed you a bulletproof vest. That's what it felt like to me. I'm like, 'Wow, can I get a helmet with that?' And they're like, 'Yeah, that's the second shot. Here's your helmet,'" said Dr. Bret Frey, an emergency medicine physician in Reno. "I'm like, 'Wow, I got gear. I feel good.'"
UMC, the county-run hospital in Las Vegas, was the first to start administering vaccines in the state nearly four months ago. The hospital had set up its vaccination clinics — complete with computers, signs and social distancing markers — days before the first shipment of vaccines were expected to arrive and had been drilling its vaccine distribution process.
So, when the doses arrived early, on Dec. 14, the hospital saw no reason to wait.
"Our gut was telling us that we were going to get it on Monday. So the team got in early, we prepared, and then we got the call from the health district that said the shipment had arrived," said Mason VanHouweling, UMC's CEO. "Within an hour and a half we were putting a vaccine in our longstanding ICU nurse, who had been working day and night at the hospital and she volunteered to be our first vaccinated health care worker in the state of Nevada."
It was an auspicious beginning to a vaccination effort that would prove, at times, rocky over the next several weeks as the state struggled early on to secure needed information from the federal government, battled infrastructure and technology issues and grappled with growing inequality in the vaccine distribution process. At one point in January, the state ranked third to last in the nation for doses administered per capita.
Candice McDaniel, who until recently helmed the state's COVID-19 vaccination effort as a health bureau chief within the Division of Public and Behavioral Health, framed those difficulties as the growing pains of an unprecedented public health operation.
"It's the scale," said McDaniel, the new deputy administrator of the Division of Welfare and Supportive Services. "It's the amount of individuals you're really trying to reach."
One of the biggest challenges the state faced early on was the lack of advance notice from the federal government about the state's vaccine allocation. Because the federal government only told the state how much vaccine it could expect to receive a week in advance, it was difficult for state health officials to scale the vaccine operation up or down to match the number of doses being sent.
That communication, though, has significantly improved in recent weeks, state health officials say — and not just in the form of more advance warning from the federal government on vaccine allocation. McDaniel pointed to the rollout of the health center vaccination program and the expansion of the retail pharmacy vaccination program as two instances where the federal government has ensured the state has been in the loop even though those programs are administered at the federal level.
"I would never venture to say that there aren't challenges," McDaniel said of the state's relationship with the federal government on the vaccination effort. "But I feel like when we reach out for guidance or response, we are able to get that."
It wasn't just the federal government, though, that stymied the state's early rollout of the COVID-19 vaccine. The state also faced significant internal challenges.
Despite months of preparations, the state's vaccine infrastructure found itself quickly overwhelmed as the immunization effort opened up to seniors in January. Vaccination registration portals sometimes crashed because of the number of people trying to access them at the same time; seniors struggling to sign up for appointments overwhelmed vaccine help lines; and records of thousands of shots administered needing manual input into the state's vaccine database piled up.
Immunize Nevada, the only statewide immunization-focused nonprofit, saw its call volume increase 550 percent in January, the organization's executive director, Heidi Parker, said. To handle the increased workload, the organization brought on 19 interns for the spring semester instead of its usual four or five.
The state also pivoted, standing up a standardized statewide vaccine registration portal, which the Southern Nevada and Washoe County health districts now use, and a statewide call center. Federal Emergency Management Administration (FEMA) staff came in to help clear the data entry backlog, most of which was in Clark County, and FEMA and the National Guard continue to play a key role in operation of the county's mass vaccination sites.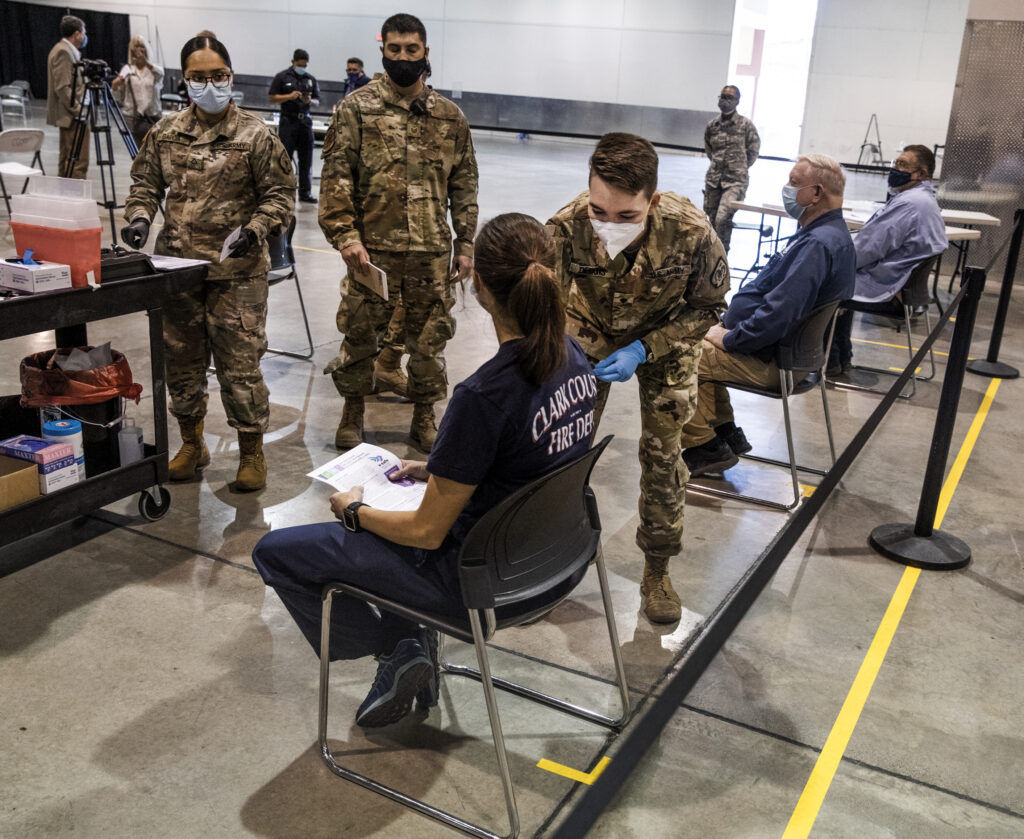 Dr. Fermin Leguen, health officer for the Southern Nevada Health District, said that Clark County, which is home to nearly three-quarters of the state's population, was bound to experience some of the most significant challenges in the vaccine's rollout owing to its size.
"The complexity of the dynamics of this metropolitan area are quite different from these other jurisdictions," Leguen said. "The resources needed and everything is quite different and exponentially larger than what you could experience in any of those other jurisdictions."
The state's rural counties, by contrast, saw a comparatively smooth early rollout of the vaccine. While some rural counties have grappled with geographic challenges, particularly if they have multiple population centers, others saw a relatively easy rollout, which they attribute to their small population numbers and the close-knit nature of their communities.
"When it came time to do the frontline medical personnel, they had all the medical personnel done within a week or two," said Ely Mayor Nathan Robertson. "It took larger areas in the state a month or more to even get to where we were."
White Pine County, where Ely is located, continues to have one of the highest rates of vaccination in the state, with 5,500 doses administered for every 10,000 residents, compared to 4,800 in Clark County. White Pine also has a population of a little less than 10,000, compared to Clark, at about 2.3 million.
As the vaccination effort continued, frustrations arose as a result of changes to and confusion over the state's vaccination playbook. In October, state officials released the first iteration of the playbook, which divided the population into four vaccination tiers. That initial vaccine plan prioritized almost all of the state's essential workers before people with pre-existing conditions, who were in turn prioritized ahead of elderly Nevadans.
In January, the state announced a new version of the playbook that shifted the state to a new vaccination structure that would instead create two parallel vaccination "lanes" that would allow the state to work through vaccinating its essential workforce at the same time it began to vaccinate members of the general population.
While the change may have made sense on a practical level, it frustrated some county officials, who had been making preparations based on the earlier tiered structure, and confused some residents, who were unclear where they fell among the dozens of categories across the two lanes and which categories were even currently eligible for vaccination, particularly as counties proceeded through the lanes at different paces.
Counties also sometimes found themselves hamstrung by the state, wanting to proceed through the lanes more quickly as they struggled to fill open appointments. McDaniel said the state's focus was on making sure counties had the data they needed to make decisions about whether it was the appropriate time to progress to the next group.
"Obviously with any very large data set, there's going to be a possible delay in getting that information to them in the timeframe they need to make decisions," McDaniel said. "That was definitely, obviously a challenge."
Karissa Loper, McDaniel's deputy, added that it wasn't that the state was "stopping" counties from progressing through the lanes. Rather, she said, the state "wanted to use the data to do so thoughtfully."
Four months from when the vaccine distribution effort began, those working on the immunization front in Nevada feel hopeful. Despite the fact that Nevada has continued to receive significantly fewer doses per capita than other states — as a result of the federal government using older population estimates to allocate doses — it continues to rank among the among the top half of states for vaccines administered as a percentage of vaccines delivered.
"Despite, I think, a lot of hiccups and some of the challenges that maybe were at the top of mind early on, we worked through those and everybody continued to innovate and adapt and do all these things to continue to get us moving forward," Parker said.
The state's vaccination effort, though, will face new tests in the weeks and months to come. With demand for the vaccine far outweighing supply over the last several months, public health officials have focused on getting shots into the arms of people who want them as quickly as possible.
It's not that they haven't already started to focus on the issue of vaccine hesitancy. But the conditions over the last few weeks — which have required people to scour state and pharmacy websites for appointments and wait in long lines at often busy mass vaccination sites — have made it a tough sell.
Moving forward, as supply starts to exceed demand, the core focus for public health officials and others involved in the vaccination effort at the state and local levels will be on education. They hope to answer questions from vaccine-hesitant people and remove barriers by making shots more widely available at pharmacies and doctor's offices.
The state, in partnership with Immunize Nevada and the ad agency Estipona Group, is also launching a new campaign called "3 Million Reasons," encouraging people to get vaccinated to protect their 3 million fellow Nevadans.
Michelle White, chief of staff to Gov. Steve Sisolak, whose background is in elections, compared it to a get-out-the-vote (GOTV) effort. In every election, there are voters who are going to cast their ballots no matter what. Others need to be persuaded about a candidate or may only vote if it's convenient for them.
"They're not going to be opposed to a vaccine, they're not anti-vax, they're likely to be on board, but we have to make the effort to make sure they actually show up," White said. "That takes a ton of effort, that GOTV effort. There's a reason why it's the biggest push on a campaign, and it's the same thing here. It is making sure we provide every opportunity to get those folks out."
There is a concern, though, that the numbers of new people vaccinated each day may soon start to plateau. In the 2019-2020 flu season, only 44 percent of Nevadans got vaccinated, and the state had one of the lowest vaccination rates among both children and adults in the nation. As of today, 40 percent of those eligible have been vaccinated against COVID-19, or 33 percent of the overall population.
Vaccine hesitancy comes in many forms. For some, it might be questions about how safe the vaccine is or whether they need to be insured to receive it. It might be that they need those questions answered in their preferred language. It might be that they need to have a conversation with a trusted community leader, like a pastor, rather than a doctor or public health expert.
"We firmly believe that people who refuse it, it's because many of them are scared," Asad, the medical director for infectious disease at UMC, said. "They have questions and sometimes they're just afraid to even ask that question."
For others, it may be that they would rather get the vaccine at their local pharmacy or doctor's office, somewhere that is more comfortable and convenient than a mass vaccination site. State officials said there is no specific timeline to stand down the state's mass vaccination sites in Clark and Washoe counties, though they expect to see a gradual transition of the vaccination effort from those sites to pharmacies and health care providers over the course of the year.
Addressing vaccine hesitancy, those involved with the vaccination effort say, is also key to making progress on the vaccine equity issues the state continues to grapple with. In February, Sisolak announced a new initiative to address what he described as alarming disparities in the rate at which working-class families, lower-income households and communities of color were receiving the vaccine in Clark County.
Since then, a Nevada Vaccine Equity Collaborative has formed to address disparities in the vaccination effort, but its work is just beginning. While individuals who identify as Hispanic make up 30 percent of Nevada's population, they represent only about 18 percent of vaccinated individuals today. People who identify as Black make up 9 percent of the population but less than 6 percent of vaccinated individuals.
And while rural counties led the state's vaccination effort early on, the urban counties are catching up while some rural counties are falling behind. Elko, the state's largest rural county, for instance, has only administered 3,100 doses per 10,000 residents.
Even so, state officials are hopeful vaccination numbers will soon rise with the recent launch of two mobile vaccination units that will travel across rural and tribal areas to boost access to the vaccine. The vehicles can hold 8,000 doses of the COVID-19 vaccine and are expected to be able to vaccinate at least 250 people per day, per location with the one-shot Johnson and Johnson, also known as Janssen, vaccine.
"In a state like Nevada, there are so many communities that just need to feel comfortable going to a location, whether that's having folks who are speaking in their first language or, if they're undocumented, having folks who they would feel comfortable with there," White said. "The easier we can make that, the more equity we're going to experience."
---
Despite the road bumps in the vaccination process, the COVID-19 situation in Nevada is significantly better than it was several months ago.
In December, at the worst point of the pandemic, the state was seeing more than 2,700 new cases reported on average each day, and more than 2,000 people hospitalized with the virus statewide. Today, that seven-day average is a little less than 400, with hospitalizations just a little more than 300.
"We've learned a lot. We're better prepared," said Christopher Lake, executive director of community resilience for the Nevada Hospital Association. "If everyone can work together and keep doing what we all know is right, that's the social distancing, the getting the vaccine ... wearing the mask and controlling the droplets and the aerosols, if we can do that we can definitely manage this, and I feel optimistic about that."
The trends, though, have started to move in the wrong direction. Though the numbers are still significantly better than they were in December, they're not as good as they were in March.
It's an uncomfortable reminder that better does not equal good.
"That's the problem. People say, 'Oh it's better now,'" said Brian Labus, an assistant professor of public health at UNLV. "Well, yeah. 'A little bit better' doesn't mean this thing is over at all."
Top of mind, for public health experts in Nevada and around the world, are the COVID-19 variants, including the UK, South African and Brazilian strains. As of Friday, Nevada had identified 155 cases of the UK variant, one case of the South African variant and one case of the Brazilian variant. Additionally, two strains identified first in California, which are also considered variants of concern, are now responsible for about 46 percent of infections in Nevada. (The Silver State has the second highest prevalence of the two strains in the country, after California.)
Nevada has also identified 10 cases of the New York strain and one case of a second Brazilian strain. Both of those strains are, at this point, considered only variants of interest, not concern.
For now, most vaccines seem to be at least somewhat effective against the variants, though the strains identified in South Africa and Brazil do appear to blunt the vaccine's power.
The concern, though, is that as the virus continues to spread, more variants could emerge.
"Each variant consists of numerous mutations. In other words, we're not talking about one mutation for each new variant, we're talking about a whole collection with different effects. Some of those mutations actually decrease the danger of the virus," said Dr. Kevin Murphy, an infectious disease specialist in Reno. "But obviously if you get the wrong combination of countervailing mutations, then the net effect may be something worse."
That's why health officials have encouraged people to be cautious — by continuing to wear masks and practice social distancing — as the vaccination effort proceeds. It's a race, they say, between the vaccines, which could significantly limit or stop the virus's spread, and the variants, which could evolve to evade the vaccines entirely.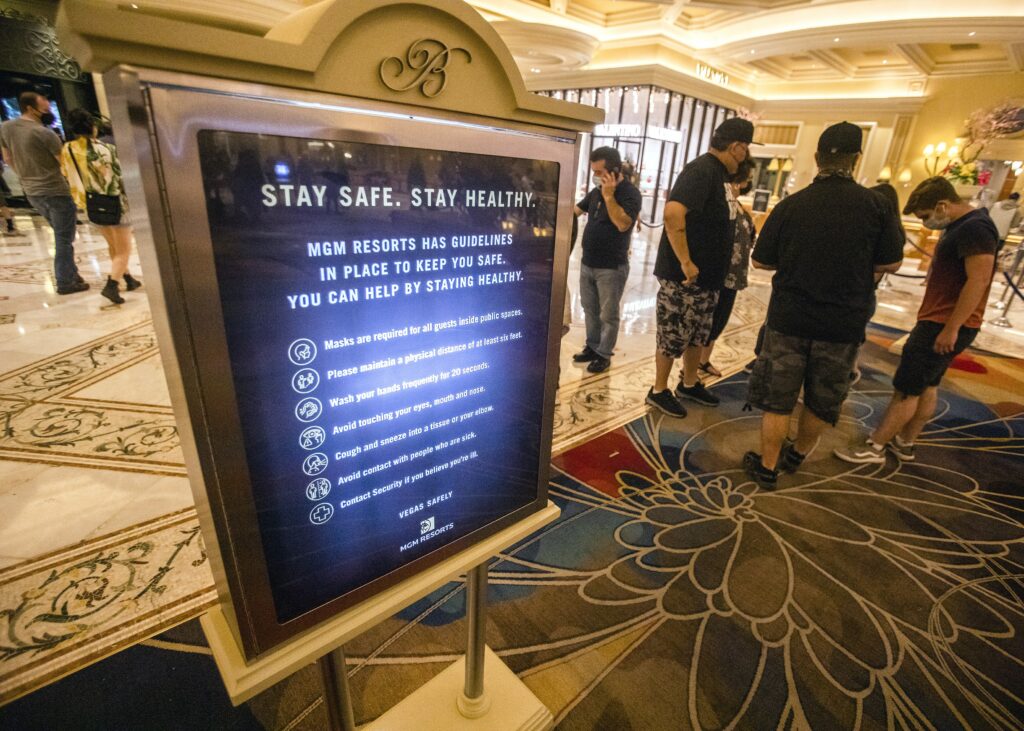 That race also comes as the state prepares to hand over control of most COVID-19 health and safety rules to local jurisdictions. Counties are in various stages of drafting plans for the transition to local control, which will undergo review by the state's COVID-19 Mitigation and Management Task Force starting next week.
Unlike some other states that have started to reopen more broadly, Nevada will maintain a statewide mask mandate even once the transition to local control happens on May 1, and Sisolak has said that he has no plans to lift that mandate in the foreseeable future.
But other key decisions, such as whether businesses should be allowed to open to 100 percent capacity, will soon be up to the discretion of each jurisdiction. Counties have generally been looking forward to the transition, which will give them the decision-making authority they have wanted for months.
Even though this transition is happening at a pivotal moment in the fight against COVID-19, state officials still believe it's the right time for the power shift to occur.
"They certainly want responsibility to make decisions within their own communities. They know their communities very well. We want to empower them to do that," White, the governor's chief of staff, said. "Of course there are always going to be concerns about the virus in general, and you do see these increases in other states, you see the variants, et cetera. The most important thing, I think, the state can do is maintain things like a mask mandate."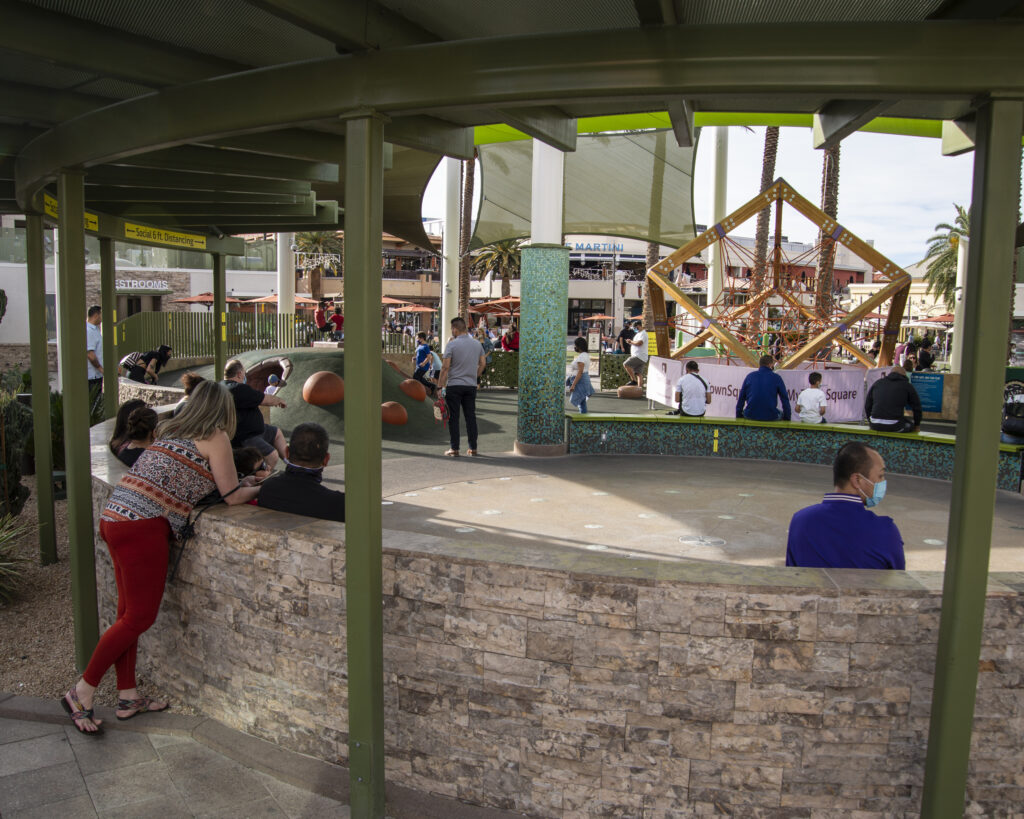 Other mainstays of the state's public health response to the pandemic, including testing and contact tracing, will remain for the time being, though they have already seen somewhat of a shift in focus.
For instance, Mark Pandori, head of the state's public health lab, noted that COVID-19 testing is no longer just focused on identifying cases of COVID-19 but also in describing those cases — in other words, looking at the genetic sequence of the virus to understand how it is changing. Local health districts, too, continue to contact trace in the usual way, but they're paying particular attention to figuring out where people who test positive for variants may have contracted the virus and where it may have spread.
"Over the next six months to a year, every public health lab will screen for cases in asymptomatic people. We will do the surveillance we wanted to do a year ago, and it'll be a routine part of our work," Pandori said. "When we find cases, they will get sequenced so that we can look at how the virus is changing in the population, because the last battle, the last stand against this virus will come down that avenue, which, if it doesn't change very much, or if the changes aren't effective for the virus, really, then we win, and if we find that it's changing a lot, then it's guerrilla warfare like we've been in with a lot of other diseases, like influenza."
It's a reality many are preparing for: Our public health response to COVID-19 may not be as all encompassing as it is right now, but the virus, still, may linger.
"I don't want to say forever, because I'd like to think that we will eventually be able to go after this with a vengeance — we're not going to let this thing get away with what it's done — I mean going after it not just with vaccines and not just with testing, but to go after it pharmacologically," Pandori said. "This will be chased into the hills and hunted like no virus ever seen. So I'd like to think that we will eradicate it eventually. But in the meantime, we're going to be faced with controlling it as we do with everything else."
The good news, public health experts and health care providers say, is that Nevada is far better equipped to do that today than it was a year ago. It's why, despite the variants and yet-unachieved herd immunity, they still feel optimistic about the future. In fact Asad, the medical director of infectious disease at UMC, believes there's no room for pessimism in the pandemic response.
"If I have learned anything from this pandemic, it is that in order to survive, you need to be quick thinking and flexible," she said. "You don't give up until it's completely over, so there's absolutely no room for pessimism, as far as I'm concerned."
---
After the last year, many are eager for the pandemic to be over.
The question is: What does that even mean?
Will the pandemic be over when the World Health Organization says it is? When the national state of emergency ends? When Nevada lifts its state of emergency?
It's unclear when any of those three things might happen. But Caleb Cage, Nevada's COVID-19 response director, said, from a technical perspective, the latter may be a ways off.
That's because being under a state of emergency opens up additional doors for the state, including federal aid. Cage said that everything the state and its political subdivisions do in response to the virus right now is considered an "emergency protective measure;" state and local jurisdictions are reimbursed 75 percent for general pandemic-related emergency expenses and 100 percent for vaccine-related costs by the federal government.
Without a state of emergency, it would be more difficult for Nevada to make the case to the federal government that it should be reimbursed, meaning that funding could go away. Cage said that while the decision to end the state of emergency is up to the governor, he doesn't foresee a timeline right now where staff would recommend he do so.
"I don't see us closing the door on the declaration process, and the resources that it makes available to us, anytime in the near future," Cage said.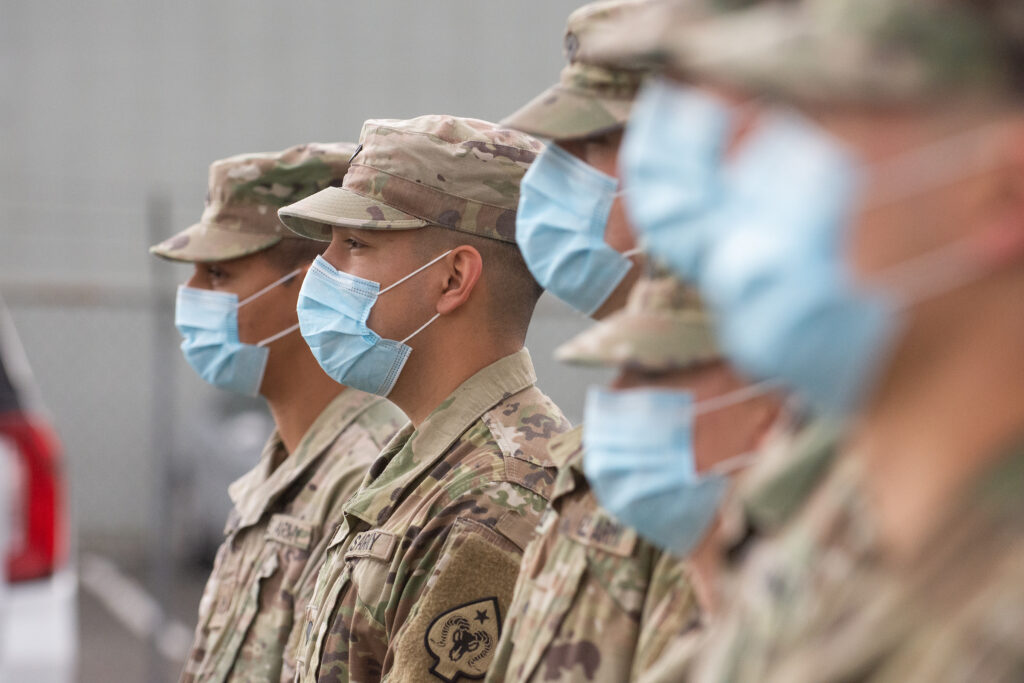 Even as the state of emergency persists, state officials, public health experts and health care providers are already looking toward the future, including not only how to rebuild and recover but how to prepare for the next emergency, public health or otherwise.
Nevada's public health system, for instance, has been chronically underfunded. Nevada ranks 49th in the nation in public health spending per capita, with $8 spent on public health per Nevadan, according to a report from the Commonwealth Fund. Even the best funded public health departments in the country struggled to provide necessary services in the time of the pandemic.
It's unclear, though, whether the pandemic will lead to lasting changes in the way public health is viewed and, consequently, funded.
Richard Whitley, director of the Department of Health and Human Services, is hopeful.
"Public health is that system of infrastructure that the public often doesn't see. They don't see that they're being protected until they're not, whether it's water or air or environment. Until it's a problem, it's easy to overlook it," Whitley said. "But I think that the public and I think that elected officials have been able to witness it in action."
However, Pandori, the head of the state public health lab, is a little less optimistic.
"Right now, money flies into COVID. But in two years, if COVID looks like the flu, are public health labs going to keep being funded? Are we going to build more public health labs? Are we going to build a national network of infectious disease labs? No way," Pandori said. "Do you think that the government wants to pay for something that's going to sit and do what apparently looks like nothing for how many years? You're going to spend a trillion dollars to build a national lab infrastructure and wait for the pandemic that comes, what, 20 years from now? Thirty years from now?"
It all comes down, Pandori said, to the fact that if public health is doing its job, no one ever notices.
"We succeed because you don't notice something. We succeed because all your friends don't have chlamydia," Pandori said. "Our victories, they're not under the radar, they don't have the ability to appear on radar because it's the absence of something."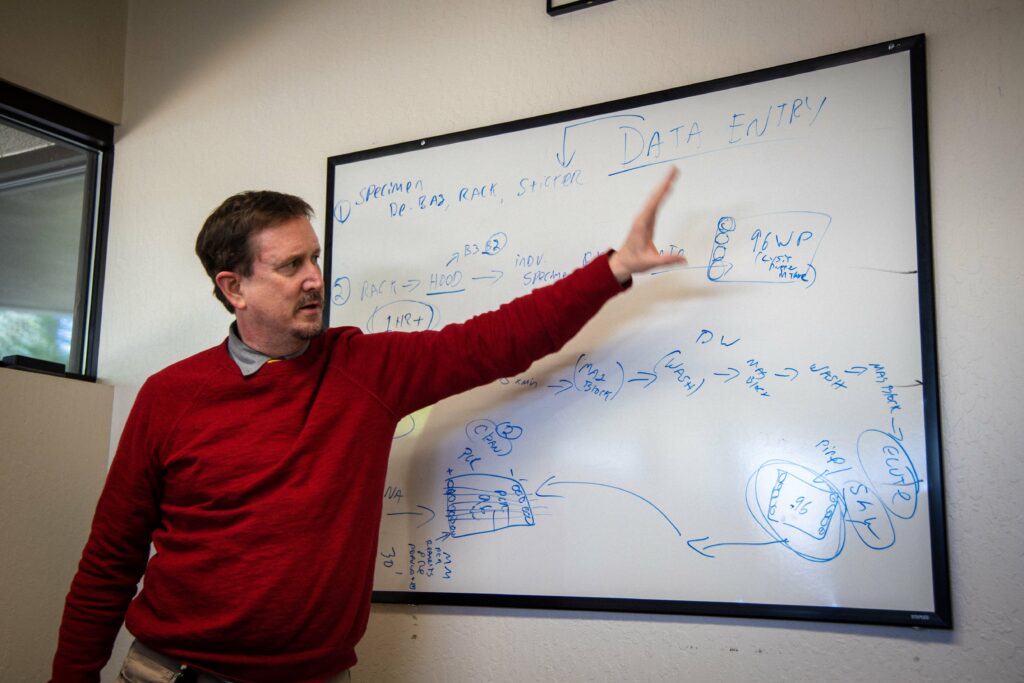 Emergency managers, meanwhile, are starting to think about how the lessons learned from this emergency can better prepare them for the next one. The pandemic has underscored the importance of widespread disaster training, thinking big and not underestimating how quickly a situation can develop into something more serious, not relying on mutual aid to come to the rescue and ensuring that personal protective equipment is always in stock and at the ready.
"Hopefully it's not another pandemic in the next few years, but for wildfires, for earthquakes, for anything else, I think the muscle memory of having to work together, having to ask for help, not being prideful, will be there," said David Fogerson, head of the Division of Emergency Management. "I think more people have been exposed to how to make bigger decisions with not a lot of information behind it. That decision-making skill is, I think, going to help everyone."
For Sisolak, the pandemic has underscored the need to bolster the state's fragile health care infrastructure, an effort that a $25 million allocation in his budget toward the construction of UNLV's medical school complex aims to support, and also fix the state's broken unemployment system, an overhaul that could cost nearly $50 million over the next two to three years.
Nevada has to "learn from this tragedy as much as we can," Sisolak said in an interview last month.
For the rest of Nevadans, the lessons learned may be small but important: Washing our hands a little more regularly, staying home when we feel sick and, maybe, donning a mask during flu season just to be extra safe.
"You think back of all the things we used to do: We just blew on the candles on the cake and now everybody is going to eat that, or you went bowling — while eating your pizza or your chicken wings or your french fries — you just go and put your fingers into that ball, and after, you don't go wash your hands, you just go back and start grabbing your food," said Yarleny Roa-Dugan, a nurse in Las Vegas. "I think people are going to be more aware of how clean they are. Hopefully this will last. But as we know in history, people tend to forget, and then history repeats."
---
It's hard to know how to feel right now.
Should we feel optimistic about how many Nevadans have been vaccinated and that case numbers and hospitalizations are still relatively low here? Or should we be concerned that the vaccination effort isn't going quickly enough, that the variants are spreading too rapidly and that cases and hospitalizations, though low, may once again be on the rise?
In interviews over the last two months, dozens of state officials, public health experts and health care providers have, by and large, expressed optimism about the future. It comes in shades — from "cautiously" to "categorically" optimistic — but they are glass-half-full nevertheless.
"The fact is none of us know what this is going to look like six months from now. But we all know that all we can do is continue to add tools to address the pandemic going forward," Cage said. "Nobody knows that's going to happen with the variants."
Amid that optimism, they are realistic. Cage, in an interview in early April, said state officials expected to see the numbers start climbing in the future. A few days later, they did.
So, what happens from here?
"What we're watching for is what are the consequences of that climb going to be. Are people starting to catch the virus again but fewer people are going to the hospital therefore fewer people are going to the ICU therefore fewer people are dying?" Cage said.
If so, "that's a really positive outcome for this and gives us more methods for dealing with this," Cage said.
It can feel impossible to think about recovery when the emergency is still ongoing. It can feel impossible to think about recovery when so much of the damage is unseen.
But Nevada has a lot of healing to do.
White, the governor's chief of staff, pointed to the throngs of people on the Las Vegas Strip in recent weekends. Those crowds, she said, belie the tens of thousands of hospitality workers and service employees whose jobs aren't coming back.
"When you walk around the streets of Las Vegas, you see people coming back, you see this excitement in the air, which is great," White said. "But there are a lot of people who every day are waking up very worried about walking to the mailbox and opening an envelope and seeing another bill."
Nevada has been presented with the opportunity to rebuild before, including in the wake of 9/11, the Great Recession and 1 October. White, however, said the current moment presents a "once in a lifetime opportunity" to do so.
"It's a huge opportunity in this state ... to say, 'We will rebuild,' and 'The vision that we believe needs to be achieved,' so the next time there is a pandemic or a recession or a disaster or whatever else we can't predict now, we're not all sitting around the table saying, 'Nevada is hit the hardest once again,'" White said.
But, the more COVID fades from mind, the harder it may be to do that.
"When things start to get better, that urgency can go to the wayside sometimes," White said. "When things get better, jobs are coming back and people are feeling more optimistic, it won't be front of mind that our public health system has some systemic challenges that need to be fixed within it, and we can't lose sight of that."
The list of policy areas the pandemic has spotlighted is long: Health care, the economy, mental health, homelessness and education, among them.
But the pandemic, to many, has revealed an even deeper need for healing, the kind of healing that happens not at a policy level but a personal one.
It's the healing of deep political divisions. It's the healing of trust between institutions and individuals. It's the healing of the wounds we have inflicted on each other.
It's a deep, hard kind of healing.
Nevada, though, is no stranger to adversity.
What is the pandemic, to the resilient people of the West, but yet another hard time.
Yet another desert to make a home in.
Yet another battle to be born out of.